As an interior designer Brighton and Hove is a great city to live near. The city offers huge potential for exciting, successful commercial ventures. With its cafe culture and vibrant social life it's a thriving seaside destination. There are many independent boutiques too.
Within easy reach of London, Brighton and Hove host thousands of visitors. The beach is a popular attraction, and the famous North Lanes have lots of interesting shops. From cafes to top restaurants, there's something for everyone. And plenty of customers ready to enjoy your venue.
Having lived and worked locally for years we understand Brighton's uniqueness. We have seen it grow and change. And we know how to help independent businesses thrive here.
How We Work
To achieve a great interior design, we need to know exactly what you want. We believe in talking things through face-to-face. This means we can fully incorporate your ideas into the design process. Through our personal approach we develop close working relationships.
Interior designer Brighton
As a Sussex-based company we have over 15 years' experience creating beautiful interiors across a range of venues in Brighton and Hove. We provide interior designs for cafes, restaurants, gyms, offices and shops. We also work on domestic residences.
Here's an example of an interior we created. It was for the Body Fuel Cafe in Hove. We kept the design clean and fresh. This tied in with the cafe's healthy food and ethos. Many cafes combine food and drink with another offering. That might be retail sections where you buy their produce. Or adding a coffee shop within a larger salesroom. This brings in customers and encourages them to spend time in your venue.
If you're planning something similar, we can help you get started. And if you're adapting an existing retail space to also serve food and drink, we'll make it work.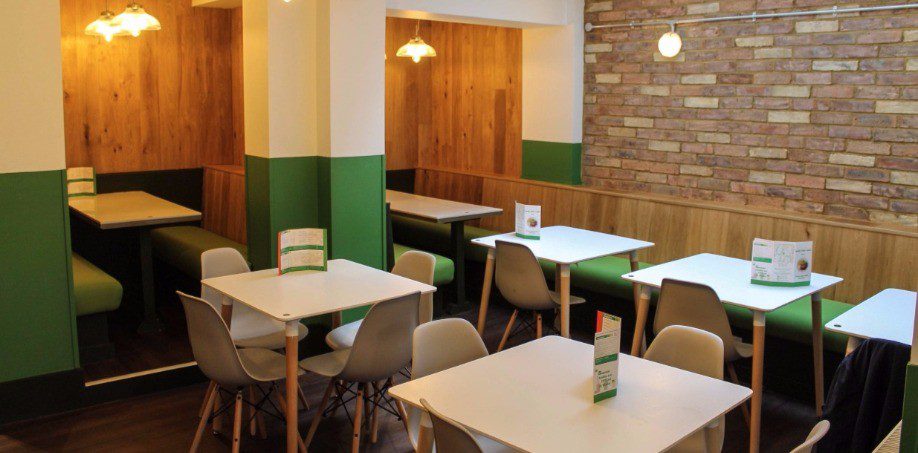 Budget
We understand the pressures facing independent businesses. We customise our interior design service to suit your finances. Whatever your budget. It just takes a bit of know-how. Which is why an interior designer is crucial to your project's success.
Design Process
We bring our expertise to all aspects of a project. This ensures a smooth process. Together we develop the design concept. Then we produce detailed drawings. We'll oversee the whole project. Or just focus on certain aspects. We can offer advice on legal requirements. And we can recommend contractors to work with.
From design layout to room structure and materials, we've got it covered. We'll guide you through the process. So you feel you're in safe hands. When you're happy, we're happy.
As well as designing the structural layout we can:
Specify wall and floor finishes.
Advise on colours.
Design waiter stations and bar counters.
Create display mountings.
Position energy and water points.
Design signage and outdoor seating.
Recommend sustainable materials.
Help with planning and safety regs.
Appoint trusted tradespeople.
Looking for an interior designer? Starting a renovation project in Brighton? Get in touch to discuss what you need.