Interior design steps – How we can help
We offer a full interior design service, and in order to help you get the most out of your budget we have a flexible approach to our work. Whether you are looking for a restaurant, retail or commercial interior designer we can guide you through the interior design steps and help make your space as good as it can be.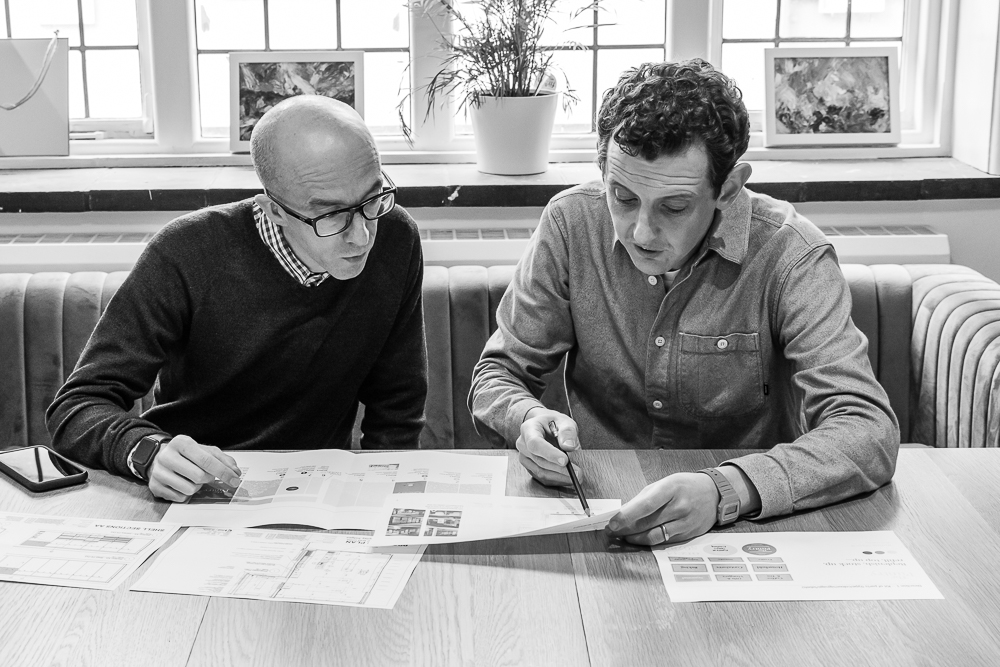 Design stages are a way of mapping out the design process, so that clients know what to expect at every point in the project. This is how it works:
Step 1. The Design Brief
We think the best way to start a project is with a design brief. This sets out the parameters of what the client wants from the interior designer, as well as the size and scope of the project. The most helpful design briefs cover the points set out below:
Objectives and goals of the new design
Budget and schedule
Target audience
Scope of the project
Who are your competitors?
Overall style/look
Any definite 'Do not's
Step 2. Our First Meeting
Our first meeting can be on the site in question or in Lewes, where we are based. At the meeting we will talk through the design brief and fill in any gaps. We will also answer any questions you may have about things like planning applications, services, timescale etc. Following our first meeting you will probably know whether or not you want to use our services. If you are happy to go ahead we then put together an estimate setting out how much time we think the project will take, and the cost of that time.
Step 3. Concept Design
Following a survey or the acquisition of the relevant drawings we can start the concept design. This will firstly involve the planning of the space, followed by interior and exterior visuals, sample / mood boards to help explain the feel of the space, and possibly sections and sketches. Once the concept design is complete we can normally make any necessary planning applications.
Proposed Plans
These set out how we can use the building to make the most of the space. Different projects require different approaches. Sometimes we will start with the function and then apply it to a space, other times we will study how the building is organised and look at what structural option there are before starting to looking at layout options.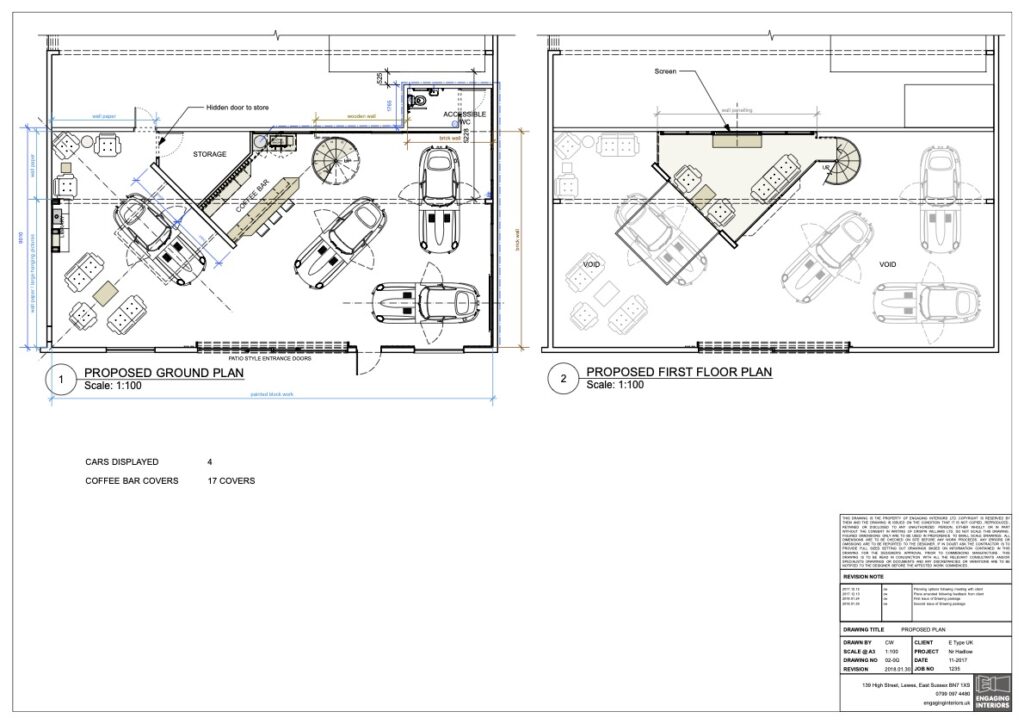 Mood & Sample boards
Our mood boards go a long towards creating the look and feel of the interior. We reference elements from previously built interiors and furnishings and organising them in a new way. The sample boards are a selection of paints, wallpapers, timbers and other architectural treasure. Like with the planning process different projects will use a different starting point. This could be a building finish or some element of the branding.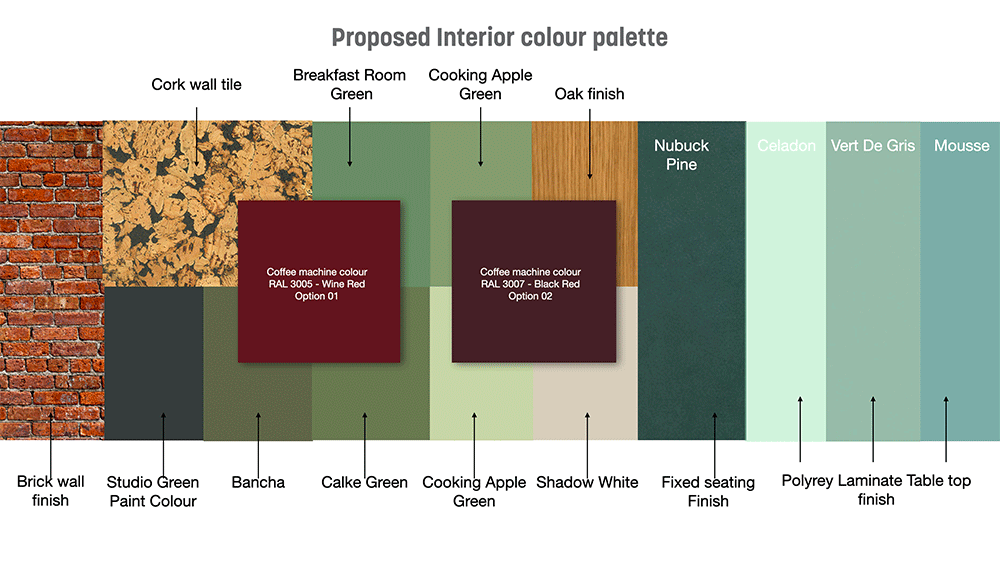 Visuals
Our visual are a great design and communication tool. We use them to help develop the design at an early stage and it means we can test out colour schemes and lighting more accurately. The communicational element of visuals can also be a great tool for helping a client understand the space. Some clients have put our visuals on their hoarding to build interest in a new site.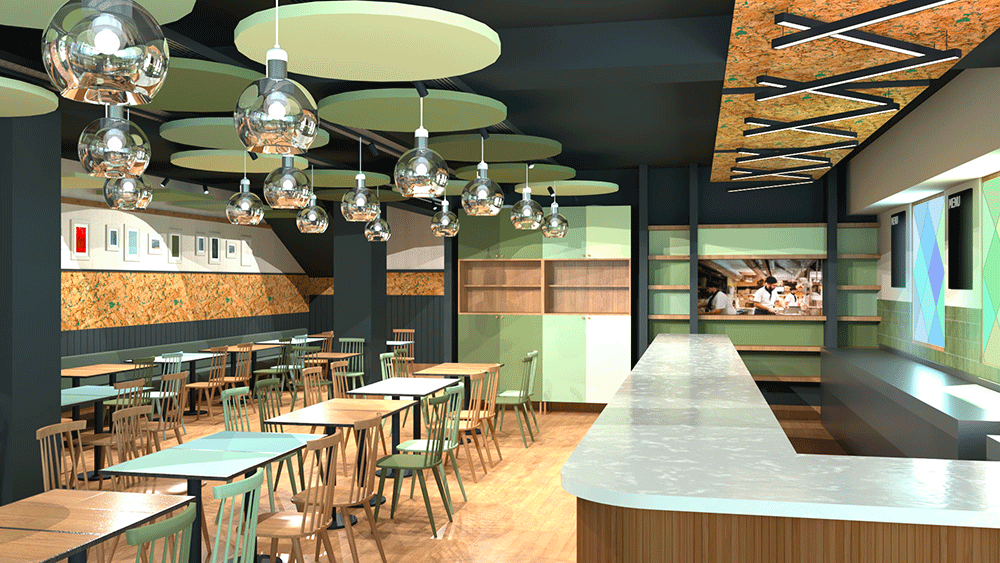 Step 4. Technical Drawings
The technical drawings stage is where we work through the 'nuts and bolts' of the interior design. These drawings must reflect the budget and ensure work can be priced accurately by the contractor.
Plans
At this point we work up additional plans that will support the proposed plan. Each plan will communicate a separate element of the design. Generally different plans will be relevant to different trades people. The different types of plans are as follows.
Floor Finishes Plan
Reflected Ceiling Plan
Wall finishes Plan
Small Power Plan
Emergency Equipment Plan
Licensing Plan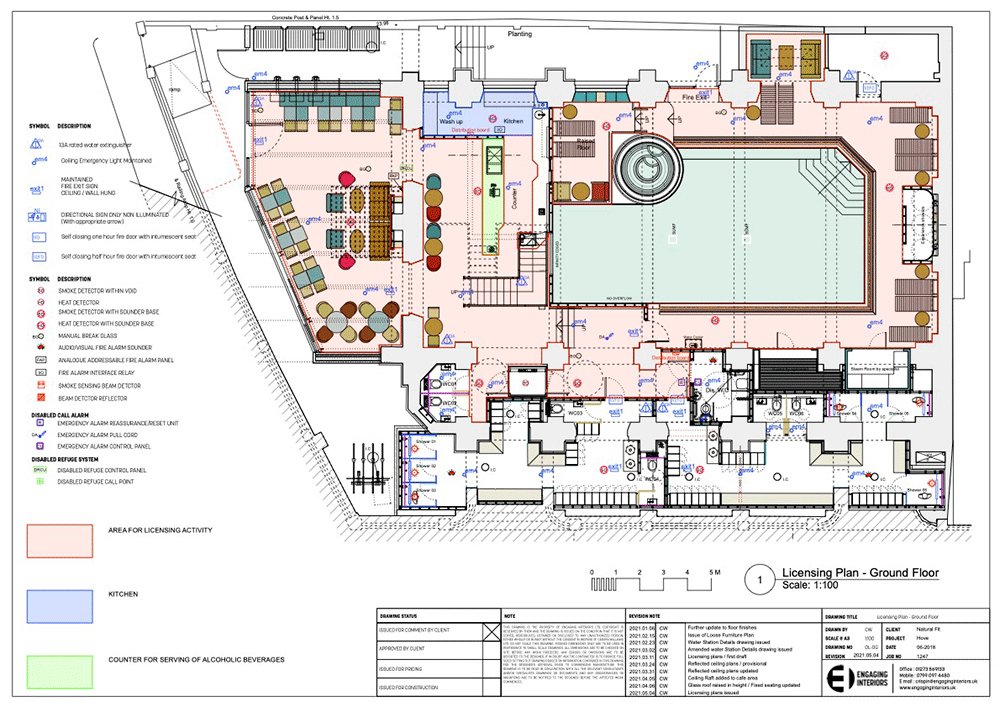 Sections
As well as our plans, sections are another useful way of explaining how the interior is to be constructed. They are a great tool for understanding how the wall treatments will look and are also good for communicating architectural elements of our designs such as double height spaces and large windows etc…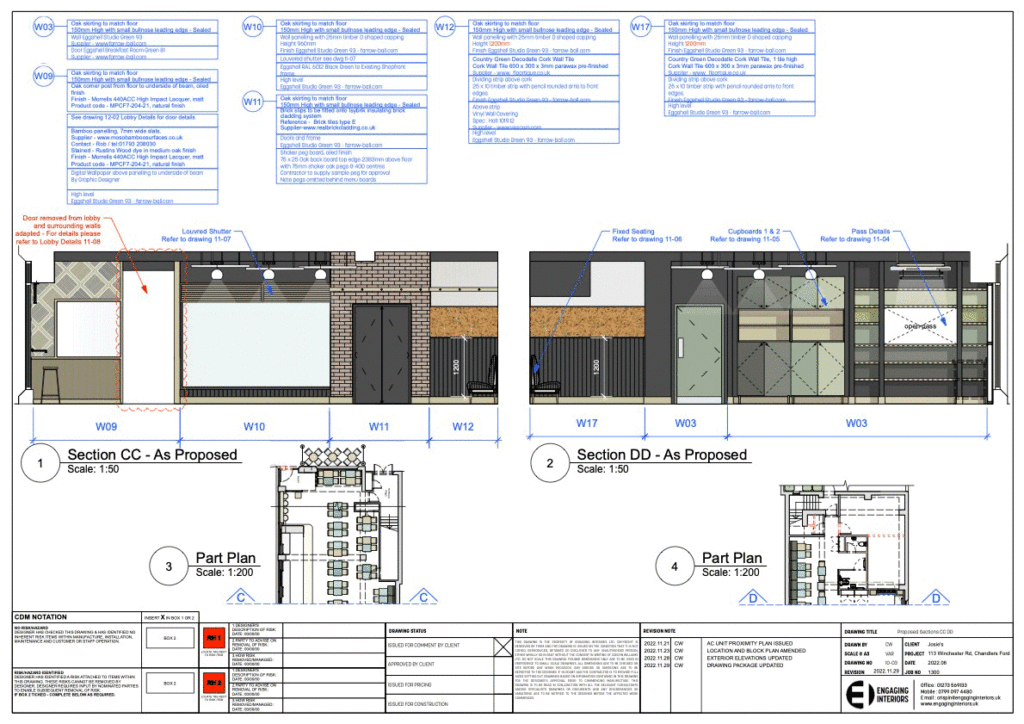 Details
Our detailed drawings are an important part of the information we produce for any interiors project. They explain how the chosen materials are used and how they are put together. We enjoy this part of the design process as much as any other part as it is where we really get to express how we want the fit out to come together. As time has gone on we have adapted how we design to make our interiors more adaptable, to make better use of material sizes and use sustainable alternative where appropriate.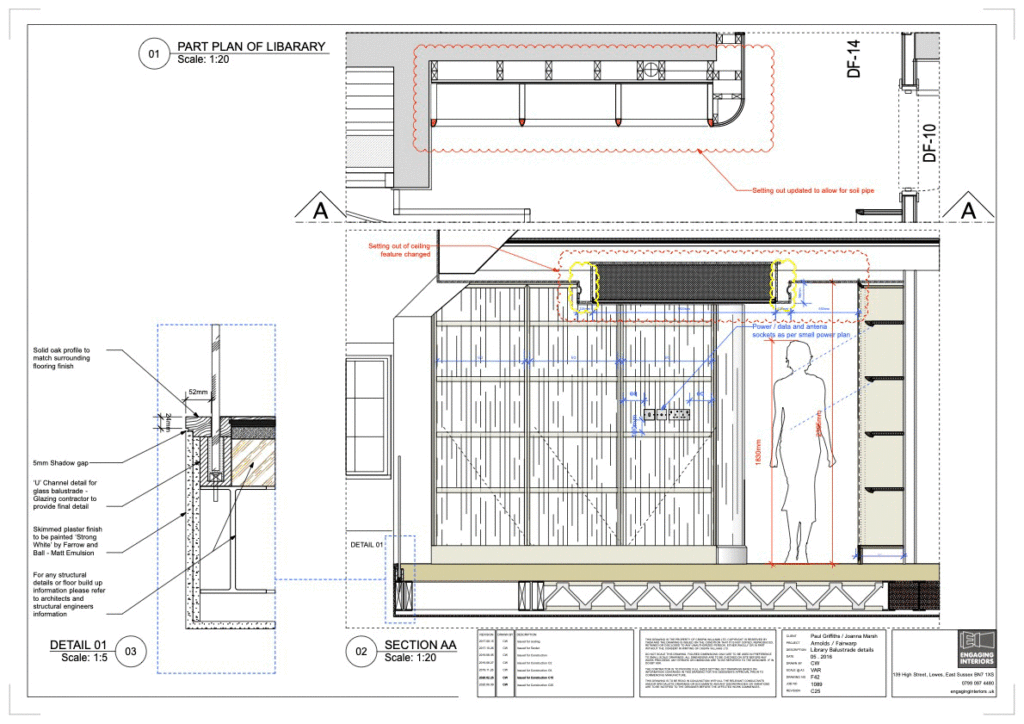 Step 5. Site Meetings
Once a project has been priced and a contractor chosen we can commence with the fitting out of the site. We are very happy to come to a site for weekly meetings, or on a more ad hoc basis. When the site is near completion we would always recommend that we and the client, together with the site foreman, take a walk around and compile a snagging list. After the snagging items are completed and all of the commissioning certificates are issued we can hand the site back to you so that you can open up…
Our design fees
At Engaging Interiors Litd we offer a more adaptable approach to design fees. Rather than basing our fees on a percentage of your project budget like most interior designers, we charge on an hourly basis. This takes the form of a quotation in most cases that is made up of a list of information / drawings required to complete the design. We normally quote for 3 stages of the design.
Concept Stage
Technical Drawings Stage
Site meetings
This is a very open way of working. You know what you are paying for and how much time it will take. The site meetings stag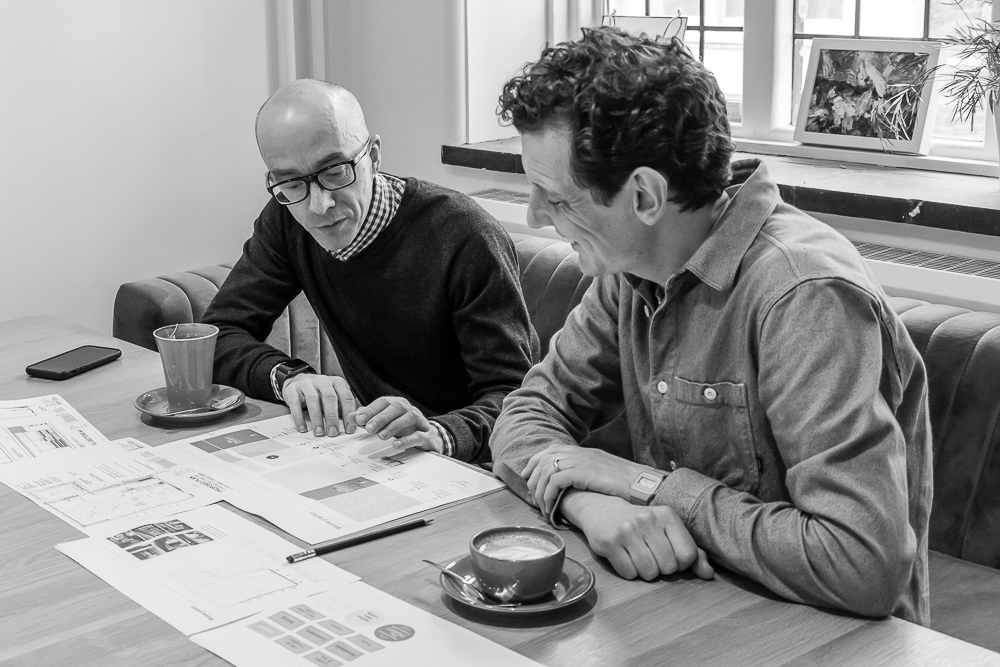 Local to the south east
As part of our low impact approach to life we prefer to work on projects that are local to the south east of England. We have even been known to cycle to site meetings (furthest so far is Tunbridge Wells). This approach is inline with our mission to stay cost effective, we also want to be able to help with any issues on site as and when they arrive.