For us at Engaging Interiors Limited, our retail interior designer roll is all about achieving composition and balance within our interiors. A shop interior must be designed in a way that allows customers to flow easily around the space. This gives the eyes a chance to rest and focus on particular items.
Designing shop exteriors is just as important. Customers want to make an educated decision about whether to have a step inside the shop or not. Composition and lighting are key for any part of the shop interior that can be seen from outside. Great design works inside and out.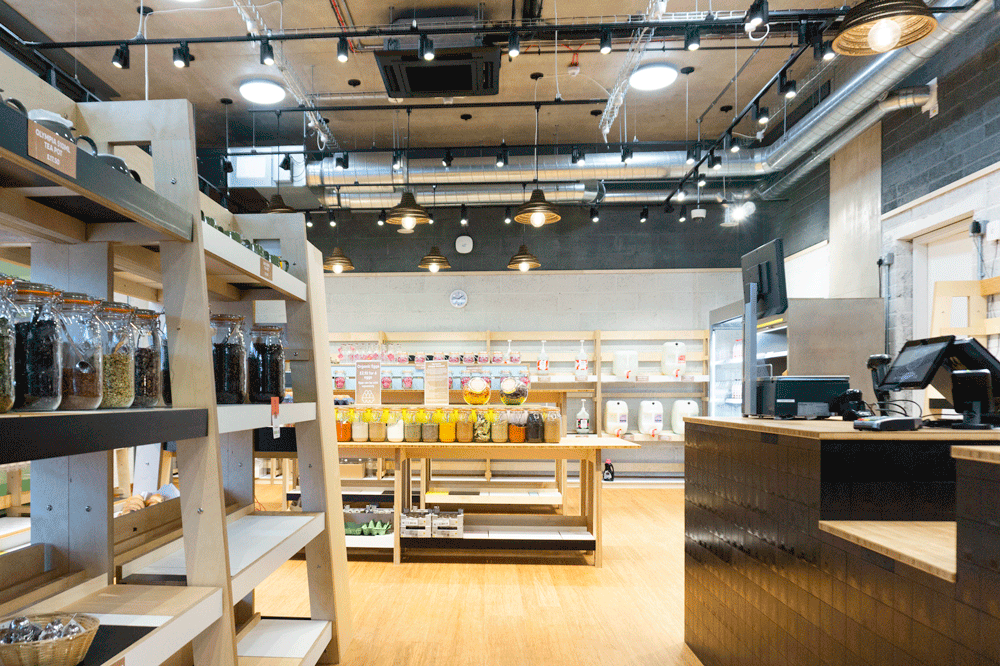 The benefits of circular design as a retail designer
It is important that the design of your shop can adapt as the needs of your shop changes. As a retail interior designer we want to design more retail spaces so that they can evolve with the needs of the operator. With this in mind we want to apply the principles of the circular economy to our designs where possible. It is early days with this approach and although we are enthusiastic about the principles of the circular economy we are not academics or certified in anyway. We are looking at how best we can apply the principles to our area of design. The mains benefits as we see them are.
A reduced site build period due to the fittings being built off site and positioned rather than fitted.
If your needs change and you wish to remove or reposition your furniture you can do this more easily.
By designing out waste the cost of materials will be reduced.
At the end of the shop interiors life the materials will be more easily reused or recycled if necessary.
For more information about how the circular economy can be applied to design here are some useful links
https://www.circulardesignguide.com/
https://www.ellenmacarthurfoundation.org/explore/circular-design
The circular economy has three main factors when applied to design.
1 -Designing out waste and pollution
This can be achieved by using materials that are sustainable to grow and manufacture; have a suitable life span for the space and use; design joinery to make the most of any sheet sizes etc…
2 – Keeping products and materials in use
The products designed and manufactured during a retail interior fit out are elements like flooring and furniture. These can be designed so that it is possible to re use them rather than having to rip them out. This is about having fitted furniture that can be repurposed once it has come to the end of this particular use. I have to admit at Engaging Interiors we have been guilty of such practices in the past and are keen to change our ways for the future.
3 – Regenerating natural systems
This is not as obvious when applied to Retail Interior Design. It is still worth a mention as the choice of materials used within an interior will have an impact on the natural ecosystem the material was grown or mined from. It is important to think about your interior not as a separate entity to the surrounding environment but an embedded part of your local / global ecosystem.
If our experience, design principles and the design processes are something you have become engaged with then feel free to pick up the phone or fill in our contact form.