Hood – Streatham, is an independent Restaurant that was founded by brother and sister. They were born and raised in Sussex and wanted to open a neighbourhood eatery that would be used by the local community of Streatham
Hood – Streatham / What was important?
Not forgetting their roots, they were keen to source as much of the food and drink from London and the south east.
Hood – Streatham / What was the brief?
Our brief at Engaging Interiors was to design an interior that reflected the menu. Our response was to design an interior that took you from the Streatham High Street to the Sussex coast as you experienced the interior. The existing site had been an Indian Restaurant for the past 30 odd years and during the strip out process we undercovered some original features like brick walls and a hand powered dumbwaiter. These were all utilised within the design and made to work with a bar that was inspired by the De La Warr Pavilion in Bexhill and a wall of providence showing where all of the food is sourced from.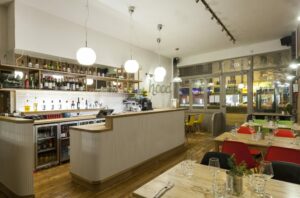 The budget was tight for this Restaurant and some of the larger interior designers struggle to make this type of project work financially. At Engaging Interiors we are better placed to work with smaller business as we have smaller overheads and are more nimble. The owners were our first clients that turned to crowd funding. This meant that they pre sold some of the sittings and was a great success. Essentially it got them across the line and because some of the local community had already invested in the venture they then felt a part of it.
If you are starting out with your first venture give us a call. We like nothing more than helping people make a successful business and change of life style out of what starts as an idea or a passion.