We are delighted to offer our interior designer service to Dorset. Beautiful coastline. Bustling towns. Picturesque villages. Rolling countryside. Dorset has it all! The county understandably attracts people in their droves.
But don't be fooled by its sleepy exterior. Dorset boasts innovative restaurants and retail spaces offering fine-dining and top-end shopping. And there's a range of traditional seafood and pub grub too. If you're opening up a restaurant or shop in Dorset and need an experienced interior designer, get in touch.
We will help you through the design process. We know how to make the best use of your space. Our design will help you get your message across. If you want a full design service, we'll appoint our trusted contractors. Or we can take a less hands-on role, guiding you when needed. We want you to end up with a space that works, and we know how to get you there.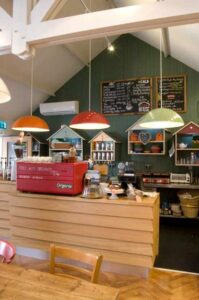 Interior Designer Bournemouth
Home to eateries serving artisan local produce, fresh seafood and world cuisine Bournemouth is a great place to open a restaurant or develop an existing one. There is a lively nighttime scene, with plenty of bars and clubs. And shoppers will find a range of independent boutiques, high street stores and vintage quarter.
If you're planning a new venue or want to make the most of an established space, we can help. We worked on a great project in Bournemouth: the Treehouse Indoor Play centre. This was a soft-play place with a difference. Treehouse used natural building materials and serves fresh food. It offers customers a stylish alternative to the usual aircraft hanger-style play centres.
This is a good example of how we can match the unique style of your business. Moving away from the noisy, overly-plastic play areas, this is a space with elegance. It works for the kids as well as the parents. Read more about this project here.
Interior Designer Dorset
For the interior designer Dorset has an attractive combination of countryside, coastal and urban venues. Here are some of the major places people love to visit:
Poole
The gateway to the Jurassic Coast, Poole deserves a mention in its own right. It features England's largest natural harbour and a stunning bay with cafes and bistros (including a Rick Stein restaurant). There is ample opportunity to launch a successful restaurant or retail venture here. Food with a view – a recipe for success.
Swanage and Lyme Regis
These charming towns are popular holiday resorts. Visitors love the traditional seaside town-feel, shopping and tasting the excellent food on offer.
Lyme Regis has exciting new eateries and stores as well as its traditional shops. A popular holiday resort, there are tourists throughout the year. With locally caught seafood, bakeries and a renowned fudge shop, it's got it all. With its fossil hunting, beautiful beach and famous Cobb, it's well worth a visit.
Swanage has an appealing 'bucket-and-spade' feel. There's a Victorian pier and steam train for an old-fashioned day out. And there are bistros, tearooms and pubs when you get hungry.
Interior Designer Dorchester
Dorest's county town Dorchester boasts traditional inns, independent cafes and pubs. There are plenty of shops for locals and visitors. As a focal hub for Dorset it's a thriving town. If you're looking to expand your independent chain or start a new venture, check it out.
There is a variety of shops on offer. From old-school hardware stores to the Brewery Development area, there's something for everyone. And the farmer's market and weekly county market add a unique feel.
Bridport
This market town relishes a slower pace of life. But it's also a hip, trendy place with great restaurants and an arty vibe. Close enough to the sea for excellent fresh seafood, it's an ideal restaurant venue. Local markets and farms offer delicious seasonal produce. And with a regular stream of visitors, there's a solid customer base for a store.
With places like River Cottage nearby, it's a hotspot for foodies. If you're setting up a cafe or restaurant you can benefit from these gourmet visitors. There is also a strong independent clothes and antique shop scene. Bridport is home to exciting local artists, too, giving it a creative buzz.
So, for a new or existing business looking for an interior designer Dorset has huge potential. Get in touch and tell us what you're planning.