Natural Fit – Hove is the second site for the new and dynamic Health Spa business. This time the location is Hove and the building is an old Church. The church presented a new set of challenges, from structural adaptations to making the use of the large volume spaces. The client was keen to put in a mezzanine which worked very well and sat on the existing ground floor level slab. The structure which creates another two floors uses the building to brace the supporting steel for the first floor, then more steel legs crank inwards and move away from the walls of the church to create the second floor.
The interior design
The interior design of Natural Fit – Hove was quite different from the Tunbridge Wells site as the church was such a great starting point from an aesthetic point of view. There are design elements that both site share that are part of the Natural Fit brand. These are mixed with other interior design decisions that respond to the architecture of the building. As with the previous site there are some design decisions the client made for themselves which we have worked with. We do not get precious about such things at Engaging Interiors but work with them.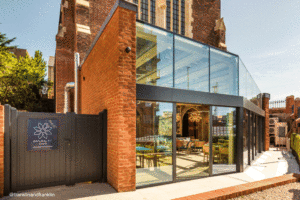 The roof structure of Natural Fit – Hove is stunning. Up until now visitors to the building would only be able to view it from ground floor level. This approach to the building has meant that existing features like leaded windows and decorative stonework have been made more visible. This also makes it easier to maintain due to the new mezzanine levels from an access point of view. As well as improving the access to the upper part of the building the roof was replaced and insulated. This has given the interior at an acceptable temperature.