Great restaurant lighting is something you might not necessarily notice immediately. What you will pick up on is the ambience and atmosphere of a place, and this is largely created by how a space is lit. Lighting is crucial – ever walked into a glaringly bright bar and felt uncomfortable or uneasy? Or been sitting in a dingy cafe and felt your mood lower? You want your customers to feel relaxed, happy, welcome and comfortable, and you can do this at the flick of a switch.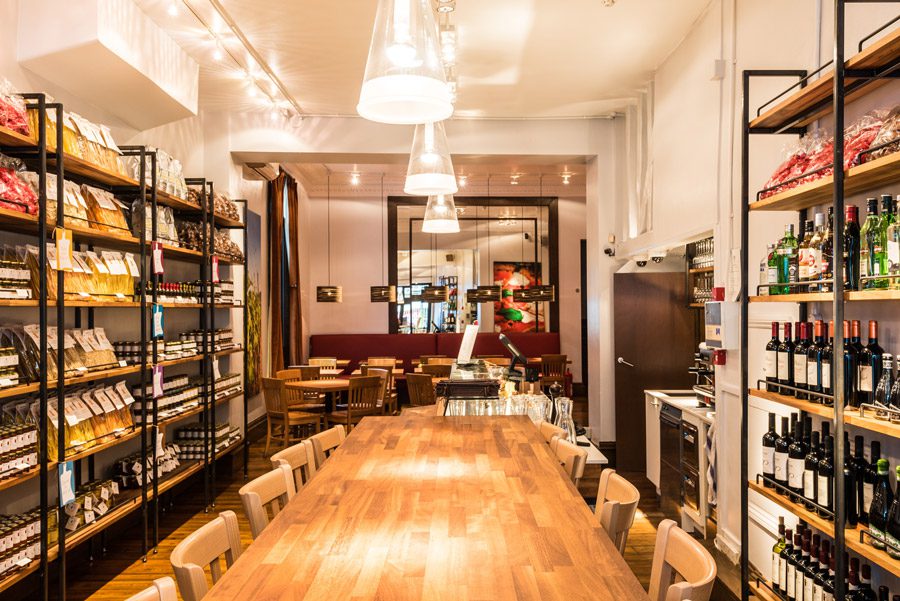 During next few posts we will be exploring how to get the lights right for your restaurant or retail space. Lighting functions in four main ways: creating task lighting, ambient lighting, accent lighting and decorative lighting. One restaurant may require several different kinds of lighting for different areas of the interior. Make sure you understand the requirements of your space and match the type of lighting to how each area will be used.
One very popular type of restaurant and shop lighting is pendant lighting. These lights reflect and bounce light out from their shade, creating a pool of light below and sometimes also casting light onto walls and ceilings. There is a wide range of pendant lights out there, so here's all you need to know to pick just the right kind for your space.
Things to consider
Purpose This will largely determine which type of lighting will work best. If you want to highlight a preparation area you need task lighting, whereas over tables you need accent lights. Pendant lighting is great for hanging over individual tables to create an intimate feel. It also works brilliantly hung in rows over a bar (choose odd numbers like 3 or 5 lights for the best effect).
Time of day You also need to consider the time of day you will be operating and the type of food you are serving. Breakfast customers will want brighter lighting. At lunchtime in a high-turnover restaurant you will want moderate lighting to create an energetic feel and encourage the flow of customers. For evening meals and in a more refined restaurant space you need dimmer, more intimate lights. Make sure the pendant lighting you choose is adjustable to take account of these shifts in daylight and customer needs. Dimmer functions are essential.
Height and scale If your restaurant or retail space is large, you can go large with your pendants and hang them low. However, in a smaller space you will need to keep pendants to a smaller scale and keep them closer to the ceiling so they don't get lost. If you are hanging a pendant over a large table, again you can scale up and hang low. Big lights look strange over small tables, so keep things in proportion. Check that any lights you buy can be hung at the necessary minimum height.  Be mindful also of your clientele – if you are likely to have a younger crowd who may want to dance at the bar, pendants are best hung higher, out of harm's way. You don't want any overenthusiastic customers swinging from the chandeliers. Or maybe you do. We wouldn't advise it.
Finish  Pendant lights come in a variety of finishes, each creating a different effect. Metal and non-translucent lights give off a more moody, atmospheric glow, chrome and glass look sleek and sparkly, and more intricate designs create an instant impact. Glass pendants look great hung at the front of a restaurant or shop where they catch daylight from the windows, and the glances of passers-by. More atmospheric finishes are better suited to the rear of a space.
Positioning As mentioned above, the position of your lighting will depend on the function of an area. Pendant lighting is great for anchoring an object, say a table or island, within a room (see image below). Whether hung individually or in groups (remember the odd number trick) a light suspended over a particular place will bring the focus onto that space. This is best done over fitted furniture if you want to avoid the costs of moving the lighting, or you could install a track system to shuffle the lights around if required.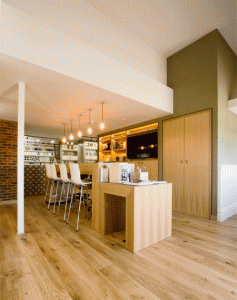 Colour  Not only do you need to consider the colour of the fixtures themselves, you also need to think about the colour temperature of the light they emit. From warm whites to cool tones, different bulbs will render your space, furniture and even food differently. Using a pop of colour, like mustard, gold or red in the suspension cords can add accent to an interior design and lift the finish.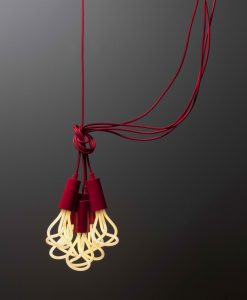 Trends
Braided cords are having a moment. Head to Dowsing & Reynolds, who have a great range of colours and styles (see pic above for their gorgeous red cord paired with a plumen bulb).
Paper lights. These look fab, but you must make sure they are properly fire retardant.
Filament bulbs are on trend at the moment, creating a bare, urban feel. We used these at Kokomo (see image below) in front of a neon sign to create contrast and kick light back from the sign.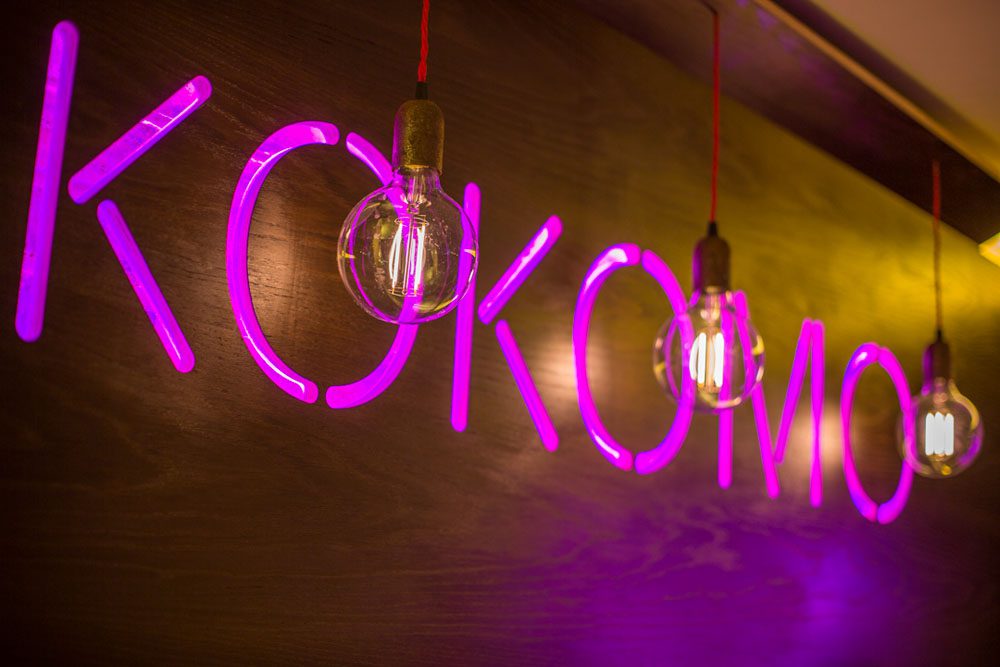 Concrete is everywhere in interior design at the moment (remember these concrete tiles?), and lighting is no exception.
Check out Tom Raffield and Tabitha Bargh for contemporary designs and top quality pendant lighting that will compliment any space.
Geometric shapes – we love these diamond beauties!
Pros of pendant lighting in restaurants
Pendant lights are excellent for lighting individual tables and creating a comfortable, inviting atmosphere. People are bathed in a gentle glow and feel safe in the space.
Great for filling a large space with high ceilings and making the room feel more intimate.
Glass pendants at the front of a restaurant or shop will attract attention from passers-by.
There are plenty of good-looking, affordable pendant lights for those on tight budgets.
Cons of pendant lighting
They can be difficult to move around unless installed on a track.
They take up space and so are not appropriate for all retail interior designs, especially those involving low ceilings.
Pendant lights can be awkward to clean. They are not great in kitchens where there is a lot of grease, so be mindful of practicalities when choosing.
There's a lot to consider, so if you feel you need some expert help do get in touch.