In response to the global pandemic, this is the first in our
special series
of posts on how to adapt your restaurant or cafe to the post-lockdown world. Of course, as this is still unfolding no-one knows exactly what that world will look like, but judging from other countries' experiences emerging from lockdown it's likely that when restaurants, bars and cafes are allowed to open, they will have to operate very differently, at least in the immediate term. As cafe and
restaurant interior designers
we can help businesses make this transition as simply as possible. Here's some advice on how to adapt your coffee shop, cafe or restaurant to takeaway service – one of the likely scenarios when
things start opening up
.
This post outlines how you can make manageable changes to your interior design and infrastructure to support a move to takeaway business. As this is not a permanent change, all our suggestions will be reversible and at minimum expense. To show you how things would work in practice we've used one of our clients' sites to demonstrate how it could work. The site is part of the small independent chain,
Josie's
, and is a coffee shop that usually also offers amazing breakfasts and lunches. In order for the team at Josie's to start planning ahead, before the government give us more information, we've looked at solutions for the most obvious possible scenarios.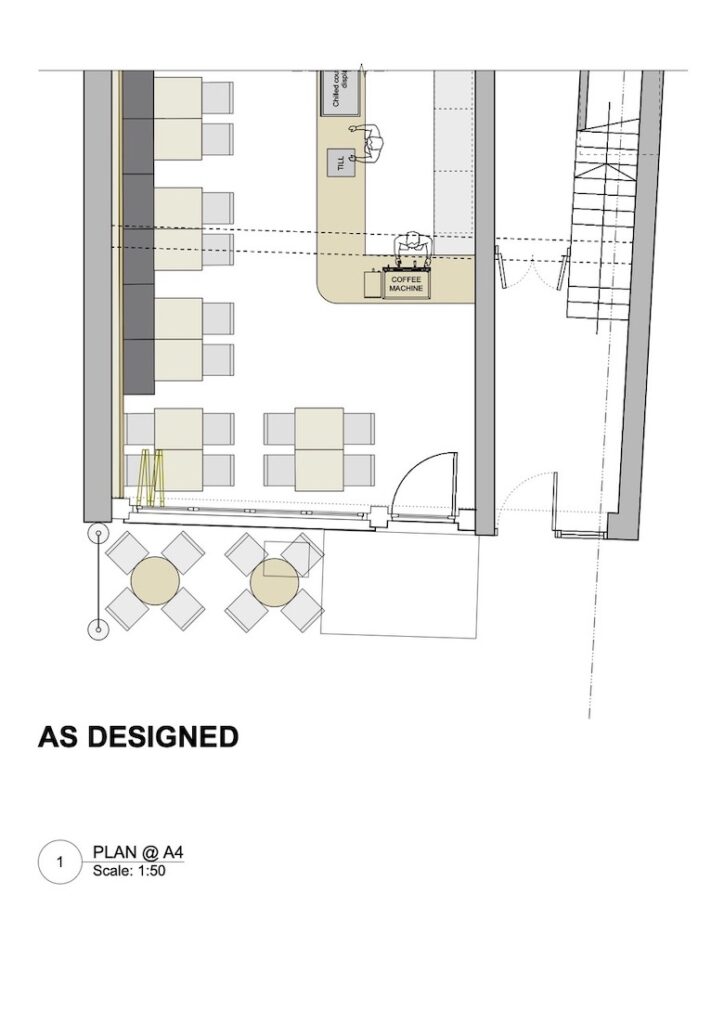 This coffee shop interior design plan (above) shows how Josie's would normally operate. Their counter sits along the right-hand wall, set within the interior of the coffee shop. Using this plan as our base, our post-lockdown designs will try to limit public access into the space to differing degrees according to what you feel is manageable and safe, or to meet official requirements.
Walk-in takeaway Option 1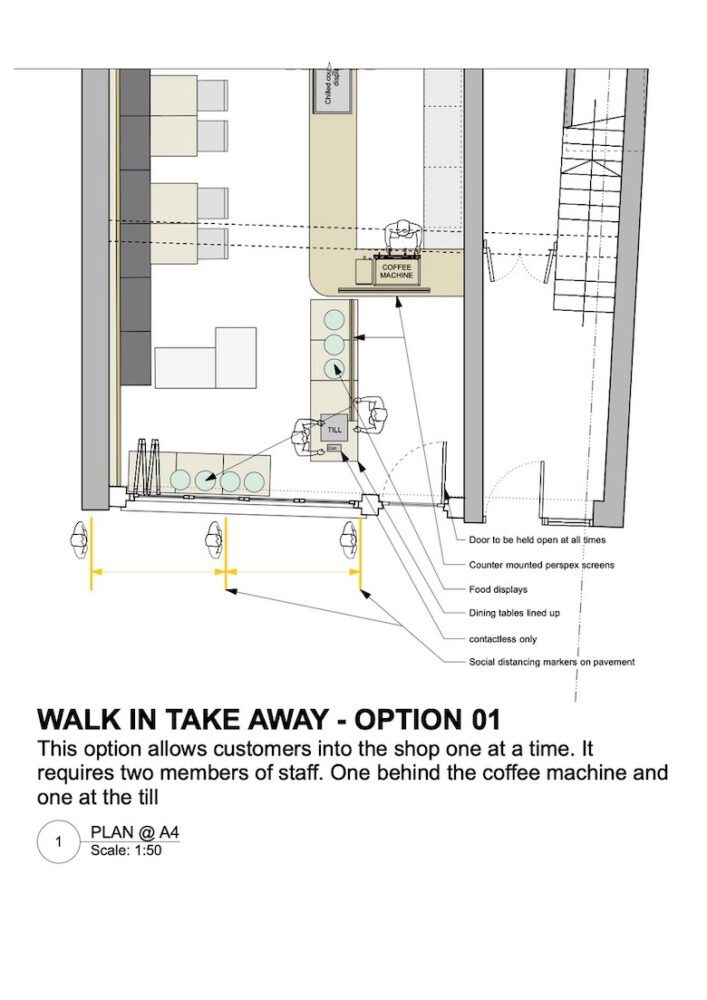 The first option, the walk-in takeaway, allows customers into the space, but just one at a time. To greatly reduce the possibility of customers and staff infecting each other we've mounted perspex sneeze screens on the counter. In all of the planning options we have used the existing dining tables as makeshift counters, with items like tills and displays raised in height by other items like packaging boxes that would be easily to hand. The till offers contactless payments only, and markers outside ensure people keep the required distance apart.
Walk-in takeaway Option 2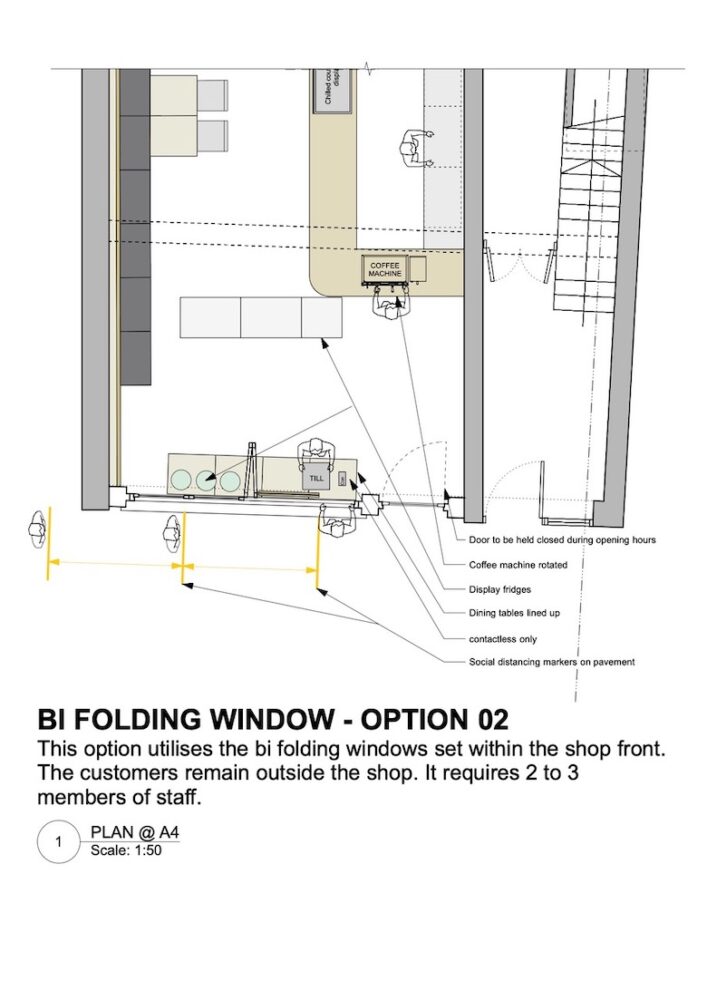 With this design customers don't enter the coffee shop. We have utilised the bi-folding windows of the site and enabled the coffee shop to bring what Josie's has to offer right to the street. You don't have to stop at moving the counter and till – you can move menus, set up temporary lighting and change the whole focus of your venue to catch the attention of passing (prospective) customers. With the same social distancing markers outside and contactless-only payments, we have minimised the risk of transmission whilst displaying some of Josie's food and drink in the centre of the space.
Walk-in takeaway Option 3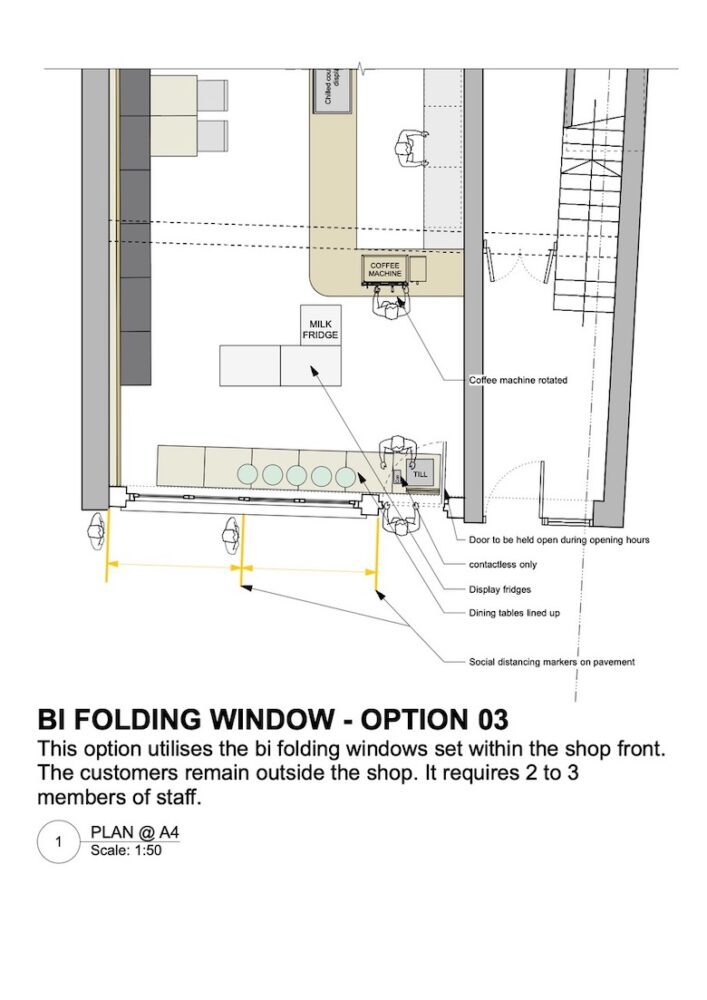 As not every venue has bi-folding windows, with this option only the coffee shop owners are able to use the entrance door. Here, we have moved the till in front of the door, blocking the entrance but still allowing customers to see inside. With this design it will be important to make the most of any surrounding windows in order to make a big statement. Although we are in strange times it's essential to understand that the usual interior design rules still apply: customers need to understand what you are offering, and feel confident that it will taste great and that the price is fair. It is also important to get the operational layout right so that your staff can be as socially distant as possible by splitting up tasks into areas, if possible. This will need to be backed up by an additional cleaning regime of all contact surfaces.
If you'd like to talk through any questions about how to adapt your venue to provide takeaway service whilst still retaining your unique brand identity and loyal customers, do
get in touch
. And check in next week for another advice-filled post to help you get back up and running as safely and profitably as possible.