Many people are exploring new ways of working, looking for more flexibility and lower outlays. We at Engaging Interiors recently decided it was time to move on and will be leaving our studio in Lewes to set up a new office in Crispin's garden. Most of the senior designers we employ prefer to work from home as freelancers so we don't really need a large office. Instead, we're making use of an area that was previously the greenhouse, to create a small but perfectly formed workspace. We thought it might be useful for anyone else considering a similar move if we outlined the process here. So over the next few weeks we'll be posting about all aspects of creating a garden studio, from designing the exterior and interior to different phases of the actual build, through to finished project.
For this post we wanted to run through the reasons why you might choose to work from a garden studio rather than a more traditional office space, and to show you how we applied our interior design expertise to creating a design that was both functional and appealing, and that met planning requirements. Here's what you need to think about if you are planning on building a garden studio: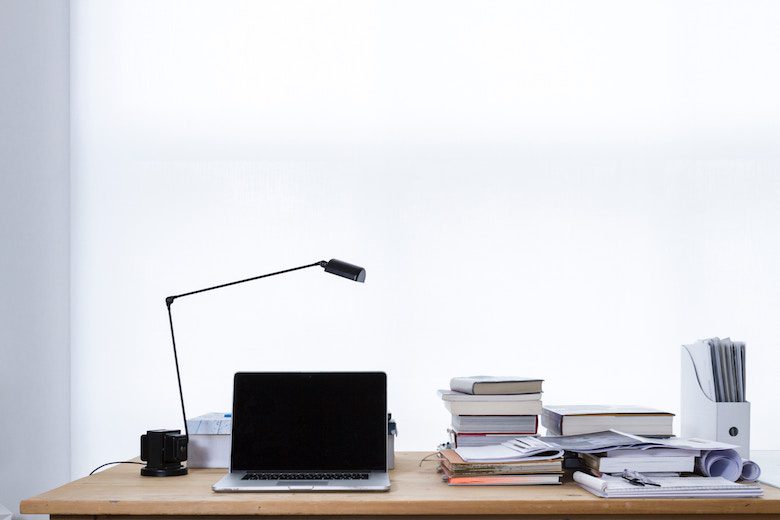 Things to consider before building your studio
Planning restrictions: You need to ensure your studio would meet the permitted development requirements. Any structure that is within 2metres of a boundary can't be more than 2.5metres high. Buildings must be single storey and a structure that stands further away from the boundary is allowed to be up to 4metres with a dual pitched roof, or 3metres with any other roof. A studio must take up no more than 50% of a garden, and you made need to obtain further permissions or meet extra criteria if you are building on designated land or within a National Park.
Size: With a garden studio you need to make the surface area as small as possible, rather than the other way round. This might feel counter-intuitive,  but a smaller area is much easier to heat, more cost effective to build, and leaves more space in the garden.
Budget: Typically, a new, bespoke garden studio will cost between £8,000-£30,000, depending on whether you build it yourself or pay a contractor to do the work. A project like this is fairly easy to cost but you might want to keep aside a small contingency fund.
Time: Our project has moved quickly, and it's important to keep things on track. Make sure you allow for any lead-in times for fixtures like windows and doors. This can be tricky to manage as you may want to wait until the studio is built before ordering, so you can get the exact measurements, but this could then delay the project or leave your structure exposed to the elements for longer.
Loneliness: It's worth having a proper think about whether you really want to work in a small space, mostly by yourself. If you're someone who needs the energy of other people around you, a garden studio may not be for you. Alternatively, if you love solitude and peace this will be ideal
Practicalities: You will need to heat and insulate your studio in order to be warm and comfortable in the colder months (there will be more on this in a future post). It's possible to run a wifi router along an existing electrical system, as long as the ethernet plug is on a circuit that is on the right side of the consumer unit (your electrician will explain in more detail). Electricity to the studio can be above ground if your cables are marked and armoured, but best practice is to run them underground.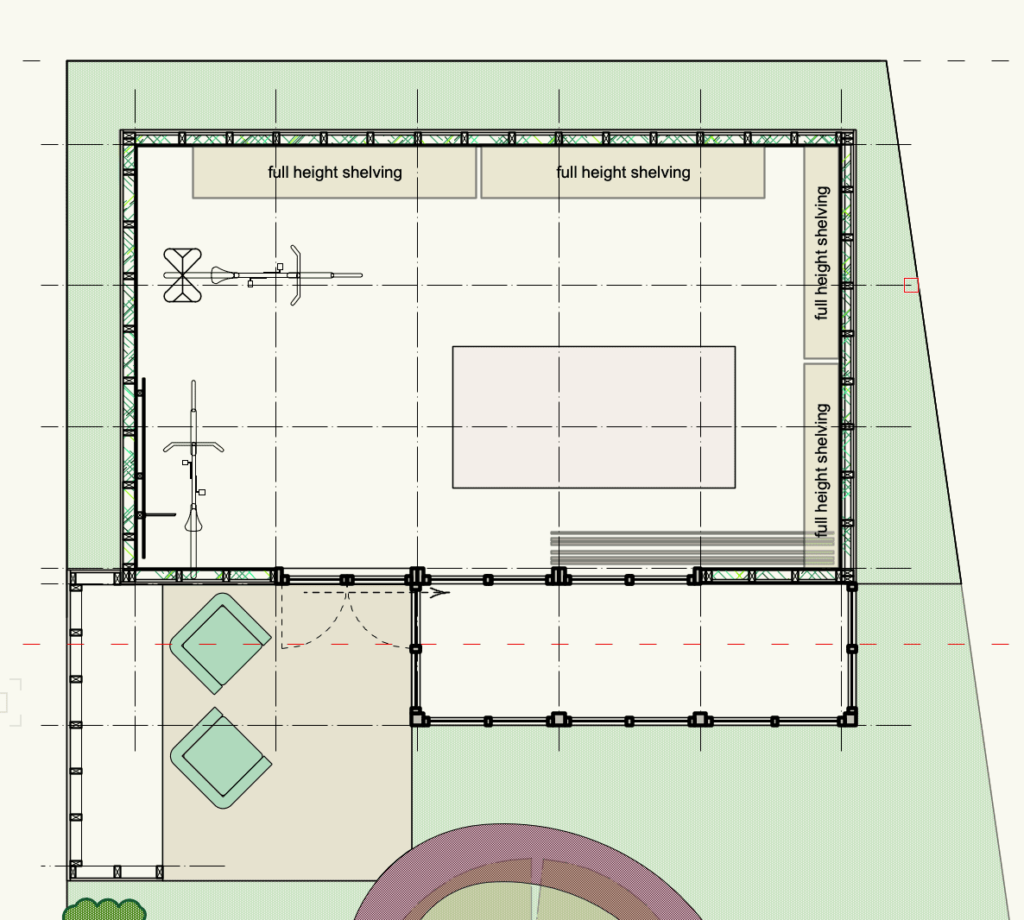 You might also want to make a list of pros and cons before you embark on a garden studio project. Here's ours:
Pros of a self-build garden studio
No ongoing rent
Greater flexibility for family life and responsibilities
You can personalise the space – we are installing a turbo trainer cycling machine hooked up to Zwift so we can work out as well as work!
Everything is in one place, so life is easier to manage, even down to having fewer keys
Adds value to a property (though it may be counted as a company asset so this is worth checking with your accountant)
Cons
Blurred definition between work and home life, with no change of scenery
Substantial initial financial outlay
As you can see, for us the pros far outweighed the cons. So we began drawing up ideas and designs. In any garden there will be structures or planting that will to some extent dictate the placement and shape of your studio. For us, it was the kids' trampoline that had to be factored in, so initially we worked up a design that followed the curved line of the trampoline.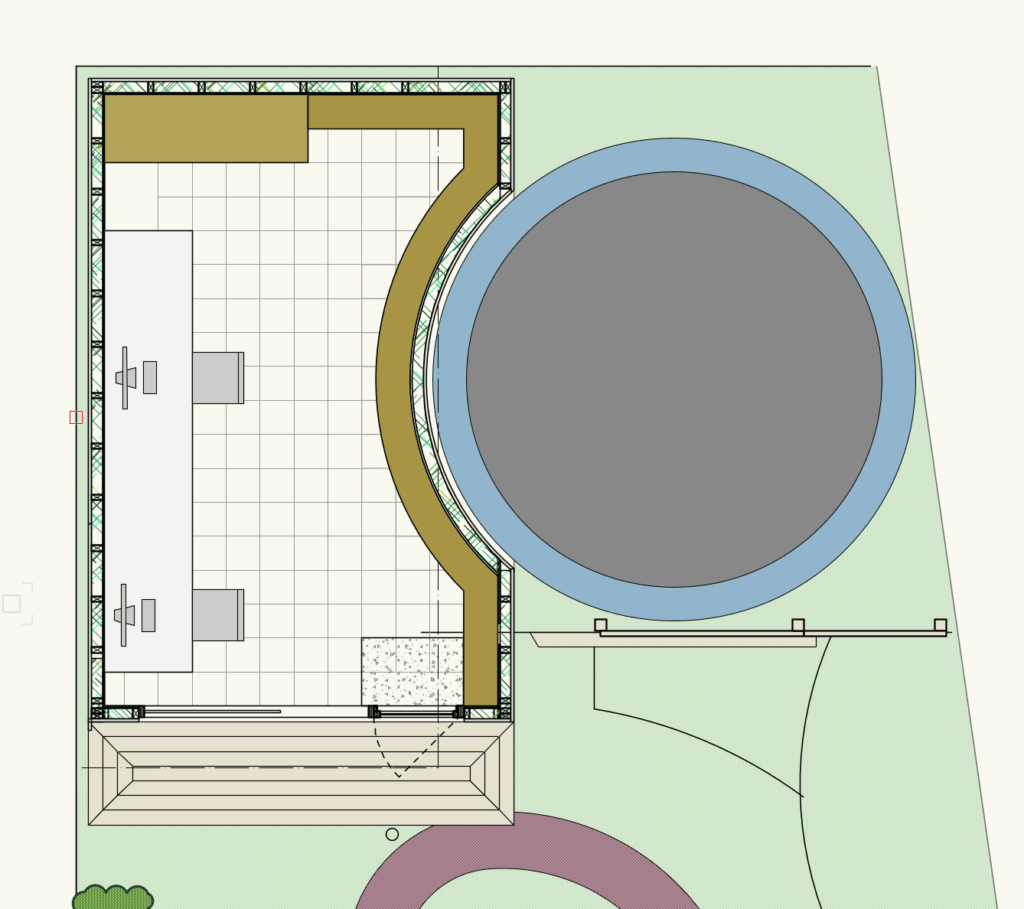 But we decided against this in the end, and the drawings below show you how the finished studio is going to look, as well as giving an insight into the design process itself. These drawings show the finished interior design and layout.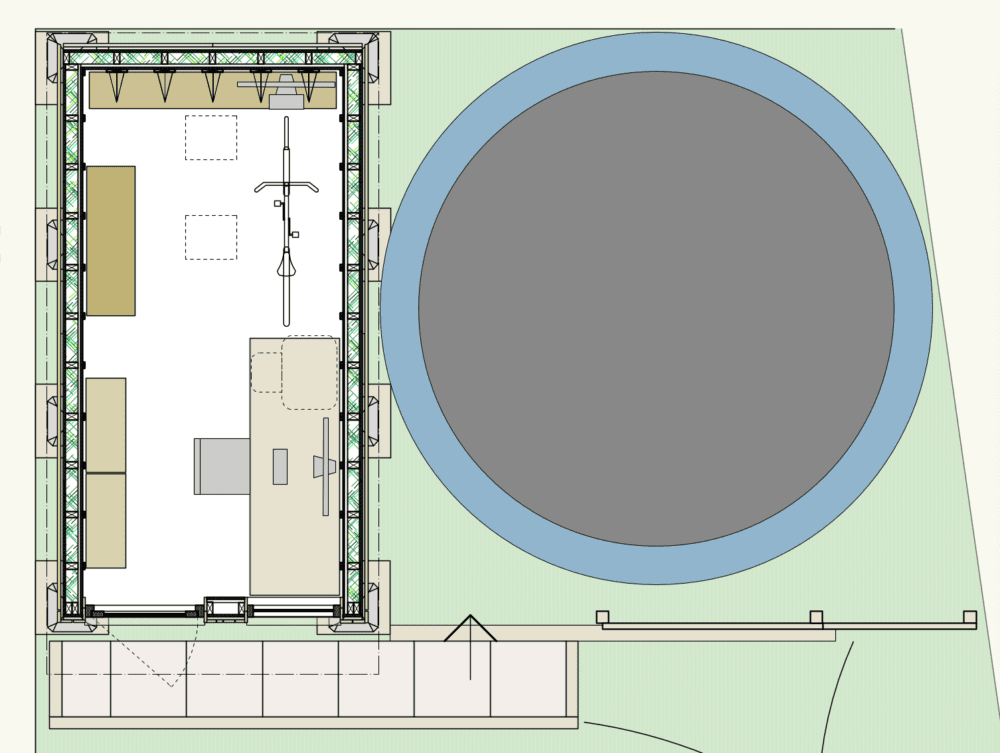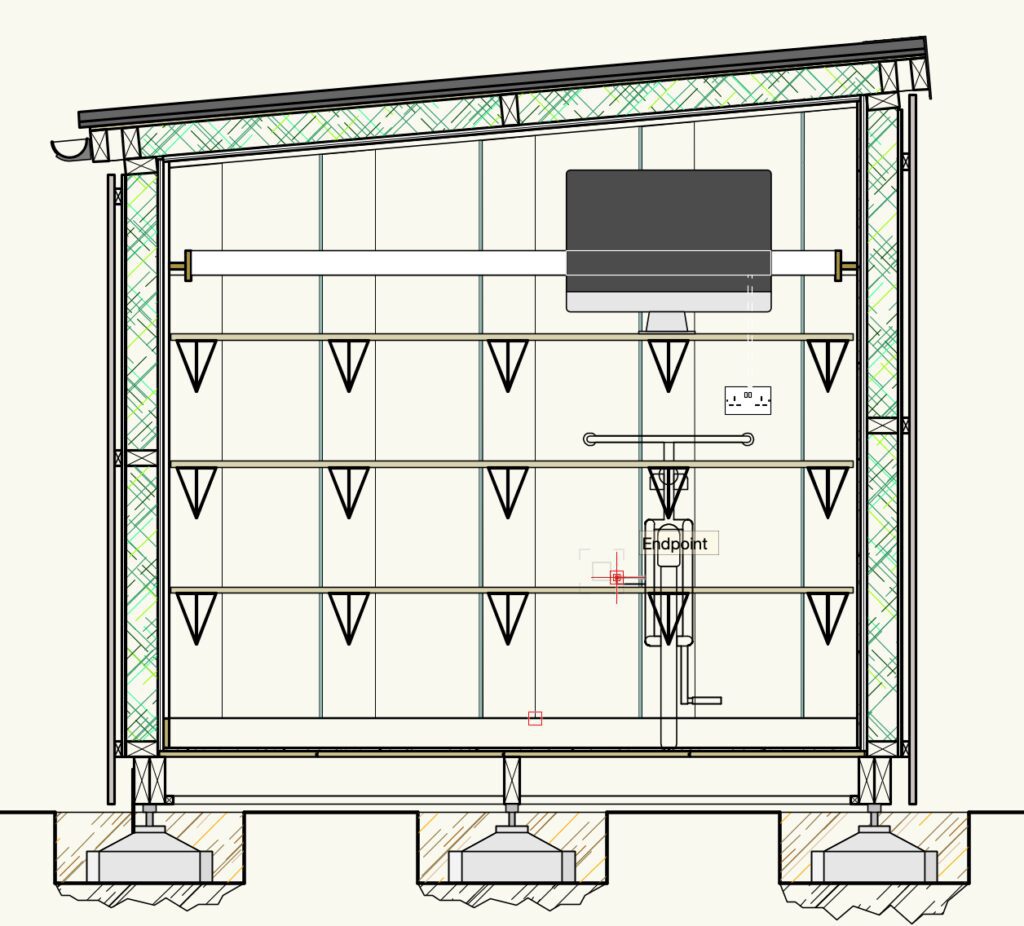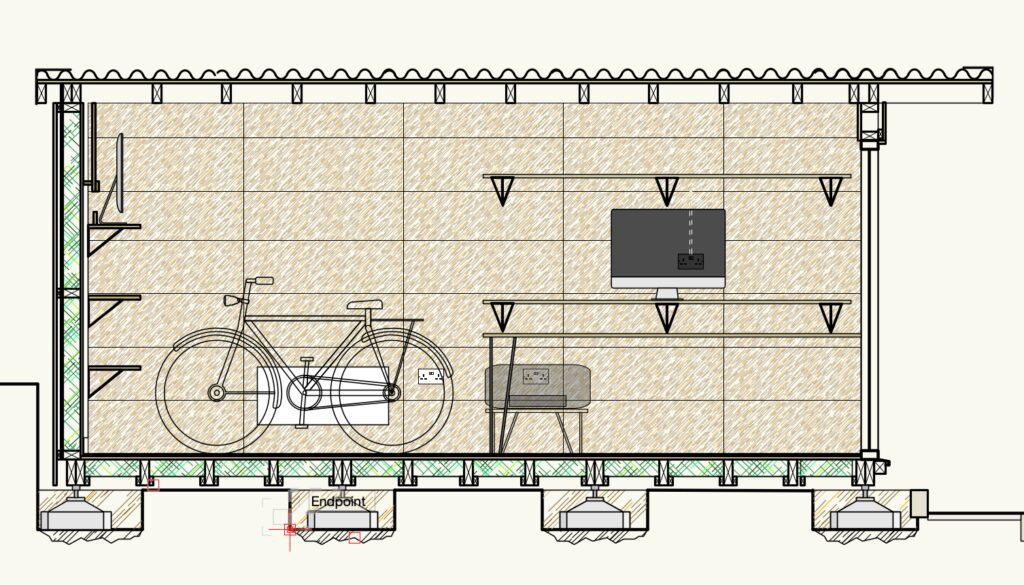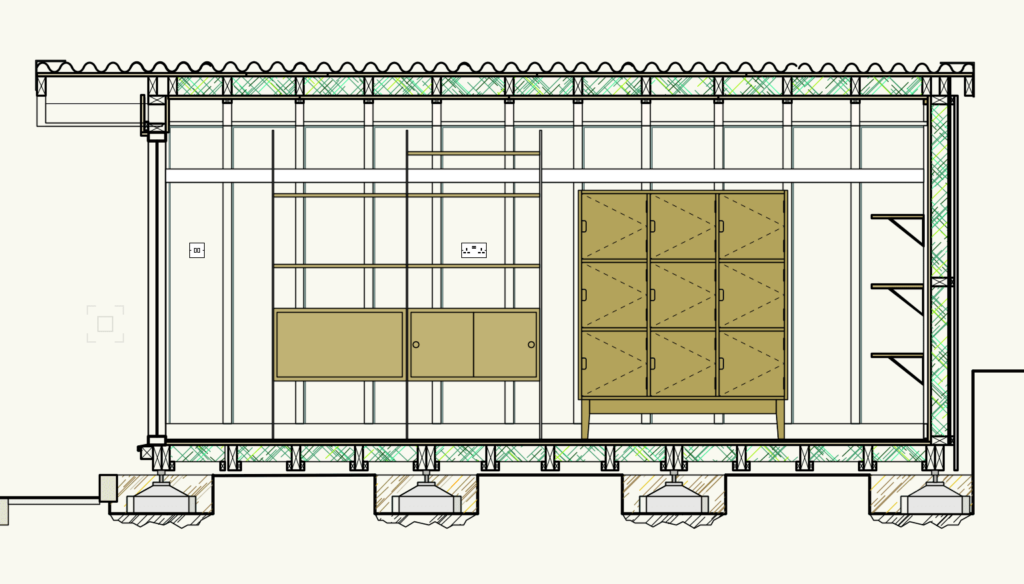 Do you have any tips for people considering building their own garden shed or studio? Let us know in the comments, or get in touch if you'd like to talk through any aspects of the retail or restaurant interior design process.