Ever wondered what happens to the fittings and furniture when a cafe or restaurant changes hands? Whilst a revamp and relaunch is always exciting, it does create landfill and use up resources creating brand new bar units or lighting. Is there a better way to design and build interiors that treads more lightly on the planet? The answer is 'Yes' and it lies in the idea of circular design.
At Engaging Interiors we believe circular design is a natural follow-on from thinking about a circular economy and sustainable ways of living. The concept (which we've discussed in more detail
here
) involves designing spaces that can be dismantled and repurposed. It also specifies using recycled or redesigned materials where possible. This way of creating spaces reduces our carbon footprint and cuts down on waste. It's an exciting way to think about interior design, and we're putting these principles at the heart of our design practice.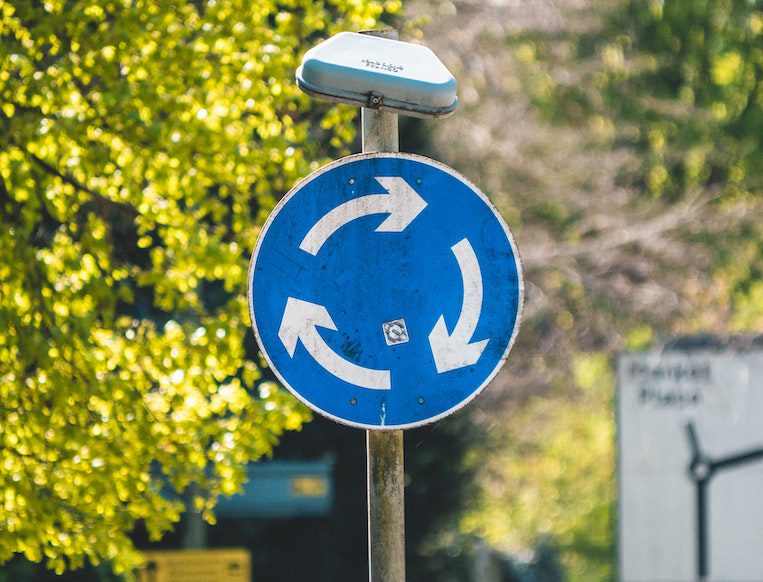 How does circular design work in real life?
So, what does circular design look in action? We've been working on an exciting project that's nearly completed that will help illustrate. We wanted to share the story of its inception and the design successes.
Earlier this year, Mark Butt from The University of Westminster got in touch after reading our post about 
circular design
. He had helped the University build a new state-of-the-art
building
for one of their campuses and wanted to include a zero waste shop within one of the spaces. After a great discussion in which we shared our vision of the space, he brought us on board to design the Zero Waste Shop interior.
Concept
From the start it was like I had an approach to the project just waiting patiently in the back of my head. I wanted to collaborate with like-minded people and use their skills in manufacturing and knowledge of materials to build a shop that was low impact, adaptable and easy to deconstruct or move to a new site if it was no longer needed.
Material selection
I contacted
SixHands
, a company I had worked with before, and asked if were any materials they regularly had to throw away that I could use in the shop interior. To my delight they did. As manufacturers of bespoke kitchens they often have long offcuts of 18mm plywood, 100mm wide by up to a sheet long. They also have lots of laminated offcuts. These became the main construction materials for the shelving system we developed.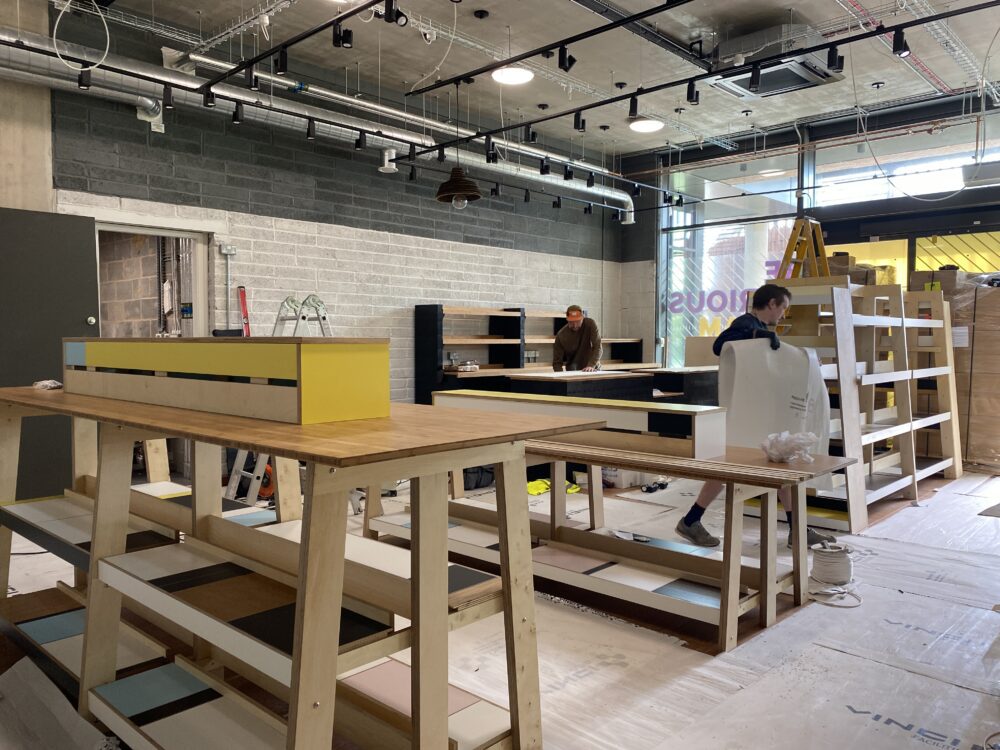 Another local friend and colleague, Harvey Banner, spent lockdown designing an innovative 
block system
for office furniture. Made from recycled plastic, it's easy to deconstruct and reuse when no longer needed in one space. I decided to use the block system to create the shop counter base, and it's provided the perfect blend of style and functionality. Plus it was easy to construct in just one morning on site.
We installed cardboard lights from
Tabitha Bargh
 as accent lights over the tables and counter to create a focus for customers and a welcoming atmosphere. The counter top and flooring were constructed from bamboo. Thanks to the speed at which it grows and its natural durability, bamboo is a good choice for the areas that get more wear and tear. We painted the blockwork walls to seal the material and create an interesting textured backdrop.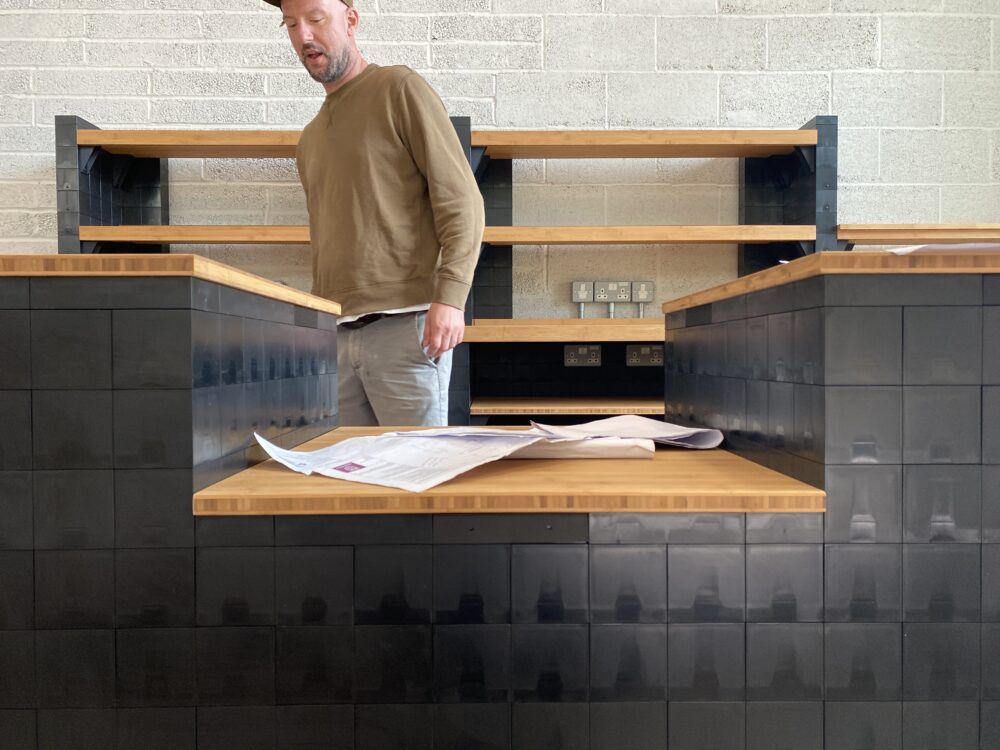 Flexibility
It's important to allow for flexibility within your retail design as your customers will nearly always have their own version of what they want your shop to be. We developed the design of the Zero Waste Shop retail shelves closely with David Morton, who's in charge of the operational side of the offer. Together we've made it possible for each type of shelf to be interchangeable with other types of shelving. This means our client can adapt the layout as and when necessary.
The counter can also extend or contract by reconfiguring the blocks and updating the counter top. It can also be moved to another part of the shop pretty easily if needed. The shelving system is virtually self supporting. Apart from the occasional locating screw fixed to the skirting or floor the shelving units were delivered, put in place and fixed to the adjacent frame. Thanks to this simple but clever construction it took SixHands less than two days to deliver and install all of the interior fitting and counter tops.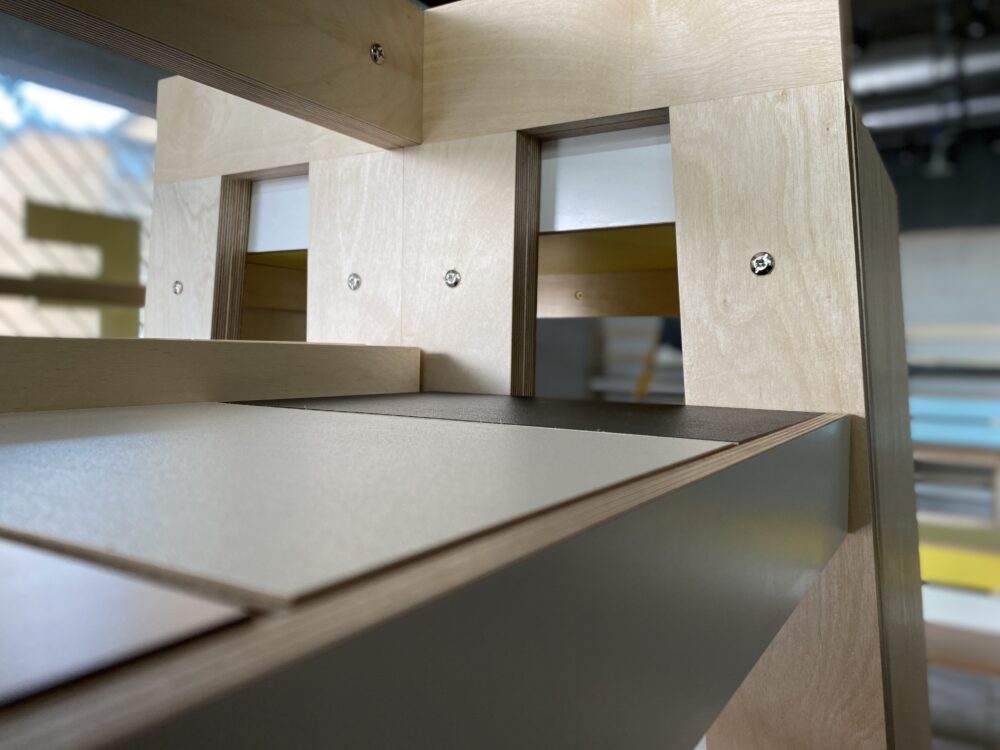 Benefits of circular design
There are three economic gains from this approach to an interior fit out:
The first gain is the material costs. As we used mostly offcuts to build the shelving system we massively reduced the amount of wood required for project. This also helped in the current climate as some materials are pretty scarce.
The second gain was the site time. Once the shell contractor had fitted the flooring, painted the exposed wall and fitted electrics etc., the interior only took 2-3 days to install. The fact we did not batten and plaster the walls or fit a suspended ceiling also helped.
The third gain is flexibility. When the shop needs to be updated or is no longer needed it's easy to remove the joinery  and adapt the interior for its next use. The supplier will buy back the counter blocks and it's possible to sell on the shelving system as it won't need to be ripped out.
As you can see from the Zero Waste Shop, it's possible to create beautiful, functional spaces using the principles of circular design. Sustainable interiors are the way forward, not just for us as a company, but for the whole planet. From creating a whole circular design like this one, or incorporating the same thinking wherever possible within other interior designs, we're excited to explore more materials and cutting-edge innovations to bring you the most sustainable, engaging space for your business.