Flooring is normally a big consideration when fitting out an interior. It also has a lot of practical duties to fore fill. These duties are not just slip resistance or durability but acoustics and sometimes contrasting colours for the partially blind.
When designing interiors for clients that are on a budget the first thing I like to consider is can we use the existing floor?
If you are the first tenant of a space or if it is a industrial style of unit the chances are that the floor will be concrete, depending on the quality of the finish you maybe able to seal the floor with a sealant or paint the floor with an epoxy paint. The good thing about the epoxy floor paint is that you have a choice of a wide selection of colours. One of the downsides is that sometimes these shell interiors are designed to build up from the concrete slab so you may need to ramp down to the concrete slab (although this will give you extra ceiling height). The other aspect to look out for is slip resistance, interior designers are very aware of this problem in recent years as some members of the public have taken Restaurants to court over this issue and the restaurants have in turn blamed the interior designers.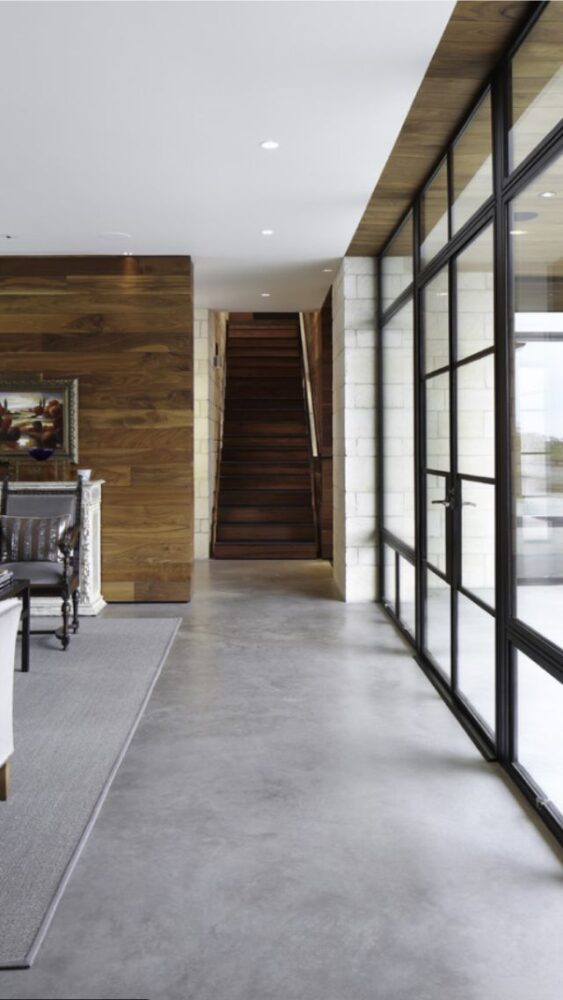 If you are taking over an existing shop unit or Restaurant the chances are there will be a timber floor already installed or lurking beneath the previous interior designers chosen finish. The floor can be sanded back and refinished or just left to tell its own story. These floors can also be painted very affordably, Farrow and Ball make great floor paint in some lovely colours.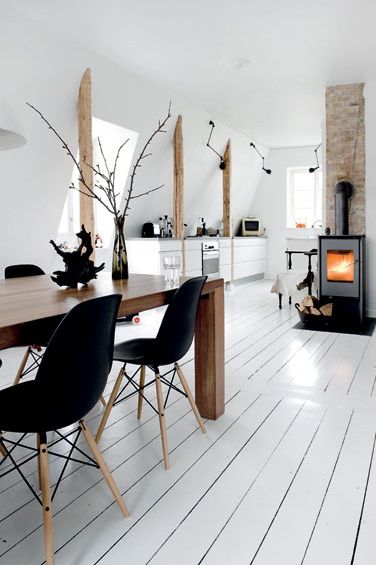 This type of paint can ware if you have a busy interior so if you have a commercial interior maybe go for the epoxy floor paint option instead. If you have a busy commercial interior another option is to oil the existing floor with something that you can re apply in part if busy areas get warn. The oils can also be tinted to ad warmth to your floor.
If the existing floor is not to your taste, for instance the concrete might bounce sound around your restaurant too readily or make that horrible noise it makes when chairs are dragged over it (although there are remedies), you may need to install a new floor altogether.
So which floor to go for?
As an interior designer I specify more wooden floors that any other type of floor. Oak is the most common and it's not that cheap, they say it generally you should allow double the price of the wood for the installation but I would take this with a pinch of salt. The company I use for new wooden flooring more than anyone else is Havwoods, mainly because they send me a packet of sweets with every sample they send me. They do have a good selection of floors in the £40 – £50 a square meter price bracket, and sometimes I get to spec their more expensive ranges. The main thing I would say when specifying a wooden floor in a commercial interior is to make sure it has a good wear layer. A minimum of 6mm should do it. This will mean you can sand it back if it gets worn and it will take the punishing hi heal shoe a little more in its stride. Another thing to be weary of is solid wooden floors, these are not as stable as engineered floors and will move around a lot more. I do know of some floor retailers that refuse to stock it because of previous experience of it pushing out walls. As an interior designer I would prefer to have the stable engineered oak floor over the solid floor every time.
A product that is similar to wood is bamboo, this is typically half the price of wood and pretty tough. I have used it in my bathroom and it has weathered a leaky cistern very well. One thing that regular wood has over it is the finish, bamboo can be very flat and lacks the character of wood but at prices from £20 meter for what is a solid and pretty stable floor you can't really beat it for value. Unlike its oak counterpart bamboo is stable as a solid floor but you can also buy engineered.
Karndean or similar types of vinyl floors are also pretty affordable starting at £20 a metre. I don't specify it much myself as like a lot of my interior designer colleagues I like to use the real material rather than an imitation. Saying that if you want to open a large sports shop and you want a robust floor that will be easy to maintain then something like Karndean can come in very handy.
I hope you have like my summary of affordable floors, next time I think it might be time to high roll it with some luxury footwear…