So in the last post I asked the question can a restaurant be designed in one month and built in the next? Well I managed to design the restaurant / shop in one month but because my preferred carpenter and all of the other local carpenters were busy during July  the client had to use a company back in Italy to make all of the Furniture and fittings.
What was the end result? Well my shelf design for the Italian Artisan produce that will be on sale was not exactly run of the mill. I wanted to use flat bar steel that would have given the shelves a real elegance. The contractors changed that to square section with has made it a little more chunky. Saying that the shelves still have a uniformity that I like and the produce stands out well. The other aspect of the Restaurant design that went a stray was the lighting design. The client had been in touch with a lighting designer that proposed lights for the front of the restaurant that I am against because of their scale. The lights to the rear are lovely and by an old college friend of mine. They are made out of layered cardboard and can be found here.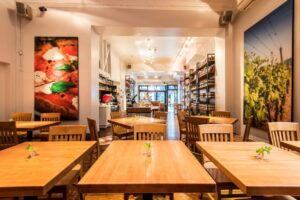 Due to time and budget constraints a lot of the texture I had designed to go onto the walls was taken out, but having all of the produce lining the walls helped with the atmosphere.
Saying that it works well as a space and despite the agents that manage
the building putting up scaffolding during the first month the client has had some good feedback and the restaurant is getting busier with every week. The menu is modern authentic Italian food and I am looking forward to taking the family there for a meal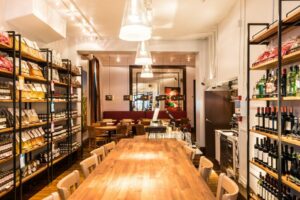 I have now been engaged to design a cocktail bar in Guildford and have been given 5 weeks to design it. I am a little behind and will probably have taken 6 weeks by the time all of the specification is in place. This will not slow down the build as the builders will be stripping out the old bar and building walls whilst I finalise things at the design end. The project will take about 2 months on site and will be open early December.