We are delighted to be joined this month by interiors blogger Jo Jackson. Since moving to Lewes Jo has established herself as an astute, perceptive chronicler of the town's best and most inspiring residential interior designs. She has an eye for interesting spaces and is fascinated by how different people express their personalities through their home surroundings. Jo's interviews with local creatives reflect her knowledge of and passion for great architecture and interior design. They're also a good excuse to have a peek around people's homes!
You can also find Jo in Viva Lewes each month, highlighting particularly noteworthy doors around the town.
Read on to discover how she came to create her blog, The Lewes Home, her thoughts on getting creative with colour, and what's at the heart of her own home. Welcome, Jo, thanks so much for joining us.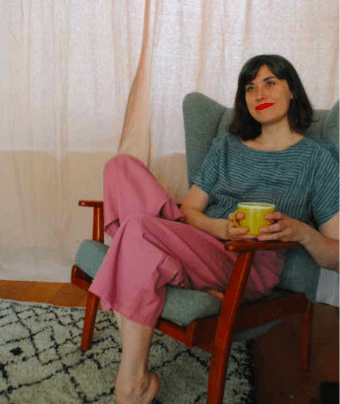 Can you tell us what you do, and how you came to be doing it?
I currently work as a social media manager and interiors blogger. Before that I worked as an educational consultant for primary English. The job was rewarding but full-on and after having my third child I sought work that offered me some flexibility. Whilst learning how to use social media for businesses I decided to set-up The Lewes Home, a blog that celebrates local creatives in the context of their homes. I love writing and The Lewes Home allows me to write for a community-based project which also feeds my personal passion for interiors and architecture.
Where do you draw inspiration from, and what do you do if you ever feel creatively stuck?
I am so inspired by the people I meet. Lewes is full of talented and entrepreneurial people and interviewing them in their home setting is such a treat. Every house I visit is a home and it's a pleasure to see how the people I interview create their home environment. In terms of my own tastes in interiors I follow Michelle Ogundehin and love to read Elle Decoration. I also draw inspiration from the natural environment – I am very lucky to live on the South Downs which feeds my soul and creativity every day.
Of course I do sometimes feel creatively stuck  in my writing. I made a decision to only write with a positive tone of voice – it's important to me that I write to celebrate and share rather than to criticise – but this sometimes means I find myself on the superlative train and I need to get off! If this happens or if I get a total writers' block I just stop what I 'm doing and give myself a break. A walk into the countryside always helps, and I can then return to the blog post with fresh eyes and a clear head.
What are the most exciting developments in terms of interiors (furniture, product design, sustainability, interior design etc) that you see coming up in the future?
I am definitely noticing a movement towards hand-made pieces by skilled craftspeople – buyers are stepping away from mass production and a throwaway culture in favour of cherished, special, artisan pieces, which I love. Natural materials are also much more prevalent than synthetics in current interior trends that coincides with a more general and growing rejection of plastics, which can only be a good thing. Alongside this I'm seeing a huge celebration of colour everywhere in the interiors world. It is a joy to see greens and pinks or teals and mustards, peaches and browns being thrown together. It is an exciting time for the eclectic use of colour, which I'm more than happy to embrace!
What do you love most about your job?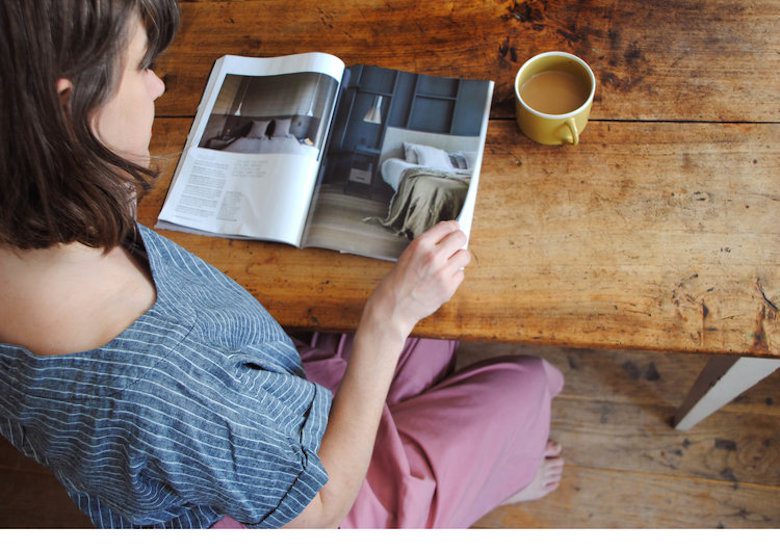 There is nothing I love more than being with a person in their home environment, especially once they have made it their own space. It truly is a reflection of who they are and it's where they seem most relaxed. It also allows me to soak up different styles and tastes in interior décor and design which, even if not my taste, I'm always fascinated by. I love being able to work around family life and I love writing. In another life I would have studied journalism.
What are your most treasured household objects?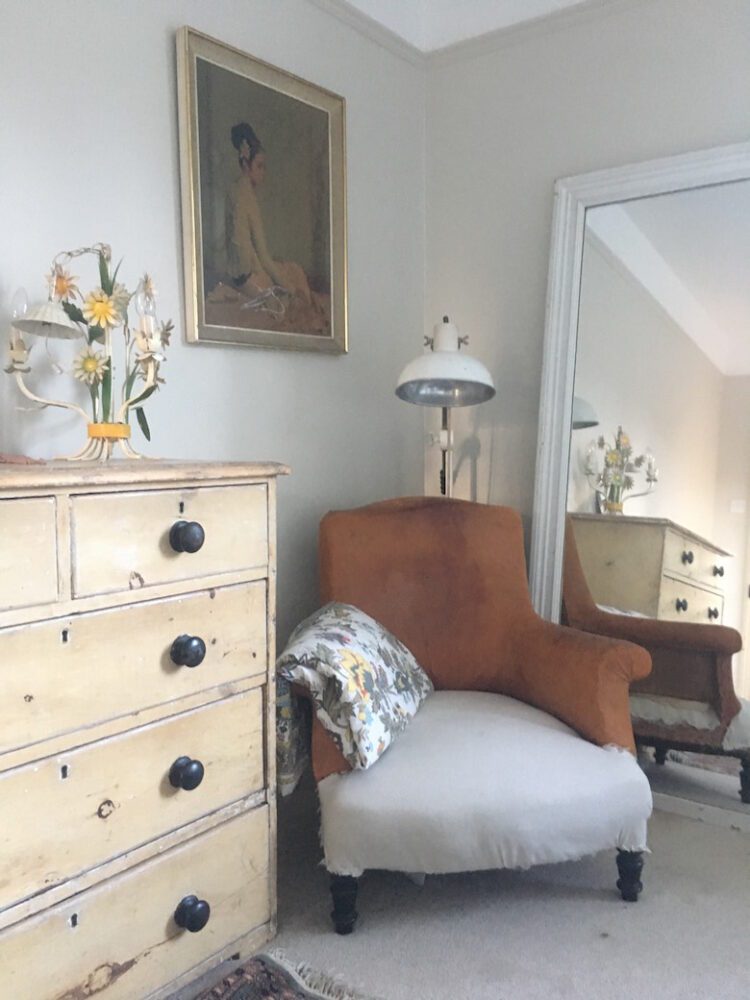 Some of my most treasured household objects are the ones I don't own yet (like a mustard velvet sofa from HK Living)! That one will have to wait until my toddler is a little older! Joking aside, I love a vintage bedspread and leather armchair, both of which I bought from Firle Vintage Fair. I also love my kitchen table from Lewes Flea Market. That table really is at the heart of our home.
What are the main challenges you face in your professional life, and how do you try to overcome them?
I have to say juggling it all, having three small children, four jobs, a blog and a feature in Viva Lewes every month sometimes means I'm working into the early hours. But being able to take the children to and from school every day and knowing that I'll never miss an assembly or sports day makes it all worthwhile!
If you could visit any house/ building in the world, where would you go?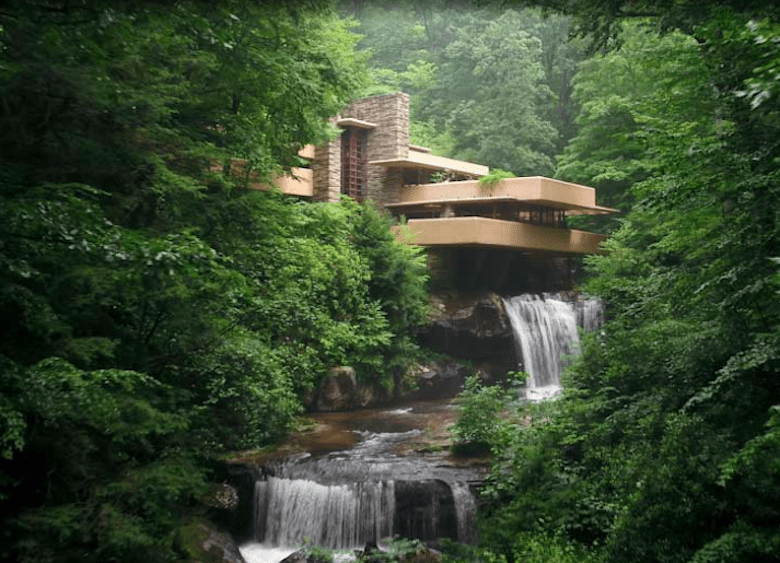 Oooh this is a tricky one – there are just so many! My taste is totally eclectic and I love buildings from nearly every era, although it is residential architecture that I have a personal passion for. The first houses that pop into my mind are Frank Lloyd Wright's 'Fallingwater' in Pennsylvania (pictured above); and Lyme Park in Cheshire, which was used in the BBC adaptation of Pride and Prejudice as Pemberley, because it literally makes my heart skip a beat whenever I look at it. Also if George Clooney invited me to his extraordinary Lake Como villa I wouldn't say no. Of course there are many more…
Thanks so much, Jo, we've loved hearing about what inspires you in the world of interior design and home decoration. Looking forward to seeing whose house you'll feature next time!
To read more in our Meet the Creatives series go here or here.