I have been involved in a rather interesting project over the last year or so. It is not as an interior designer, but a woodland designer. There is more about it on the project  website which was put together by Jo Allen's team, but essentially it is an organised event where in 2017 the general public will be able to amble or be guided around a woodland setting to engage with and enjoy contemporary music played with a range of acoustic instruments. Last weekend was the pilot event with 3 performances in 3 locations and next year the plan is to have 7 performances dotted around the woods.
The custodian of Furnace Woods and the driving force behind the project is composer Joanna Marsh a client of mine (I have been working with her and her husband Paul for 6 years). Joanna brought a collection of creative people together and between us we have responded to what has been an interesting set of challenges as we have tried to turn Furnace woods into a contemporary musical setting. The project has been meticulously project managed by Liz Webb and the day was beautifully documented by photographer Ash Mills.
The Day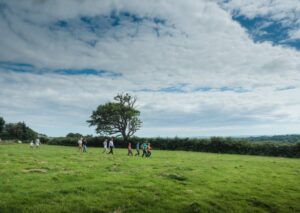 We set off from Hendall, a secluded venue that comprises of rather beautifully converted  farm buildings (This description doesn't do it justice) and were met by Peter, the owner of Hendall and Cesca, who is in charge of navigating us through the woods and filming the event. We set off across the field and soon we can hear what sounds like bird song, but not quite as we know it. We enter the woods and dotted around are Consortium5 a recorder quintet. We sit on some well placed logs and enjoy about 15 minutes of music from a vast array of recorders of all shapes and sizes which eventually break up to be bird song once more.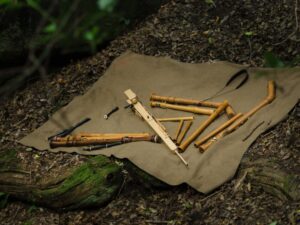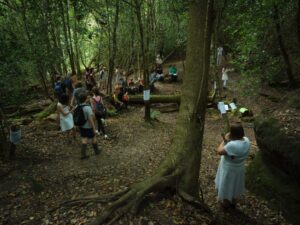 Time to move on, the next performance is across the woods in an amphitheatre type of setting next to a stream. The musician is Joby Burgess a percussionist that performs a range of sounds from an interesting collection of instruments. We had housed Joby on a wooden stage with a bender style roof clad with White Tarp (incase of rain). This was followed with hot dogs and a brief pause before setting off for our final performance.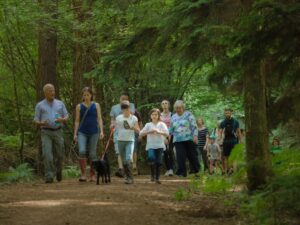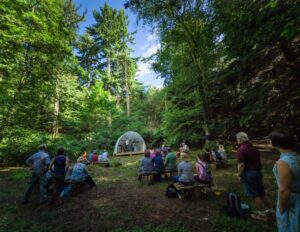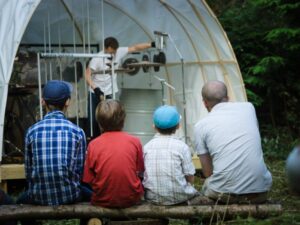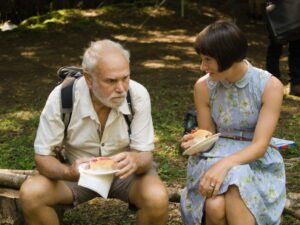 The aspect I was involved with was the 3Dimensional Design of the project. I teamed up with designer and maker William Hardie.  Our tasks included creating temporary sign posts to help people navigate the woods as well as coming up with ideas to set the stage for the performers and contingency arrangements in case of rain. We had a minimal budget but a wealth of help from volunteers and the woodland manager of Furnace Woods.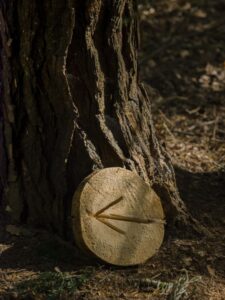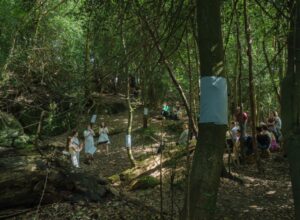 The final performance was a stroll away at the top end of the woods next to a pond. This was a brass and snare drum performance composed by Richard Bullen. What was interesting about this piece was that we couldn't see any of the performers and the music kept coming from different directions. Next year this particular performance is set to expand and grow into an even more dramatic experience (no pressure Richard).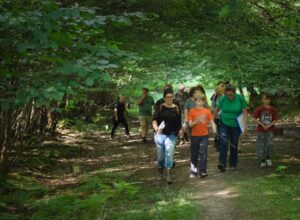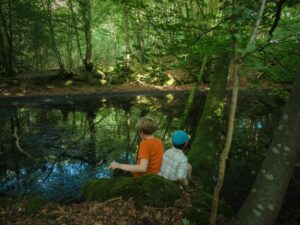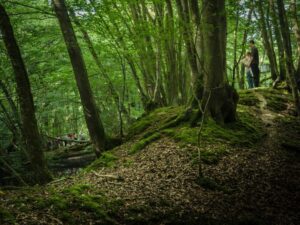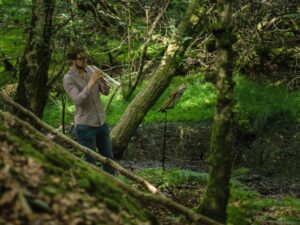 Following the final performance we made our way back to Hendall for a feedback session which was run by Richard Whitelaw and some cake.