Having a separate, private dining area in your restaurant or bar is a great way to maximise your use of space, and to bring in more income. The trend for bookable parties continues to grow, with more venues offering a private dining room as an attractive feature. To help you with your design, here's a list of 13 things you should consider when planning a private dining area.
1.The space 
Will you have a separate function room (or floor, even) or are you looking to partition an existing space to create an enclosed area? This will determine how you use the room, i.e., whether it is just separated off when required, or is a permanent, defined space away from the main seating areas. Both work well, but require different interior design approaches. Below is an example of an area that has been successfully separated from the main area through innovative curtains and distinctive lighting (image of Melbourne's Ludlow Bar dining room).

2. Purpose
Will your space be used for business meetings, or purely as a private dining room, or both? Businesses will pay for the privilege of a quiet space where a meeting can be convened without interruptions. You may want to target these customers in your design and marketing. Equally, groups celebrating birthdays or special occasions often want a separate space, where they can feel special and can make noise without worrying about disturbing other customers. Ideally, your private dining space should be able to accommodate all these needs.
3. Flexibility
You need to think about whether you can serve small groups of 6-8, or have the capacity for larger groups of around 30 people. Think about flexible table arrangements (tables that fit together if needed for larger groups) and fixed seating that works with varying sized groups. This space below, in the Goldfinch Tavern, works brilliantly as both a daytime meeting room and an evening dining room (image courtesy of Nick Southcote).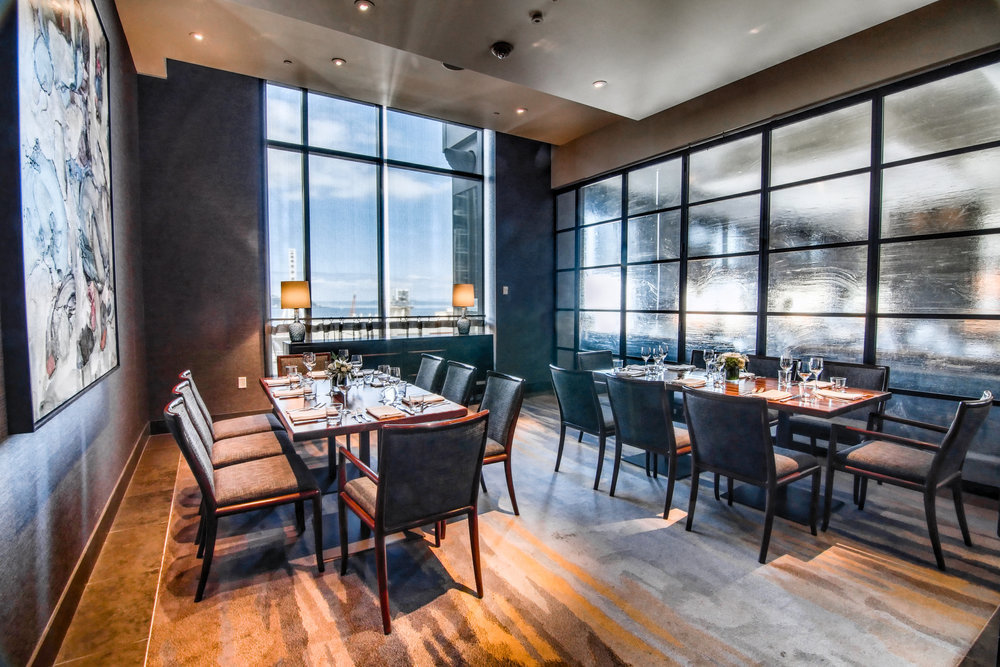 4. Staffing
For a higher end private dining area you will need a separate space and more staff to ensure you deliver the best possible service to all customers. Think about how your staff will access the room or area (will they need to carry food up stairs, or will you use a 'dumb waiter'?), and how you can best meet the needs of your private dining customers without affecting your service in the rest of the restaurant. You might want to include a separate waiter station to make it easier for your staff to serve customers in this area.
5. Acoustics
If you are designing an area that is adjacent to the main dining room it is vital to consider the other diners. Noise from large groups can be annoying and intimidating, so consider an acoustic curtain to divide the space. These can also retract when not in use, and will ensure that customers in each area feel comfortable and enjoy their meals.
6. Utilities/ extras
If businesses will be using your space for meetings you need to provide power points and speedy wifi. You might also want to have a smaller table to hand. Consider what your customers might need, and anticipate any problems or hitches before they occur.
7. Specification
A separate private dining area may need to be higher spec than the rest of your restaurant or bar. It will be the space for people to really go to town on treating colleagues, clients, friends and relatives and they need to feel that they are in the right environment. You don't want them to feel they have been squeezed into a store cupboard; instead, you want to create the impression of an exclusive hideaway. This room, below, was one we designed for clients looking for a high-spec yet characterful private space.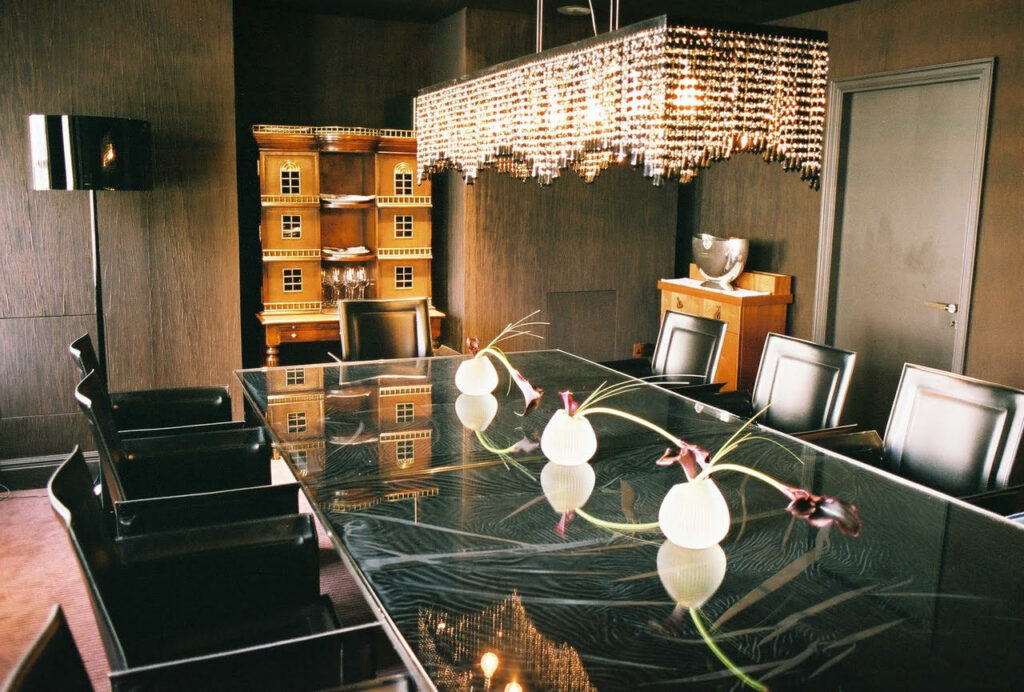 Private dining areas need to feel intimate and atmospheric. Your choice of lighting is key here. You might want to keep the space dark if it's mainly going to be used in the evening or it doesn't have windows. Make a virtue out of low light, and use lighting to highlight architectural features or define the space. Be bold. This image below, from Heston Blumenthal's Dinner, (via privatediningrooms.co.uk) shows beautifully atmospheric lighting.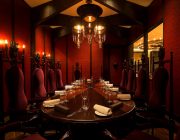 Fixed seating can line a space, and you can then build up the tables according to numbers of customers. You could combine fixed and moveable seating, or stick to a simple layout of chairs around a big table. Banquettes work well in private dining rooms and add to the feeling of intimacy.
10. Storage
Many restaurants combine a private room with wine storage, making a feature out of the display of bottles. This is a useful, practical way to use the space so that it serves a purpose even when it's not being used by customers. It might encourage them to buy more drinks too!
11. Awkward spaces
If you have an awkward space at the back of house, consider turning it into a private dining area. These spaces often have close access to the kitchen and toilets, and are often overlooked. With a little technical know-how you can make a beautiful, functional room out of what may seem a very unpromising part of your building. This image shows how we transformed a dingy basement in Brighton's The New Club into a great, functional space.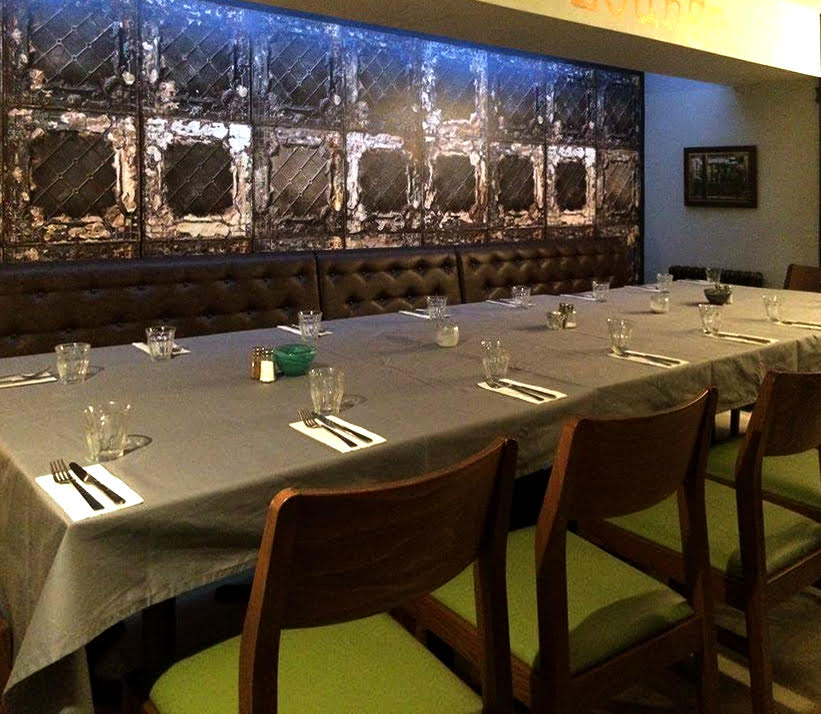 12. Practicalities
Make sure there is a practical means of escape in the case of a fire or emergency. Check this with local building control and licensing authority. Your restaurant interior designer will also be able to advise.
12. Decor
A private dining area should continue elements of your interior design from the main areas, but also have a distinct identity. Pay special attention to details and bring aspects of the design to the fore here. You can really play with finishings and furniture, as long as they connect visually with the rest of your space. Private dining areas look great with timber wall panelling, which creates a cosy, cocooned feeling and adds texture and interest to the walls.
13. Kudos/ desirability
Having a separate dining area can increase the desirability of your venue. There is kudos to being able to book the space, and customers will feel they are somehow lifted out of the mainstream and getting an exclusive service. Use this space to your advantage and create a buzz about its availability.
Do get in touch if you'd like to talk through any aspects of restaurant interior design.