Engaging Interiors' director Crispin was recently given a package and a well crafted letter when an 11-year old friend of his son, Ned, handed him an intricate cardboard model of an interior she had made (see pic below). She had been talking to Ned about what his dad does, so Ned explained that he is an interior designer. The girl had always loved the idea of becoming an interior designer and wants become one. She then looked up the Engaging Interiors Website and decided to create her very own design for a room, and brought the model into school. Being an interior designer is now her dream job.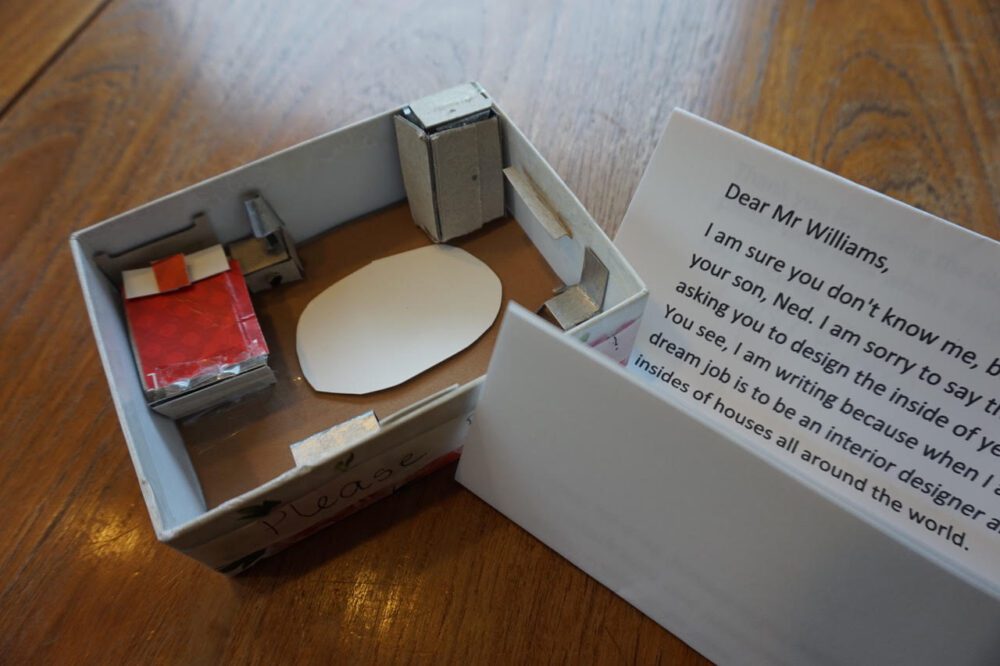 Crispin was so excited to have inspired and enthused someone who may otherwise not have even known she could consider a career in interior design, and he thought we should do a post on just this subject. So, here is the story of how he came to do this job, and how you can advise an interested young person – or follow your own career dreams –  to become an interior designer.
What qualifications do I need?
From the age of twelve Crispin loved to draw. He used a small sum of money he had inherited to buy his own drawing board and would spend hours sitting in his room drawing 2-point perspective designs. At school he had always been good at Art but was unable to choose the subject when it came to his GCSE options. However, a chance conversation with a teacher spurred him to take Art GCSE alongside an A-Level in the subject. This was one of those pivotal moments that alter the course of your life.
Following his A-Levels he went to Brighton to take an Art Foundation course, which he strongly recommends to anyone who is interested in interior design. An Art Foundation will develop skills not only in drawing but looking at space, training your eye to really 'see' and to learn different artistic techniques that you can later use in your work.
After the Art Foundation Crispin went to Nottingham and studied for a degree in Interior Design and Architecture. It is important at this point to clarify the differences between interior decoration courses (often called Furniture Fixtures & Equipment Design), which focus mainly on the use of mood boards, colour and fittings; and interior design or architecture, which is a more technically-based subject. In the latter course you will learn more about technical drawing as well as covering other crucial aspects of interior design such as Form, structures, colour and light. Whilst studying at Nottingham Trent Crispin applied what he was learning by working in at Brighton based interior design practice, DesignLSM. This kind of practical, hands-on experience is invaluable and will expand your understanding of the world of interior design. This route will equip you fully for a career as an interior designer, whether you work for a large company or eventually decide to set up your own business.
Work experience and interior design internships
Once he had completed his degree Crispin returned to Brighton and got his first full-time interior design job back at DesignLSM, with whom he is still in contact. Many companies offer internships, and these are a great way to learn whilst you work. There's nothing wrong with starting at the bottom and working your way up through an organisation, and good work experience will help you build an impressive portfolio in a competitive industry.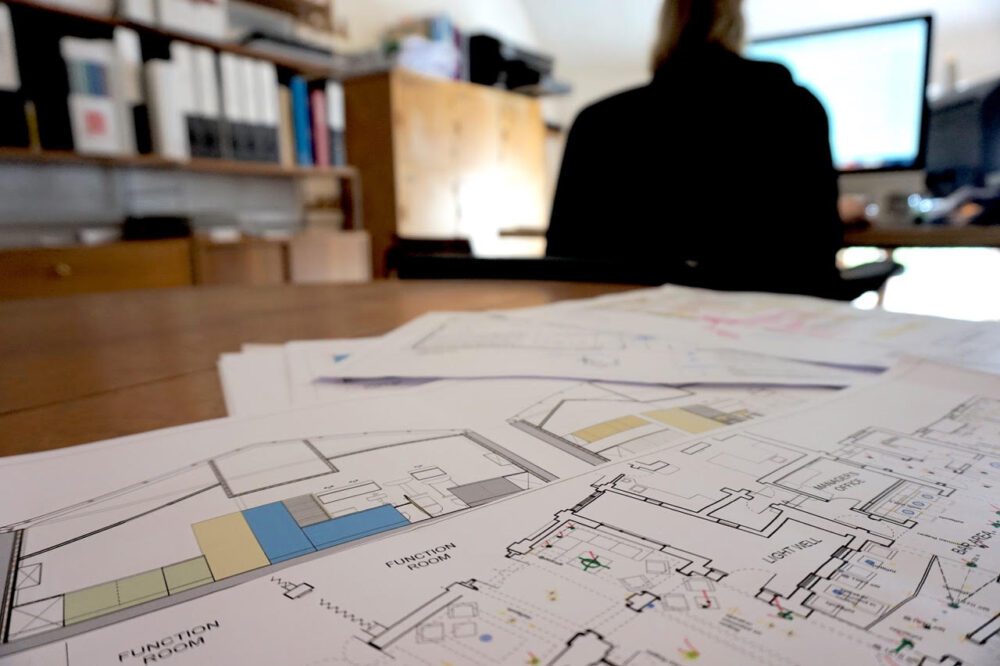 If you love to draw, if you are good at Maths or have a keen spatial awareness, if you can communicate clearly and are looking for a creative, challenging, ever-changing career, interior design or architecture may well be for you. Do get in touch if you have any questions for our team, or want to know more about our work.