In the past few posts we have discussed different aspects of restaurant interior design. This time it's the turn of restaurant seating. Or 'bums on seats', as the phrase goes. We are going to show you how to best plan your seating and optimise the potential of your venue.
Things to consider
Fire regulations and venue capacity Make sure you meet the local authorities' requirements in terms of fire safety and maximum capacity. This will be different according to the type of restaurant you are setting up. You should also consider accessibility – will your aisles be wide enough for wheelchair access, for example?
Route of service Success depends on how efficiently and smoothly your restaurant can serve your customers, so make sure you allow for free and easy flow of traffic. If you will have serving carts you need to plan for these in your restaurant seating design.
Type of seating There are three main types of restaurant seating. Fixed seating is linear and often against a wall, but can be shaped into a horseshoe. You can also create fixed booths, and use fixed seating for storage. Heavier chairs can damage flooring, so you may want to consider adding felt gliders for protection. Loose or portable seating is lighter-weight and easier to move around, allowing for greater flexibility.
Cafe/ Coffee shop seating design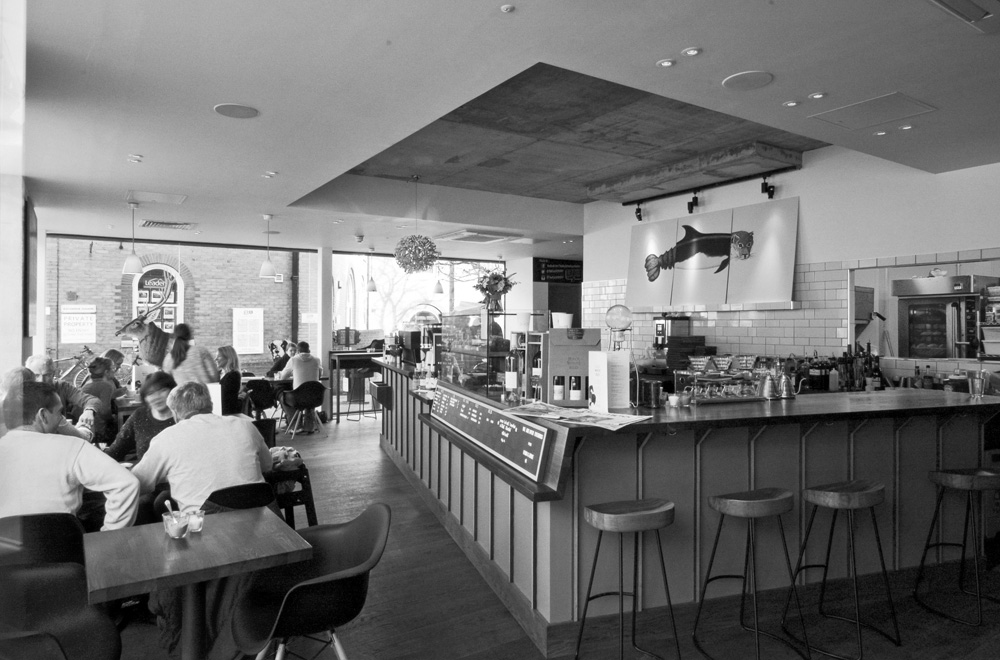 In our experience as interior designers for venues across Brighton and Sussex, cafes and coffee shops tend to have a lower budget than restaurant projects. This means seating is either not upholstered or upholstered more siimply.
This type of venue also lends itself to more flexible, less formal seating. You need to allow enough space for every customer to stand up at the same time (in case of a fire evacuation). Tables will normally be c.500 x 500mm, a bit smaller than restaurant tables. They are often in pairs, so that you can add or remove tables according to numbers in a group.
You will need durable, wipeable seating. It doesn't need to be as plush as a more formal restaurant – in fact, you don't want to make people too comfortable as they may stay for longer than desired! Think about your turnaround, and ensure the seating keeps traffic flowing through the cafe.
Restaurant seating design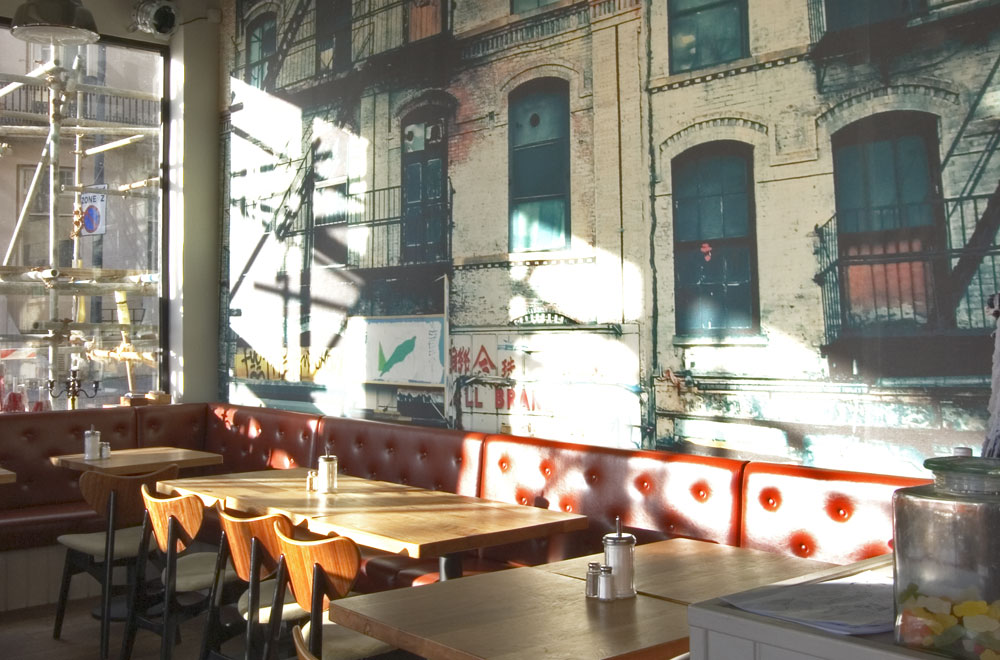 Seating in a restaurant will tend to be more comfortable, and therefore is usually either  fully or partially upholstered. Most restaurants also have an element of fixed seating, whether along a wall or in separate booths. There is a growing trend for bookable private areas, so you may want to consider creating defined zones using your seating or other furniture.
To ensure customers are happy you need a seat height of around 450mm. Linear LED lighting is a great way to uplight a wall behind seating, and adds focus to different areas. It is vital that there is an angle of at least 5° between the seat base and back. This will hold your customer in position comfortably and support their back while they enjoy their meal.
When you are designing seating you need to be fully informed. How can you make a customer feel comfortable and optimise their experience in your restaurant? Give your upholsterer as much information as possible. The more detailed your specifications, the more likely they are to get it right. Seating usually consists of a mix of hard foam forming the bulk of the base, and an outer layer of soft foam. You need fabric that scores at least 100,000 rubs on the Martindale Rub Test – i.e., fabric that is robust and long-wearing. It must also be Crib 5 Fire Retardant to comply with fire regulations.
As well as considering colours and patterns, you also need to think about detailing. This could be fluting on the backs, button detailing or stitched seams. All will need to tie in with your overall restaurant interior design and the 'look' you are after.
Bar seating design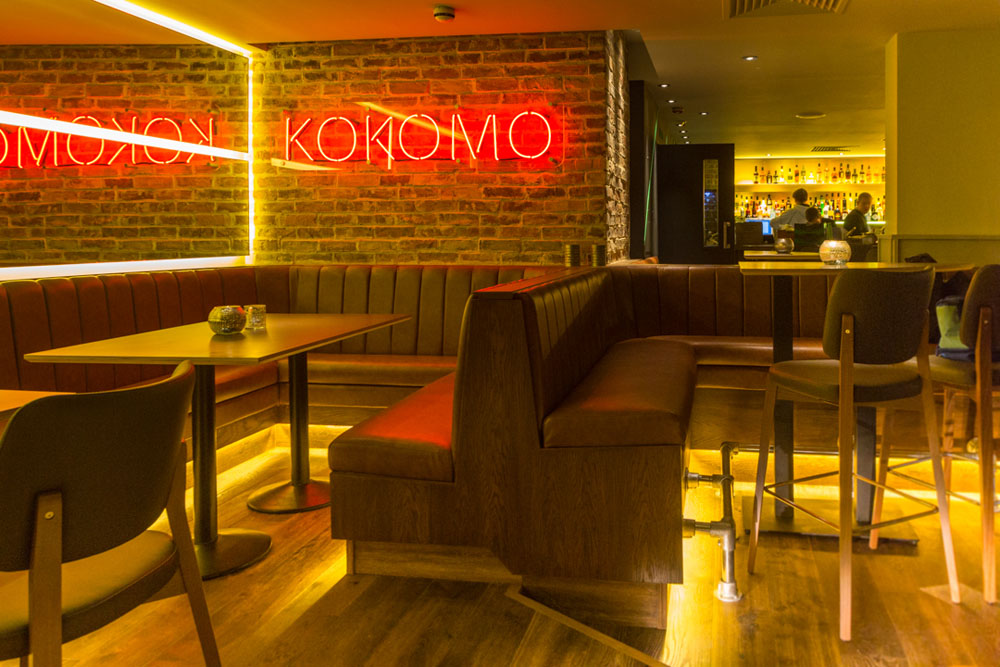 Bars tend to be very sociable, with large groups of people wanting to be together. Your bar seating design will need to accommodate this, as well as any specific events that will be taking place, such as live music. A couple of the bars we have designed have live bands, so the seating plan had to allow a clear view of the stage. A bar is designed to be busy and intense, and loose seating is great in these venues as you can remove it when the bar is crowded.
Your seating should be around 750mm high, with tables at bar height (c.1100mm) so that your customers are all at roughly the same level. No-one wants to be shouting up at their friend, or bending down with a margarita in their hands. At the bar itself it's advisable to have removable backless stools that you can whip away during busy evenings.
A rule of thumb is to put in as much seating as you can, so that customers stay longer. You will need commercial-grade upholstery fabrics. The main choices are: vinyl, which is very durable and affordable but can feel sticky; leather, which is also robust and feels nice, but can stain; and treated cloth, that has been specially prepared to last longer. Good sources are Ultrafabrics for vinyl, ILP for leather and Vescom for treated cloth.
As ever, restaurant seating design is a tricky thing to get right. If you are short on time, or need the confidence of having a professional interior designer on hand, contact us. We would love to help. Look at these happy, relaxed customers in one of the coffee shops we designed. That's what we want to create for you.