We were heartened to read that the École Camondo Méditerranée design school won the Dezeen Interiors Project of the Year at the end of 2022. The school in Toulon was designed by the French practice Emilieu Studio. They achieved this successful and sustainable interior by adopting circular design principles that chime with our own ethos here at Engaging Interiors. We do not have the rights to use any photographs of the space so you will have to click on the links above to view what we feel is a rather stunning interior.
Here's why we love this particular design:
The use of materials
In this award-winning project the storage units double up as screens and are made from offcuts of plywood and local repurposed sailing boat fabric. Using something that was destined for a skip is an important element of circular design and requires local connections and knowledge. This is something we incorporate in our own projects, particularly interior designs where we can use our local networks. We'll be highlighting some of our Sussex-based interior design projects in future posts, so stay tuned.
Adaptability
All the furniture that's not plumbed into services moves around on wheels. This means the students can adapt the interior to their own changing needs. The seating is also on wheels and designed so that the students can arrange it in a way that suits them. This approach to design is not only sustainable but gives them a feeling of ownership and control over the space. In turn this will hopefully foster a sense of belonging.
Build time and quality
With a design like this, the shell contractor would have been able to prepare the floor, walls, ceiling and services whilst the joinery contractors constructed the fittings off-site in workshops. This is a highly efficient way of working and means the fittings can be made using factory standard tools for better accuracy and a smarter finish. This approach to interior design also means the build time is shorter and works for different types of client. Like someone taking on a site that needs to open as quickly as possible to make the most of a possible rent free period, or a client who already runs a site and wants to minimise downtime.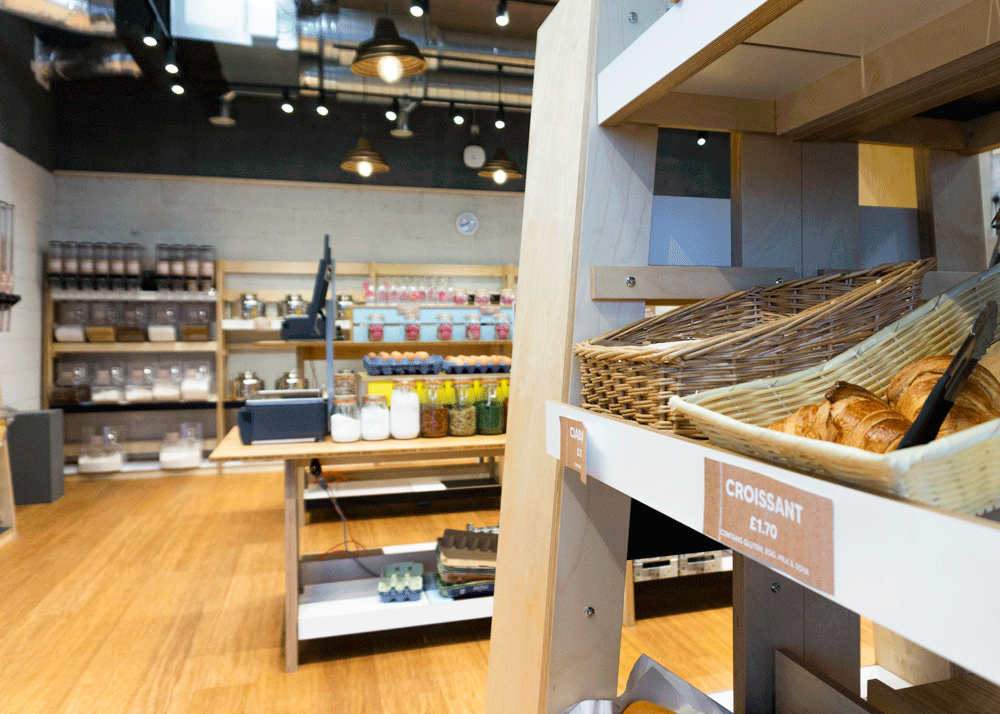 Our approach
One of the reasons this project caught our eye is that it is very much in line with our own values and approach to circular interior design. We completed a Zero Waste shop in 2021 for Winchester university that used plywood offcuts (pictured above) and featured an adaptable modular system that could be rearranged when necessary.
As you can see, circular design is at the forefront of the world's leading interior design projects. It is so great that these principles are getting the recognition they deserve and to see a new generation of designers being inspired by this approach. We think it's the future of design, at all levels. Make sure your business benefits from this exciting design ethos. Talk to us about how we can create a circular, sustainable design for your business.