The thing all independent small businesses have in common is that they're unique. It's what makes them special and what customers love about them. At Engaging Interiors we're experts in bespoke retail design for all kinds of brands and businesses. We work with independent retailers to make sure their products are optimally displayed, messaging is clear and customers have a pleasurable experience in the store.
Why choose us for your retail space?
We will create a tailor-made interior design that not only makes the best possible use of the space, but also emphasises your products. We take a customer-focused approach, considering their experiences at each stage in the buying process. And because we're committed to sustainable design, we try to minimise materials (by designing around sheet sizes) and specify less fitted furniture. This means you can adapt, move and recycle shelving units and counters as you need. Using circular design principles means each project is intended to have a minimal impact on the planet whilst enabling your products to make a maximum impact.
Take a look at some examples of our bespoke retail interior designs in action:
Sustainability at its heart – Zero Waste shop, University of Winchester
This shop is centred around sustainability and having minimal impact on the environment, so our design also needed to reflect these values. We create the entire space using just 13 sheets of ply, plus offcuts, reducing waste and allowing the shop owner to reposition, remove and reuse the shelving. This kind of flexibility cuts costs for retailers as they adapt to new products or consumer trends without needing an interior refit.
We also used Morph recycled blocks for the shop counter. These can be switched around and used almost like Lego, to create whatever size or shape piece you need. Read more about Morph here.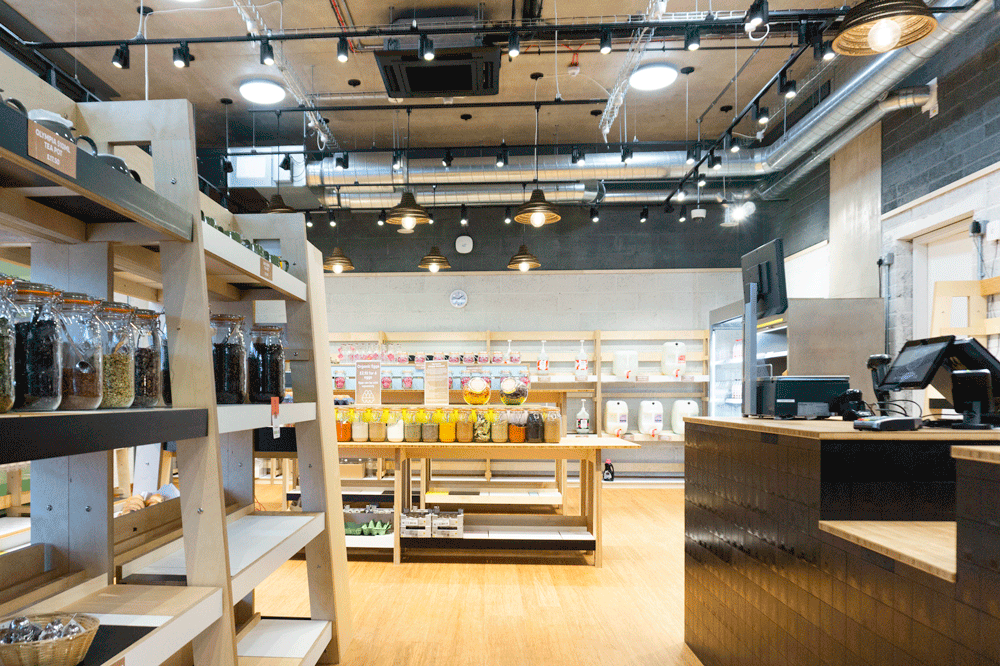 Focus on fine wines – Black White Red
This cafe was also a wine retail space, so we designed around the need to maximise the impact of the wine. Bottles need to be stored at 45 degrees to keep the corks moist, and the owner wanted to showcase particular vintages. Our bespoke retail interior design worked with these requirements, as well as making sure customers could enjoy a coffee and cake while they browsed the wines.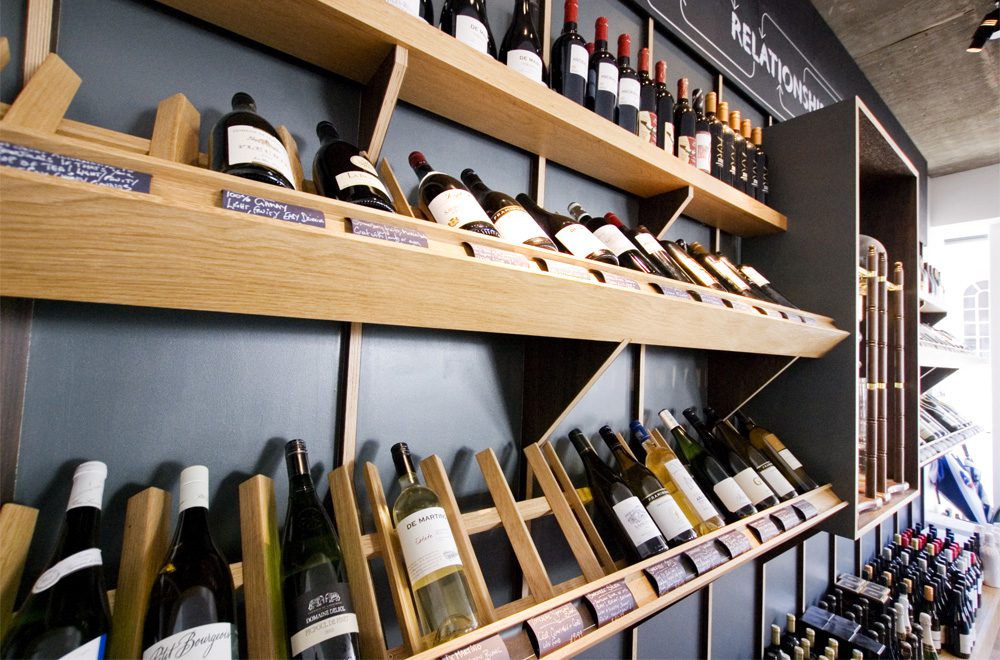 Deli counters with style – Turner's Pies
Traditionally, refrigerated deli counters have been pretty unappealing. Our goal for this small independent chain was to create a beautiful interior that displayed their pies as effectively as possible, whilst also allowing customers to move freely around the space. We designed shelving opposite to house additional products, and created a sense of movement by positioning the counters at an angle, drawing customers into the shop and lighting up key areas.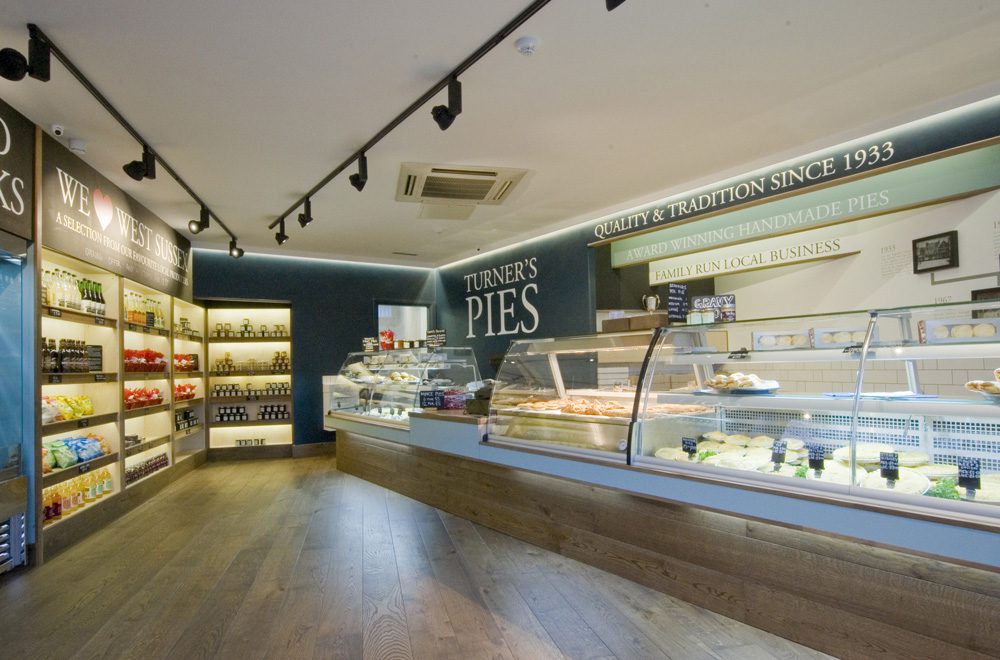 When space is a premium – Lounge
In this small boutique the lack of floorspace meant the original layout felt cramped and uninviting. Our design focused on creating space between each collection to showcase the clothes. We also wanted to encourage a circular flow around the shop, so we used a central counter to create this movement. Customers have space to browse and the layout invites them to move on to look at the next collection.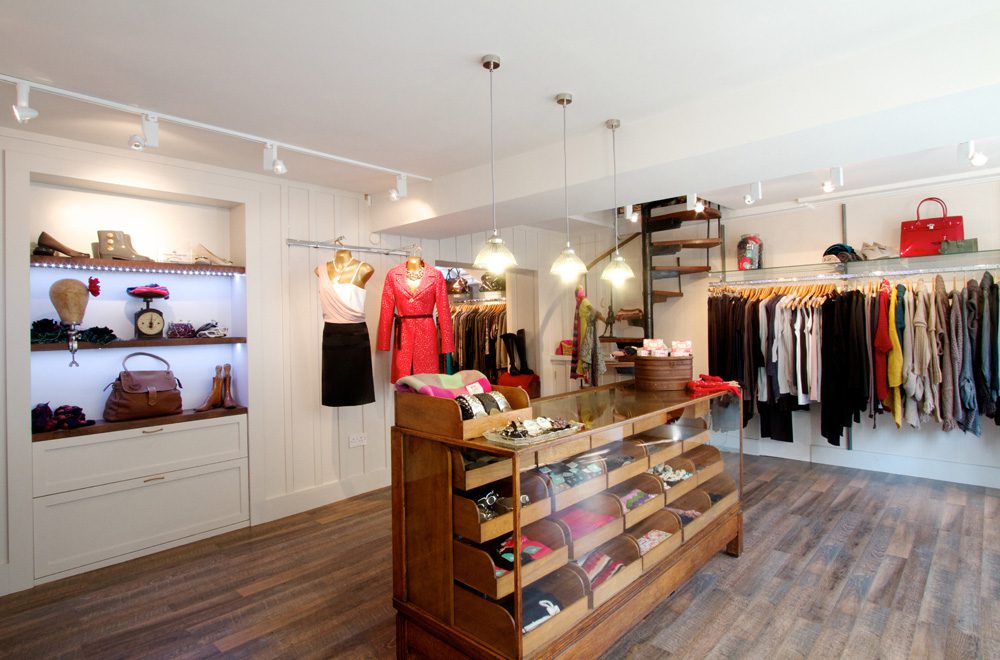 Working with another smaller space, for this jewellery designer and maker's shop we needed to display the products whilst also keeping them protected. We used a range of elegant, vintage display cabinets to keep jewellery products visible yet safe, and displayed less valuable products on tables. The cabinets can also be reused and moved, as required.
Clever lighting draws the customer's eye to the products and we made a feature of the exposed flint wall. The space has the feel of stepping out of time into another world, giving customers a memorable experience as they browse.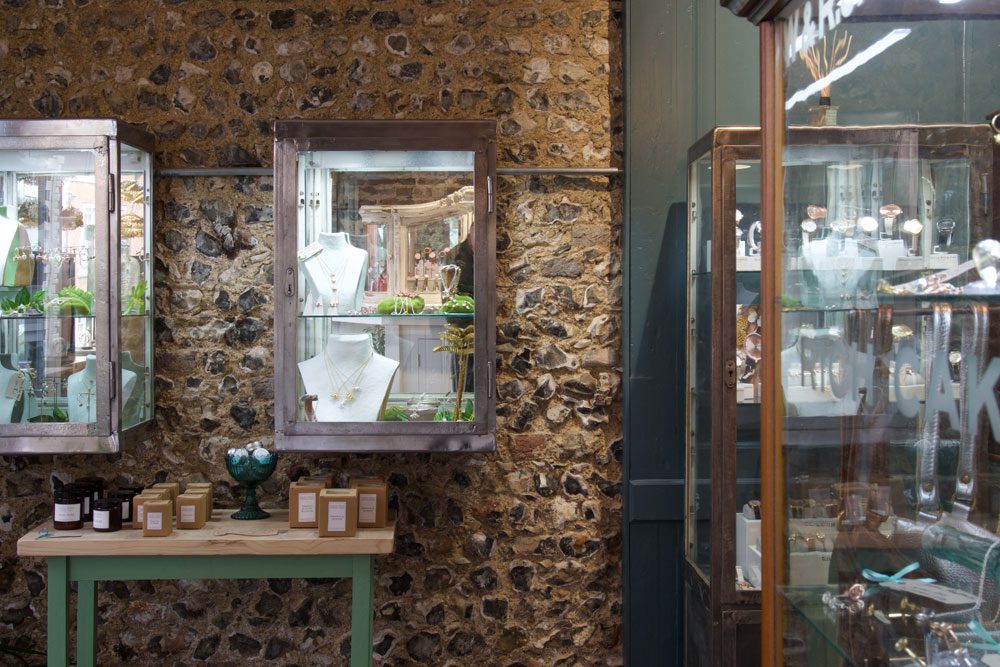 How does circular design benefit your business?
Using circular design principles in our bespoke retail interior design practice not only helps the planet, it also helps you too. Happy customers and staff make a thriving, profitable business. We focus on the customer's journey from the moment they enter the shop to the time they step out with their new purchase. Every step on this circular journey needs to be smooth, appealing and orchestrated to showcase your products.
The right bespoke retail interior design can help your business fly, bringing customers inside, ensuring they have a positive experience and encouraging them to make a purchase. Need to refresh or refurbish a shop space? Get in touch to see how we can create a bespoke retail interior design just for you.