We are very happy to be joined this week for our Focus on Foodies series by Nathalie from Irma's Cafe and Bistro in Lewes, East Sussex. A new arrival in the town, this independent café has already created quite a buzz with its unique offering of classic English breakfasts and Caribbean lunches and dinners. Providing a welcome fresh take on dining, owners Nathalie and Simon have refurbished a characterful building, taking advantage of the outside patio area and peaceful position.

Read on to discover how Nathalie came to create her special fusion of Spanish, English and Guyanese dishes, and what she sees as the challenges facing independent cafés and restaurants today.

Just be aware: this interview may well make you want to rush immediately down to South Street in Lewes to sample some of their mouth-watering food.

Welcome, Nathalie, thanks so much for talking to us!

Can you tell us a bit about your business?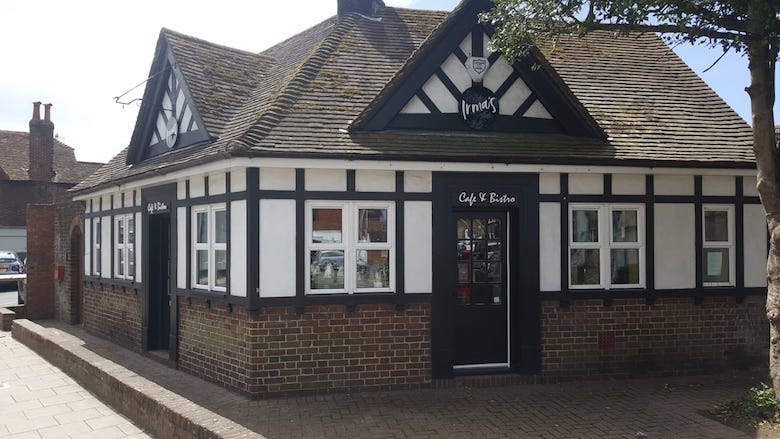 We started Irma's Kitchen in 2016, mainly doing pop-ups and a few private dining experiences for friends and family. As our interest in hospitality grew, in 2017 we decided to change our lives completely and opened our own full-service café in busy St James's Street, Brighton. Within six months we had gained a reputation as one of the best up-coming cafés in Brighton and were nominated for an award for best brunch. Later, in 2018 we won silver in the Brighton & Hove food awards, in the Best Newcomer and Best Café categories.  
The venue was quite small, and with our growing reputation we decided to upscale and move to a larger premises, increase our menu and concentrate more on the Caribbean elements of our food. After making that decision there was no question where we wanted to relocate to. Where better than to Lewes, where we live and where Simon is from?
Our food represents Caribbean home-cooking using fresh ingredients, and we aim to put smiles on faces. Every plate that comes out of our kitchen must be consistently remarkable in order to build on our reputation as a family-run café with a difference. At our core is high quality food, flavours and hospitality. Excellent customer experience is paramount. We put heart and soul into our cuisine, whether it's the classic English breakfast and brunches or the Caribbean dinners and lunches.
What prompted you to get into the food world?
I worked as a PA for most of my life before moving to Spain in 1999 with my eldest daughter. We lived there for 14 years and I wrote and presented English language training courses for executives. I also began hosting small suppers for language learners, which grew in popularity.

I worked in friends' restaurants and cafeterias, learned how some Spanish flavours and ingredients could work with my creations. It took a while to realise it but people were raving about my eclectic, authentic Anglo-Caribbean cooking.

After returning to the UK in 2013 I continued hosting suppers and catering small events. When I met Simon we shared a love of food and new dining experiences; we would spend hours talking about how we could improve meals or restaurants we were in. We realised that maybe we should just do it ourselves, so we opened Irma's Kitchen Café, named in honour of my mother, Irma, who taught me most of what I know about food creation. We served English breakfasts and Caribbean lunches and dinners – a unique addition to Kemptown's cafe culture.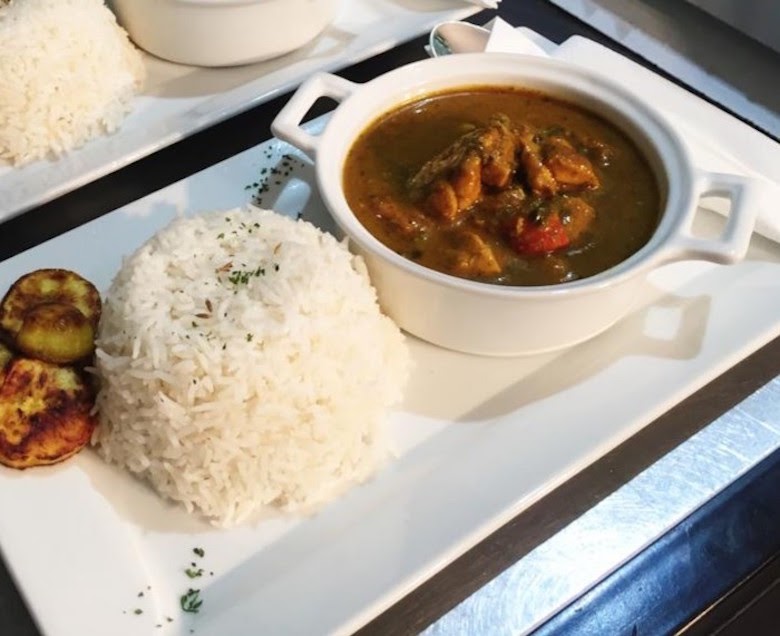 What's your favourite dish to make and why?
I love making the Cajun Creole Chicken Fried Rice. It's one of the most creative and colourful dishes and is my take on the Guyanese 'Cook-Up-rice'. Although nothing like the traditional dish, this version has the same elements: rice, proteins, fresh vegetables and plantain. 

Pepperpot is also delicious – it conjures up wonderful childhood memories of Christmas morning when this sweet braised meat dish would be served with lots of buttered bread to mop it up.

What are the challenges for small restaurants or food vendors at the moment?
Building a viable business that balances purchasing, staff wages and unforeseen emergencies with income. Also key is producing an offering that makes you more attractive than the competition. We do this through Caribbean food, which is the initial attraction and our USP. 

Where do you go for foodie inspiration?
My mum and Gordon Ramsay, TV, memories. I constantly get reminders from Mum, aunts and uncles about Guyanese food we could feature. I also get inspiration from unexpected sources – for example, I was watching a food programme the other day and the presenters were sampling marmalade that contained vodka. Ainsley Harriot was explaining how the alcohol element is burnt off, leaving just the pure flavour of the vodka itself. It made me think about changing our current marmalade to something a bit more remarkable.

Aside from personal inspirations, Guyanese cuisine takes its influences from England and as far afield as China and India. It involves indigenous Indian cooking styles and clever blends of ingredients. Guyanese dishes often boast sweet and savoury flavours paired together. This results in combinations and dishes that one could never imagine working. Take 'meatloaf', a loaf of sweetened bread, with a filling of seasoned, braised ground beef nestled inside. In Guyana meatloaf is a commonplace snack but the everyday-ness of the dish belies the technique, precision and expert timing required to pull it off. 

Is there anything you wouldn't eat?
Offal of any kind, brain, fried blood – some of which are delicacies in Spain.

What would be your desert island dishes or meals (you can choose three, and we'll presume you can take the ingredients with you!)?
Aside from a well-known brand of beef burgers with crinkle cut chips and peas – a childhood favourite of mine – I would choose a traditional Guyanese Sunday roast with all the trimmings, Mum's homemade stuffing and gravy.

I'd also choose chicken jalfrezi with pilau rice and crispy fried okra. And finally the delish Guyanese dhal puree – which is coming soon to our menu.
Thanks so much for joining us, Nathalie, and for sharing your journey to opening a café in Lewes and creating your amazing-sounding food! We'll definitely be calling in to try some of these dishes, and hope our readers will too.

Check out our interview with another Lewes-based food business here.