We are thrilled to be launching a new series on the Engaging Interiors blog this month: welcome to Meet the Foodies. In this series we'll be speaking with Lewes and Sussex-based cooks, food growers, restaurateurs and people who are passionate about food. We will hear about what inspires them in their work, how they see the world of food changing and developing, and the challenges they face in the food or restaurant business.

First up we're delighted to feature Chloe Edwards of Seven Sisters Spices. Chloe creates amazing spice blends, pickles, curry pastes and ready meals from her kitchen in her Lewes home. She teaches cooking, sells her products at local farmers markets and her meal delivery service used to be a Friday highlight as she dropped off delicious lunches transported in a repurposed Silvercross pram (watch this BBC video to see the pram in all its glory). Sustainability and ethical production are at the heart of Chloe's business and she's proud to be 100% plastic-free.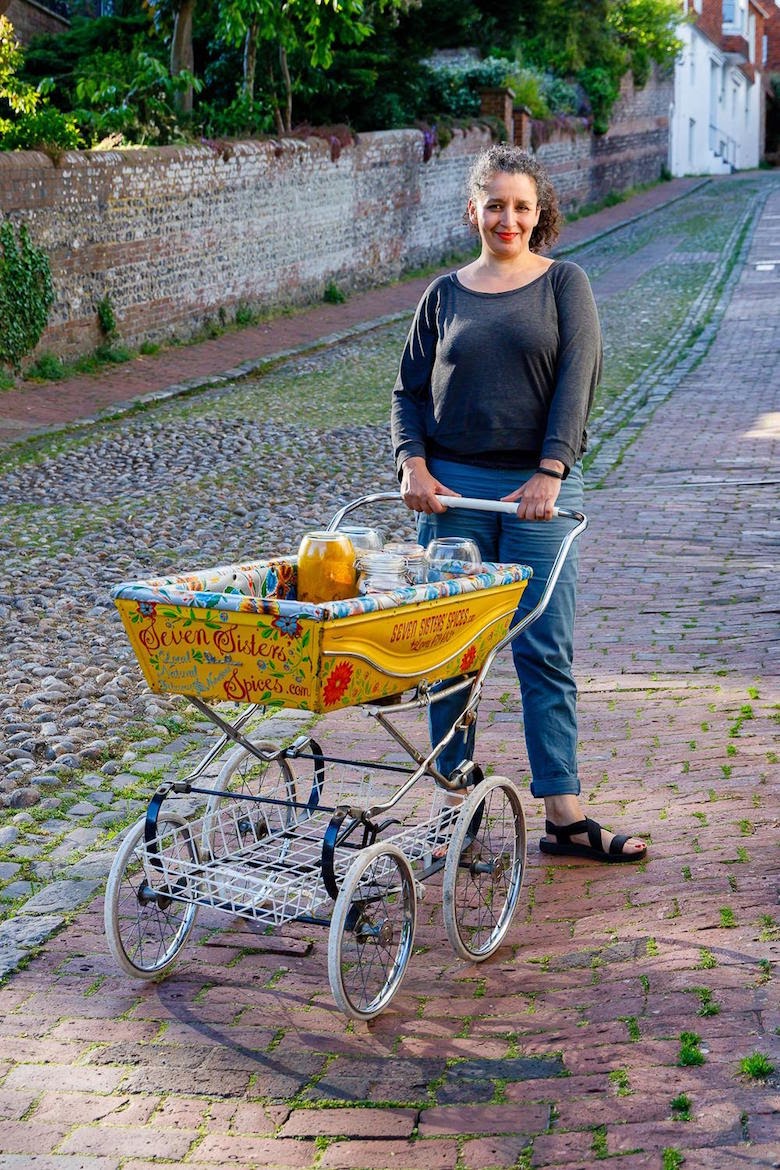 (pic credit: Carlotta Luke)

Read on to hear more about the personal challenge that led Chloe to start up her own business, what she's excited about doing next with Seven Sisters Spices, and the three dishes she'd take to a desert island.
Thanks so much for joining us Chloe!
Can you tell us a bit about your business?
Seven Sisters' Spices is a home based teaching and catering kitchen that also makes a range of seasonal spiced larder products and ready meals for sale at market and for local delivery. Sustainability is at the core of the business and my end-products are all 100% plastic free, with most being reusable – I have a reward scheme for my customers when they return tins, bottles and jars.

I buy mainly organic spices and hand grind my spice blends in small quantities so that they are always fresh and therefore extra flavoursome and delicious. I am in the process of turning all of my produce for sale at market to using as many locally sourced ingredients as possible. I am waiting for aubergine season to hit Sussex as I would go broke if I just stopped making my brinjal pickle now! But I am very excited about experimenting with local seasonal produce.
What prompted you to get into the food world?
I've always enjoyed cooking for friends and family and also worked part time for a caterer in my twenties. When we moved to Lewes from London in 2010 I found myself bereft of the many flavours that I had taken for granted growing up in London. In 2012 our daughter was diagnosed with Non Hodgkins Lymphoma. She is now well and thriving, but it meant a stretch of two and a half years of treatment for her.

I was fortunate to have savings that meant I could stop my teaching job in London to be at home for her, but I soon realised that if I did nothing work-wise I would go nuts! My mind turned to the food that I had enjoyed and missed: I couldn't be the only person in Lewes feeling this way, and so Seven Sisters' Spices was born. Its first manifestation was a Friday lunch delivery service for which I used a customised Silvercross pram as a wagon.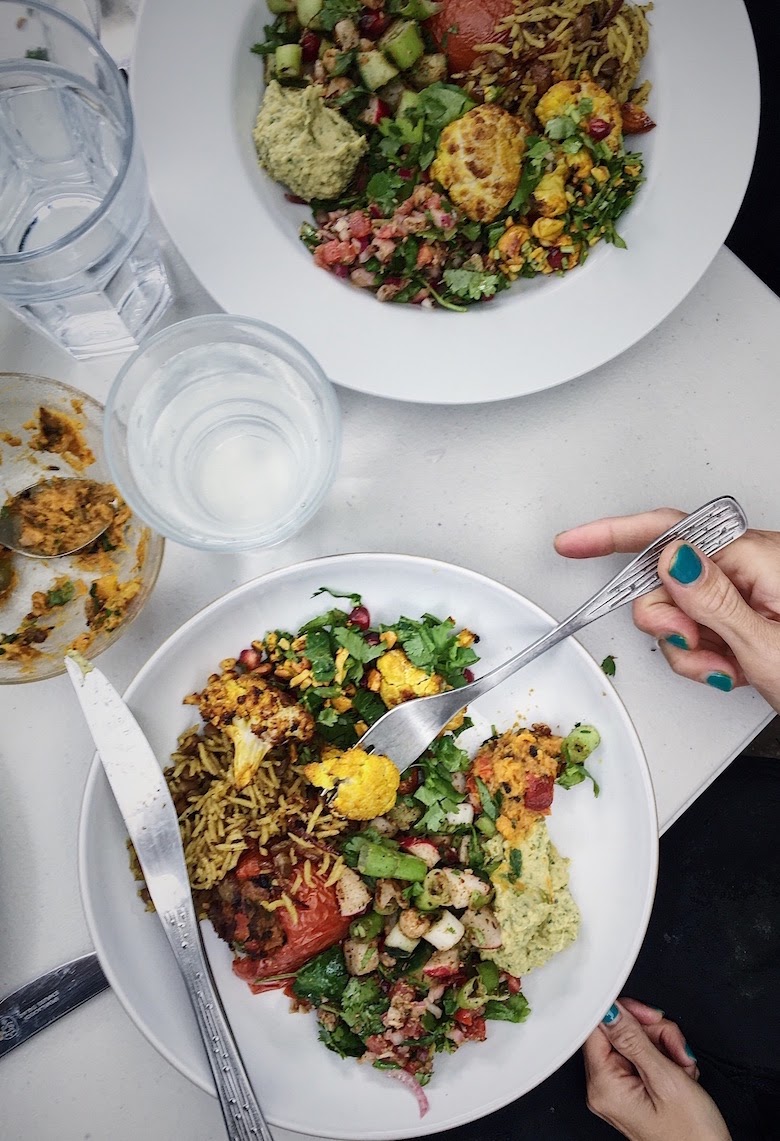 What's your favourite dish to make and why?
Biriyani – I love the creation of numerous different flavour notes: the curried chicken/lamb or vegetables, saffron milk, crisp fried onions, fresh coriander, slightly undercooked long grain basmati rice that are then all brought together in layers and baked in the oven. When you lift the lid to serve the smell is just divine!
What are the challenges for small restaurants or food vendors at the moment?
The biggest challenges for bricks and mortar businesses are the excessively high rents and rates – I honestly do not know how some businesses survive. There is often an assumption that wholesale food is really cheap and that therefore restaurants and caterers make good money through mark-up. This simply isn't true – the mark-up in food is negligible. As a society we spend a far smaller proportion of our income on food than we have done historically.

The industrialisation of food has created a really unhealthy marketplace on many levels – people expect things to be far cheaper than it is often viable for small independents to produce. I can only see this situation getting worse with Brexit looming on the horizon. We all need to learn to respect and value our local small food producers, the quality of the produce and the sustainability and ethicacy of that scale of food business is the best chance we have for a healthy, fair and secure future.
Where do you go for foodie inspiration?
My cookbooks and the cookbooks of friends. The internet for food travel blogs. Netflix for shows such as Streetfood and Chef's Table. The allotment and local food markets for inspiration from food.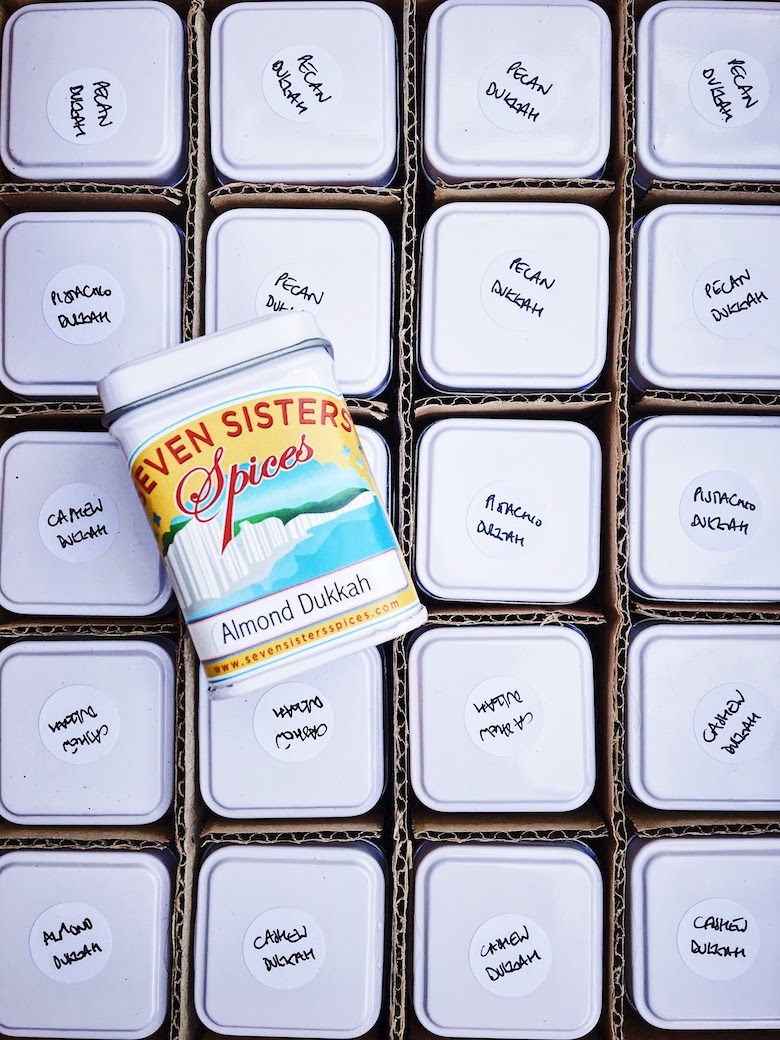 Is there anything you wouldn't eat?
I don't eat offal or mushrooms, simply because I do not like them. I am increasingly conflicted over eating fish because of the massive harm caused to our oceans by the fishing industry and feel that if it's not locally line or basket caught I cannot justify buying and eating it. As I trade at markets I am really lucky to buy meat direct from the farmers who have raised it locally; I no longer buy meat from supermarkets.
What would be your desert island dishes or meals (you can choose three, and we'll presume you can take the ingredients with you!)?
Ooo, good question.
I would have a globe artichoke with a lemon, garlic and extra virgin olive oil vinaigrette; a ribeye steak, medium, with hand cut French fries, garlic butter and an allotment green leaf salad; followed by Summer Pudding with double cream. Yum!

You can find Seven Sisters Spices at the Lewes Friday Food Market or stock up on some of her incredible products here. Your homecooked curry will never taste the same again.