In our last post we explained how to choose the right tiles for your restaurant floor. Now it's timber's turn as we give you the lowdown on wooden flooring. Bear in mind what we said before: choosing the right floor is the most important thing to get right when designing an interior. And it's the hardest. Once you've established the material and finish you are after the  rest of the design can flow from there. So, if you've opted for timber, here's what you need to know:
Things to consider when choosing timber flooring
Wooden flooring is our most recommended front-of-house material. Restaurants need hard-wearing, elegant and easy-to-clean floors, which makes timber a great choice. We mostly use engineered oak, which is constructed from a layer of solid oak on top of a layer of plywood. The thicker the top layer the longer the wear.
You also need to consider the visual impact that you want to create – think about the texture and tones of different species of wood. You might want a wood that is busier in its grain than others, or something more plain. Some timber can be stained, which gives you even more scope to play with the finish and colours. The beauty of wooden flooring is that every plank is unique and has its own patina, grain and knots, adding to its character. You can control how much of this character you want in your finished floor by selecting 'premium' grade timber if you want more uniformity, or a lower grade for a more rustic feel. Get hold of samples so you can see and feel exactly what you are buying.
Lacquered timber is extremely durable but if damaged you will need to sand and re-coat the entire floor. UV oiled timber, alternatively, damages more easily but can be repaired in small sections, reducing the impact of any wear and tear. This is something to think about when choosing the finish for your restaurant's wooden floor. Stiletto heels are not your friend here, so bear in mind your customer base and how the floor will be used.
Depth and width are important considerations. Most timber floor planks come in depths of between 14-22mm. Thicker planks can be laid directly over existing joists and are known as construction strength. Thinner timber will need a sub-floor underneath for support. If you have underfloor heating thinner planks will transfer heat more quickly – wooden floors can delay heating performance by 2-3 hours. Wider planks are a great (if more expensive) choice for large spaces, but if you have a smaller area opt for narrower timbers.
Trends
Chevron flooring is bang on trend at the moment and we are predicting it will be the next  big thing in wooden floors. Laid in a similar way to herringbone flooring, chevron planks are cut at a 45° angle, which creates a lovely clean line between each row of planks. You can keep it sleek and elegant, or play with colour.
Herringbone/ parquet flooring has never really been out of style. It's the flooring equivalent of tweed. This classically stylish look is a great way to add interest to a minimalist interior and make the floor a focal point.
Reclaimed wood has remained popular with the continuing vogue for rustic, shabby chic interiors. The beauty of this material is that it is pre-used and therefore comes with an inherent character. Also available in engineered reclaimed timber, this flooring can be laid as a 'floating floor' with an expansion gap. Fixing the old wood to a solid base, as with engineered reclaimed wood, means you get a more stable floor, whilst retaining its pre-loved charm. This can be a trickier floor to lay, however, due to the irregularities of the wood. Try lassco.co.uk for reclaimed wood.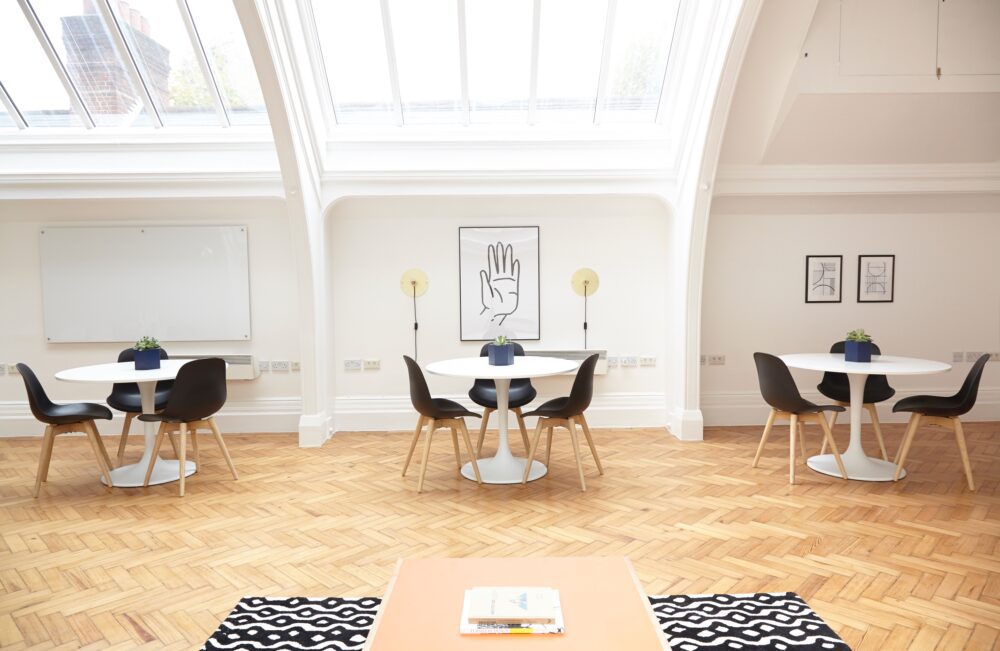 Pros of timber flooring
huge range of colours, tones, shades, textures and species of wood
hard-wearing
easy to clean
acoustics are better than tiled flooring
more flexible to install than tiles
good natural resistance to slipping
comes in a range of price points so you can choose the best wood for your budget
Cons of timber flooring
more prone to damage than tiles (thank you stilettos!)
acoustics, sound absorption not as good as carpet in a restaurant environment
not uniform, due to intrinsic irregularities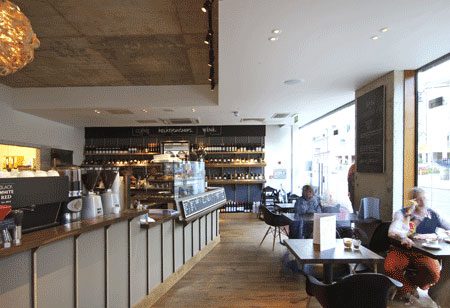 r
As you can see, timber flooring is popular with restaurant interior designers for good reason. It's practical, elegant, simple and stylish, and great for softening and adding warmth to an interior. This guide should give you all need to get started on choosing a wooden floor, but if you need more help just get in touch and we will be happy to advise.
For suppliers, try Havwoods, The Natural Wood Floor Company and Weldon. Make sure your supplier conforms to FSC guidelines so you can be certain their timber is sustainable and manufactured responsibly.