Think timber is just for floors? Think again. In this post we explore a versatile and effective wall finish: timber panelling. We make no secret of the fact that we are big fans of using this finish in restaurant and retail interior designs. Here's the low-down.
Things to consider
Most people will choose between tongue and groove panelling, or more traditional oak panelling. Both can look stunning, so do your research and consider which best fits with your space and the effect you want to achieve.
In order to comply with building regulations, you must use timber that has been pre-treated with a fire retardant. Plywood and MDF treated timbers are readily available. You can also treat your own timber using a low-spread flame retardant coating. There are solvent-free versions if eco-friendliness and low toxicity is a priority for you.
Timber comes in sheets with a standard height of 2440mm. The height of a standard room is slightly higher, at 2500mm, so you may need to add a skirting board. Do your measuring carefully to ensure a clean line and finish.
Think about window sills and apertures in the walls, as well as whether you need to bring electrics through the panelling. This also needs careful planning to keep the wall smooth and tricky areas well hidden.
You might want to panel the whole height of your room, or you may choose to panel only up to dado height. This lower level panelling can look very effective, and you simply need to turn the 8×4 sheet of timber on its side (or use ready-cut tongue and groove planks) with some hardwood edging on the top.
Trends
Banding/ Two-tone: This finish uses two colours to create distinct tonal bands within a room. It adds interest and definition, and allows you to play with colour in a freer way. You can also run the colour and joins in the wood over onto the floor. This example from lighting designer Tom Raffield shows just how good banded timber panelling can look: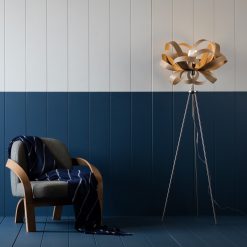 Reclaimed: As we mentioned before, reclaimed timber is having a moment. You don't only have to use it on the floor, however, as it looks great on walls too. Choose from distressed or painted wood to get the effect you're after. Havwoods stock a good selection of reclaimed timbers.
Georgian: This is a more traditional finish, but it looks anything but old-fashioned if done the right way. It gives a polished, sleek finish and adds substance to a restaurant or retail space. Plain English create beautiful rooms with finely crafted panelling.
Pros of timber panelling
It can cover an uneven wall and unsightly features. (See below for before and after pics of an ugly stairwell we transformed using timber panelling)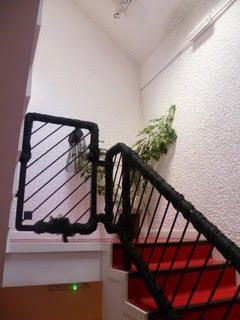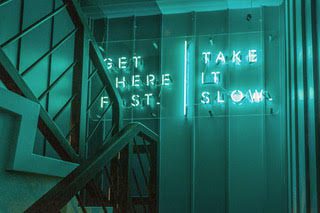 Panelling can visually divide up a room and anchor an object, like a table or sideboard, to a particular part of the room
There's no need for plastering on top
You can choose according to your budget. If you are strapped for cash you can use flat panels and add batons vertically to add interest to a wall (see image below). If your budget is larger there are stunning higher end timber panels available
Panelling is brilliant for hiding storage, keeping rooms uncluttered and sleek
Electrics and services can run behind panels, again ensuring a clean finish
You can play with layering and lighting to create different effects. For example, use randomised lengths and depths of timber strips and light obliquely or from above to create interesting shadowing and texture. This image from Varsity in Cambridge shows how effective this can look: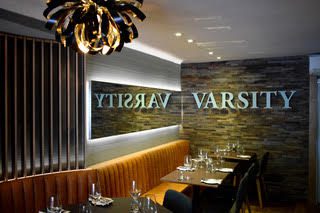 Cons  (Note: We are struggling here as we are such fans of timber panelling, but in the interests of balance here are some cons to consider!)
Using batons behind panelling can add 50mm to the depth of the wall, making small spaces feel even smaller
Timber panelling requires a skilled fitter
It also requires attention to detail.
See, we told you we were struggling… It's great! Use it!
Now that we've (hopefully) convinced you of the joys of timber panelling, here are a few stockists we use and recommend: Havwoods (a flooring company who also specialise in wall cladding systems); Tintab (bespoke, beautiful joinery and suppliers of 'Multiply' plywood with a veneer); Victorian Woodworks (home to classic, quality timbers that can also be used on walls).
Get in touch if you'd like to find out more about how we choose different wall finishes, and to discuss your project.