We worked with jeweller Alexis Dove on her first start-up shop in Lewes, and were keen to help when she asked us to get involved with the design the interior for her new high street store. This was a project where the client had a very clear idea of what they wanted, and our role was to guide and advise Alexis on making the most of the space she had. The shop is sited on an existing retail premises so we worked with Alexis on how to plan and make the space work effectively. We also completed an audit of her existing display cabinets to ensure the fittings from her old shop would work in a new environment.
Site
The jewellery shop is on a site that has long been used as a retail space. But what we didn't know was just how beautiful the interior of the building was, until we started peeling off the layers on the walls. We uncovered treasures like antique panelling and old flint walls with timber running through them. We needed to bring out the natural beauty of these features, and incorporate them into the aesthetic the client wanted for her shop.
Interior design
We created a central unit which makes a kind of roundabout to help customers flow round the shop, and used existing sash windows to build a meeting space that is part-visible and part-tucked away. Our client wanted a colonial theme and sourced the lights and planting herself.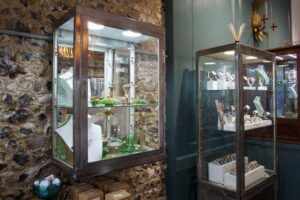 Testimonial
"I've known Crispin from Engaging Interiors for years, and he helped me put together my first shop. This is our second premises in Lewes and it's somewhere we intend to be for a very long time, so the interior design of the shop needed to be just right. We wanted Engaging Interiors to help us make the most of the potential of the new site and to enhance the fabric of the building. As the development progressed we found more and more architectural features that Crispin and his team cleverly wove into their design. We are absolutely delighted with the end result."
(Alexis Dove)
To see Alexis Dove's jewellery please visit alexisdove.com