We are delighted to be launching a new series on the blog: Interior Design for the Small Chain. Each post will use one of our clients as a case study to explore the challenges, opportunities and interior design issues arising when you want to expand your independent business from a single site to multiple sites. We have extensive experience of guiding clients through this process, and we know that taking the next step to grow your business can be daunting. So, in this series of posts we will take you through the interior design aspects of expanding to more than one site, and show you how it can be done.
First up is Josie's, a long-standing and successful small chain of Wine & Coffee shops who have grown from a basement venue to three thriving sites in Hampshire.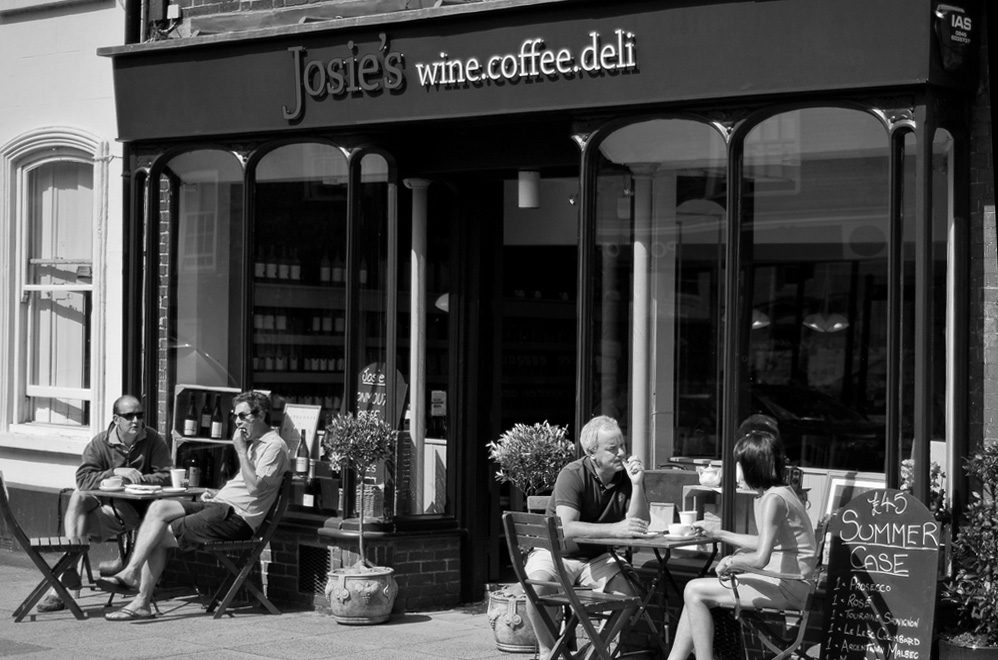 Our director, Crispin, tells their story:
What started it all?
We began the interior designs for the first Josie's in April 2011 and it opened in June 2011. A quick turnaround! The business began as a restaurant in the basement of a Grade 2 listed building of the high street in Bishops Waltham. When the lease on the ground floor space became available the owners, Josie, Colin and their two sons, decided it was time to move up in the world. Literally. So they sold the basement and opened up a new-look venue on the ground floor, on the site of what was one of England's oldest wine shops. Inspired by this history, our clients decided to incorporate wine-selling into their business, creating a coffee shop/wine shop/ deli. They contracted us to design this space for their new venture.
What was the design brief for the first site?
This was the first time the clients had worked with an interior designer, so we helped them through the design brief stage. They wanted the layout and design to display wines and facilitate the combined food/ deli/ coffee/ wine concept. We created a space that would enable customers to enjoy these different but complementary aspects of Josie's, whilst also being suitable for evening events like wine tastings.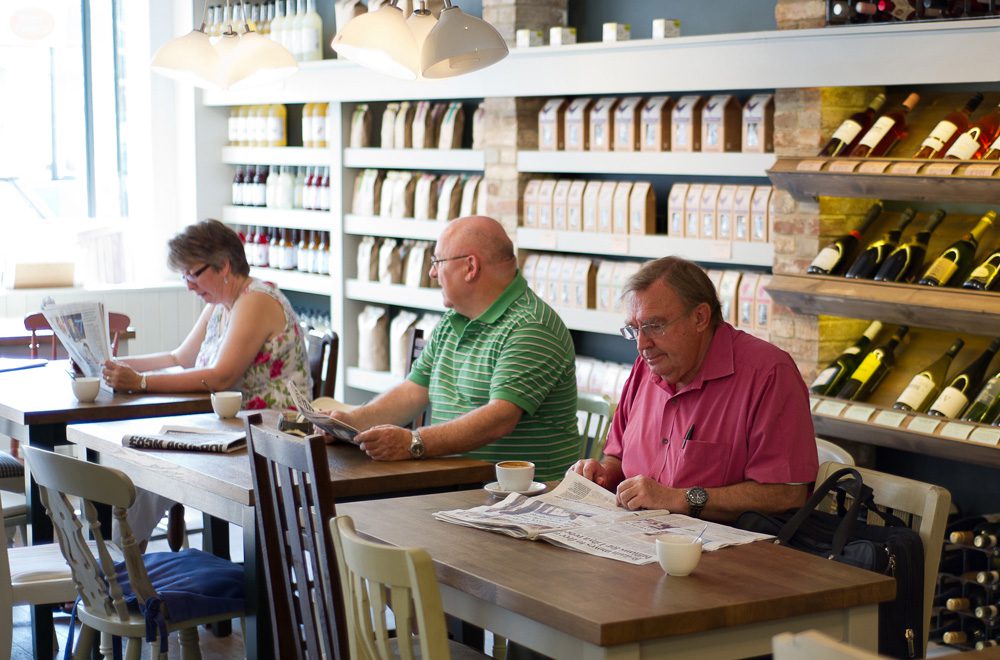 How did the design of the first site relate to the design of subsequent sites?
As Josie's became more established they discovered that their main trade, and therefore income, was coming from serving great food and coffee. The wine-selling aspect was scaled back, and we adapted the first venue accordingly, reducing the amount of space devoted to wine and increasing the dining space. This allowed our clients to maximise their earning potential from the space and to offer customers what they really wanted.
Building on the success of the first coffee shop, Josie's son set up a similar venue nearby, in Winchester. The customer base here was younger and our client wanted a more 'hip', current feel to the design. This also reflected the modern building in which the venue was sited. After initially setting up under a different name, the venue was subsequently re-branded as a second Josie's.
Offers of new venues began coming in once landlords realised that Josie's was a winner. When an offer of a site in Petersfield came up, our clients jumped at the chance to open up a third venue. This town was within commutable distance of the other venues (which is important if one person is overseeing the management of several different places) and had the right customer demographic. We designed this third space for them, again taking inspiration from the individual building, but incorporating design elements that link all three venues, such as bare bulbs and the colour palettes.
This is theperfect example of how great interior design can evolve as a business evolves, supporting and enabling it to grow and flourish.

What did we learn from designing the first site?
It's sensible for an independent start-up restaurant or cafe to start small. Big venues cost more and saddle you with large overheads, which can be difficult when you are just starting out. A good first venue should be small enough to be financially manageable but offer enough space for you to make money (we realise this can be a bit of a contradiction). As you become more established you can look at spaces with greater capacity. With Josie's we learnt that a venue doesn't need to be bang in the centre of a town to be successful: as long as it's within around a couple of minutes' walk from the high street, people will come.
What should clients consider when choosing new venues?
Location is of paramount importance. Think about what kind of surroundings and town/ village your new venue will be in, and whether this fits with your brand and potential customers. Consider the balance between the cost of rent and the amount of space. Think about any interesting features the building has (high ceilings, lots of light etc) and how these could be incorporated into the interior design. Listen to your customers and be flexible: in Josie's case they learned what customers wanted and adapted their space to offer more of that. Maximise your strongpoints in any subsequent spaces, but think about including elements of continuity across your chain.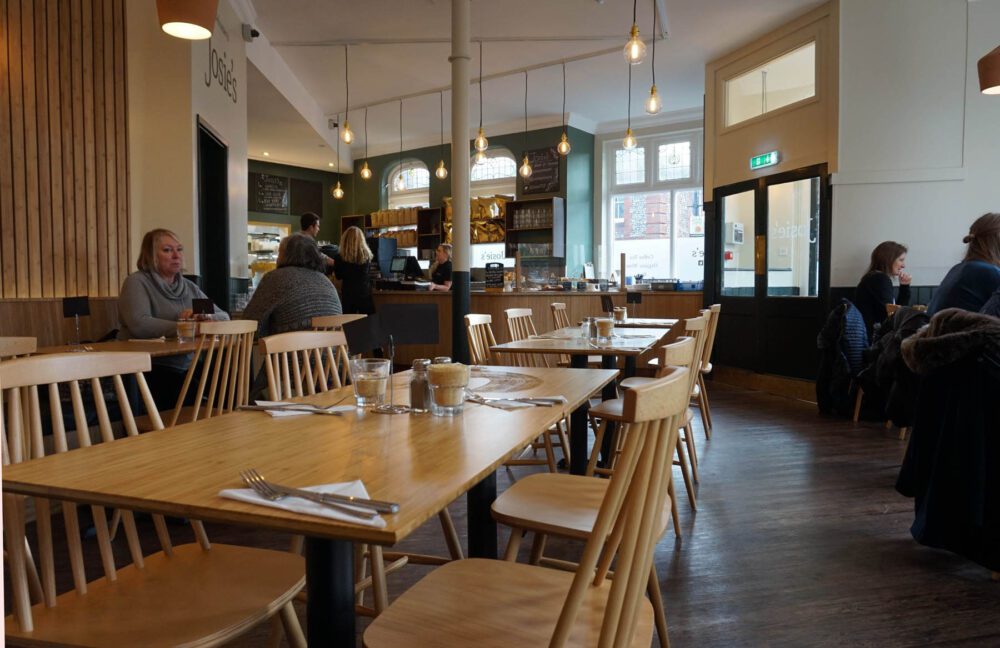 If you are thinking of going from a single to multiple sites, whether you are a restaurant, retail space or bar, get in touch and see how we can help. It could be the start of an exciting new journey for your business.