As an interior designer Berkshire is a great location for a commercial venture or start-up. It is also one of our client areas. As a Sussex-based company we are actively seeking clients across the South East. We recently designed a Newbury hotel called The Chequers. This impressive listed building needed updating. Our clients wanted it to be more accessible for local people. They also wanted distinct spaces for guests to eat, relax and socialise.
Our successful design brought more people into the hotel. It has also helped revitalise Newbury's high street. Projects like this show what can be done with a listed building. Our designs are sensitive to a venue's history, whilst adding a new twist. In a region packed with historic buildings, this is key. We also love working with new-builds and all the opportunities they offer.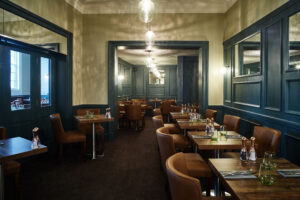 This area is a prime spot for successful independent businesses. We are keen to take on more projects in the area. Are you opening a restaurant or retail premises in Berkshire? Do you need an experienced interior designer? Contact us to see how we can help.
What we can bring to your business
Bustling Berkshire towns offer a wide range of restaurants and eateries. Visitors enjoy attractions like Windsor Castle, horse races and boat trips. There are stately homes and stunning gardens. The countryside is beautiful yet still within easy reach of London. From hotels, spas and campsites there's a wealth of great accommodation too. Day-trippers, shoppers and locals alike want engaging spaces that serve their needs.
And your business needs the right interior designer to make that happen. We can guide you through the full interior design process. Our trusted craftspeople will help bring your vision to life. If you require less hands-on support we can help at any stage of your project.
Why choose Engaging Interiors?
We have 15 years' commercial interior design experience.
We offer a personal, individual approach.
We listen.
We try to use sustainable materials where possible.
Our interiors are both beautiful and functional.
We stay ahead of the game with new materials and design techniques.
We design to suit your budget and needs.
We can create new spaces and refit current venues.
Retail and Restaurant Interior Designer Berkshire
For the commercial interior designer Berkshire offers exciting opportunities. Independent retailers and restaurateurs are establishing new ventures and developing existing premises. Working with independent businesses is our passion. We believe they offer the best service to customers. They also keep local town centres alive. Vibrant high streets attract more footfall. With our experience working with start-ups and small enterprises, you know you're in good hands.
At Engaging Interiors we understand good design. And we know what works. Our expertise eases the stressful design and build process. With our connections we can find the best people to fit out your interior. Working with trusted, skilled contractors really makes the difference.
It's time to make your vision a reality
You've made your business plan. You've found the perfect site. You know your customer base. You've secured your finances. You're ready to get started. That's where we come in.
From hotels to health spas, coffee shops to play centres we deliver designs that work. If you're looking to update an existing space we can advise on the best approach. Maybe you're rolling out a subsequent store or restaurant. We will create continuity while ensuring each venue is distinct. Tell us what you need and we'll make it happen.
We can also help with branding and external signage. These are crucial to getting your message across to potential customers. It's all part of what we offer. Our experience navigating the planning system smooths that part of a build for you. And our knowledge means your venue meets all the regulatory standards.
Contact us to talk through your interior design project. Let us help you take your idea from business plan or concept through to a successful commercial environment. We can help get your Berkshire business up and running.