After designing the first KOMO site in Guildford in 2015, we were asked to help them with their second site in Woking during the second half of last year. We produced the design within a month but as with a lot of projects we have worked on over the last couple of years it took awhile for the client to finally get the keys. This was a large site (4000 sq ft) that used to be a mexican restaurant. The budget was tight and we had a lot of space to transform. With these two factors in mind we were keen to use what we could from the existing interior and change what we needed to.
Exterior
The exterior was a fairly easy fix with our new signage replacing what was there originally. The original signage was well considered with three types of sign.
Vinyl applied to interior face of glass
Projecting sign to exterior column
Large neon sign to double height glass
At Engaging Interiors we are known for our pragmatic approach to interior design. If an element of the interior works we are happy to keep it or adapt it as necessary. This approach lowers the environmental impact of the design and can also reduce the time it takes to fit out the site. For more information about this approach and some before and after shots please follow this link to our journal post.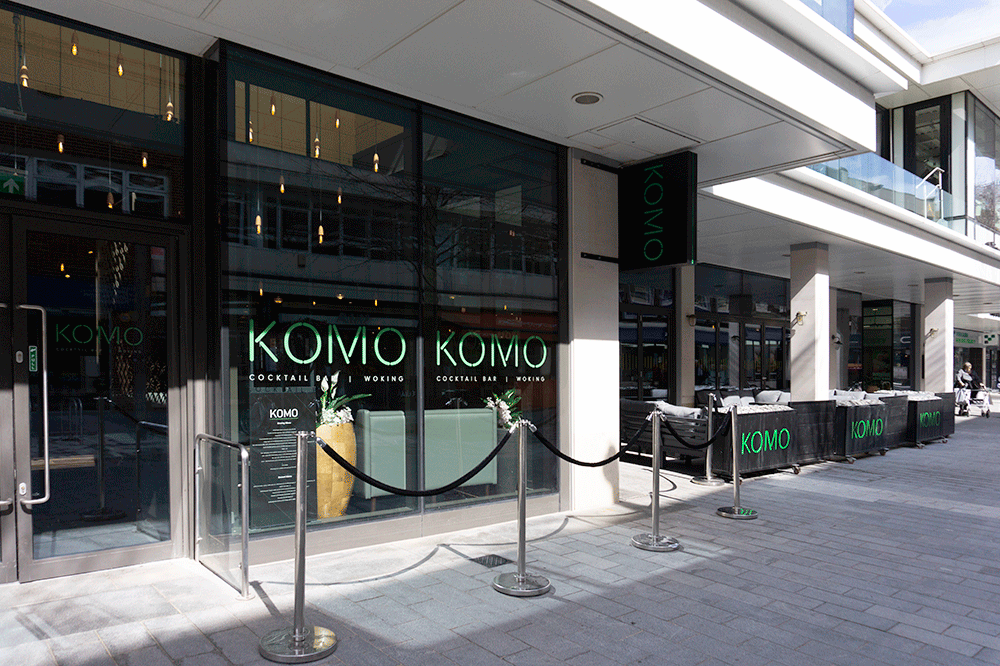 Interior
The interior was a case of updating the function and rebranding the finishes. The lighting was changed a little. One of the biggest jobs was recovering the fixed seating, but we didn't just stop there. We reconfigured the fixed seating layout to make it work better for the new demands of a cocktail bar. The flooring was overclad and the walls painted and overclad where necessary. It has transformed the space and the first weekend was a great success.