We have completed two projects as interior designers for the same clients in Cambridge who approached us to design a restaurant that would showcase top-class modern British food within a warm and elegant setting. The first site, Varsity, was finished in the summer of 2016, and within one month had become Trip Advisor's No.1 restaurant in Cambridge. Varsity flourished to such an extent that the clients asked us to design the interior for a second restaurant nearby to meet demand. This restaurant, Trinity, opened in April 2017 to much excitement and great reviews from happy customers.
Sites
Both sites are within the historic conservation area of Cambridge city centre and are Grade 2 Listed buildings. In fact, Varsity is housed on the site of Cambridge's oldest restaurant. Our interior designs needed to work within the constraints of building restrictions and to preserve and enhance these ancient buildings. It was also important that we work with the landlords and property owner to ensure our design fitted in with the conservation area, but also clearly communicated what kind of restaurant Varsity and Trinity are to passers-by.
Interior design
Both buildings are steeped in history but suffer from being narrow and having low ceilings. The interior design for Varsity countered this by using wall cladding, mirrors and clever seating to create more space, and we used the lighting to create an intimate feel. For Trinity we used similar textured walls and lighting to provide accents, and kept the colour scheme muted and subtle. The striking window provides the perfect focal point to show people what is going on and entice them into the warm, relaxed space inside.
If you would like our help with your restaurant please feel free to get in touch.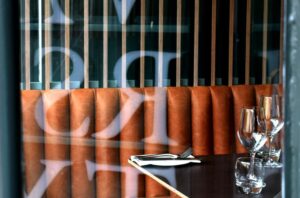 If you would like to visit the Trinity Restaurant please visit trinitycambridge.co.uk
To visit Varsity please go to varsityrestaurant.co.uk