As firm believers in circular interior design principles we were delighted to be commissioned by Lawrence, Skev and Sarah of Hove's newest record shop, Capsule Records. They wanted to refit their new premises in the most environmentally-responsible way possible. And, of course, to create a vibrant, welcoming, attractive interior that would encourage customers into the store and function in practical ways too.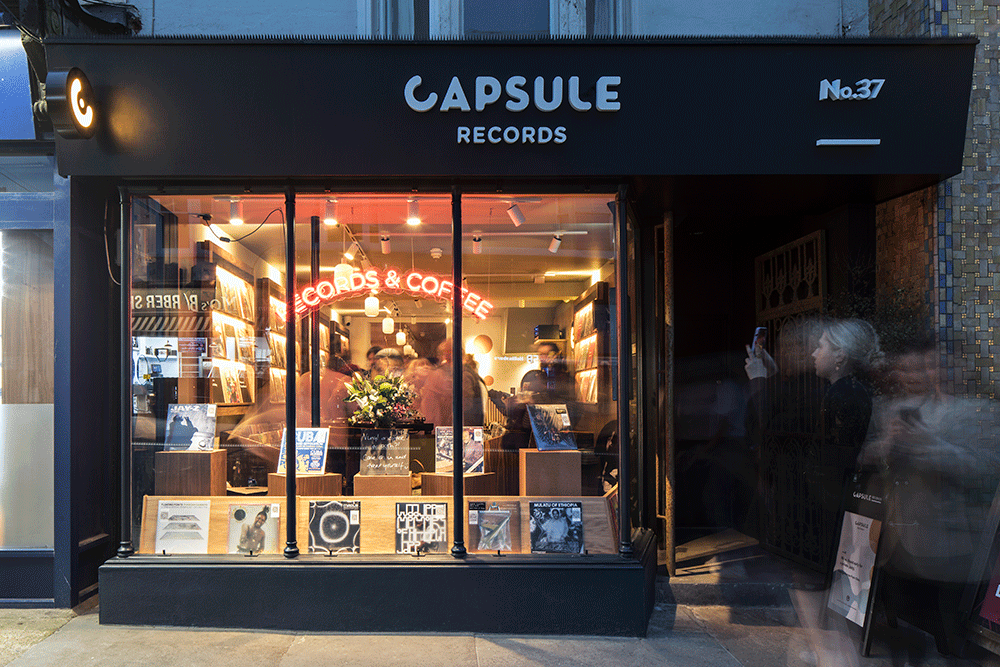 In this post we're talking about how we created a sustainable interior design that offers flexibility and functionality with fun detailing and distinctive style. Just like the records revolving on Capsule's decks, we designed an interior that goes around.
Come for vinyl, stay for coffee
Capsule Records is not just about offering a wide range of hand-selected vinyl for a diverse client base. It's also a place to gather, to create community and explore new music. The team found the ideal site to launch their venture in what had been a retail store on Western Road, Hove. Our brief was to turn it into a record store, café and function space, where customers can browse the vinyl and relax over coffee, and the resident DJ can get the floor jumping for an evening event.
We designed a 'snug' at the back of the store where people can sit and enjoy a coffee as they listen to some great tunes. The front of the space is the record shop, and there's a DJ booth for buzzy shopping days and functions.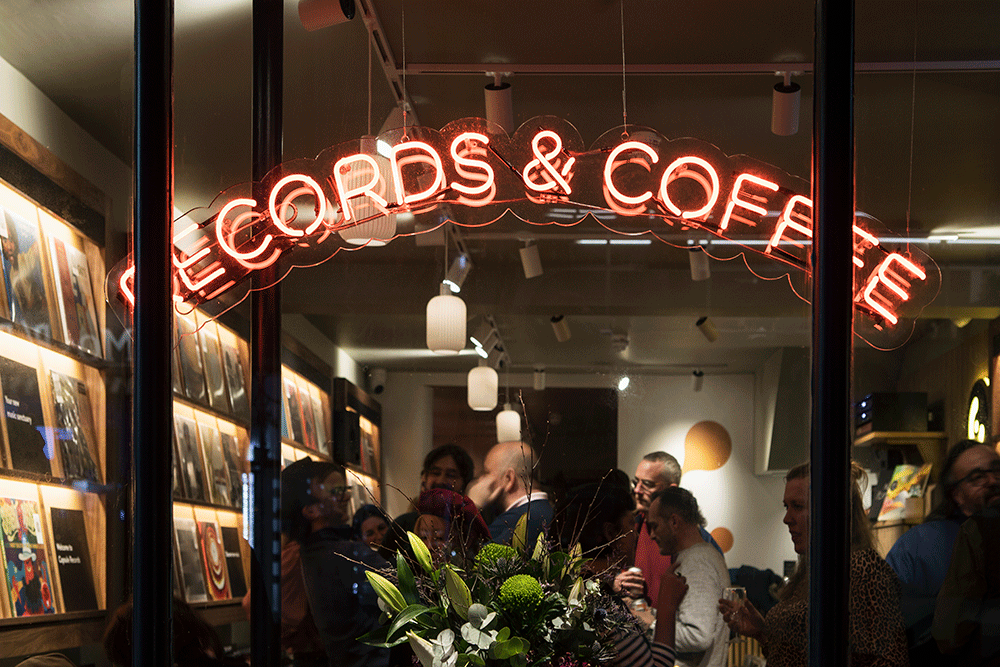 Circular interior design in practice
Once we'd created the right configuration for the space itself we considered how best to fit out the interior. With all our projects we try to use materials that are either recycled or can be repurposed or moved to a new venue. We work with material sheet sizes that maximise use and minimise waste. We also design furniture and fittings that are moveable and can be reconfigured to suit a client's needs – and even taken to a whole new location if required.
For Capsule records we created these elements using circular interior design principles:
Record racks: These are made from veneered ply/MDF lipped with hard wood, to give a mid-century sideboard style. Their main function is to clearly showcase and hold the shop's vinyl. But we added castors to some so they can be moved if the room is being used differently or there's a function.
Wall displays: The spacious wall displays create a gallery for some of the brilliant record cover designs and double as wall art. We specified internal lighting to bring out the colours and images on the record sleeves. The lights are plugged in on a lighting circuit that's on split batons so our clients can slide them along if they want to change things.
DJ booth: Atmosphere is everything in a record store, and nothing creates energy quite like a live DJ. The booth is on castors so it can be moved out of the way, or placed centre stage when the discs are spinning.
Fixed seating: The three seating sections are made from wood, foam and fabric, with a walnut finish. These can also be moved depending on how the space is being used.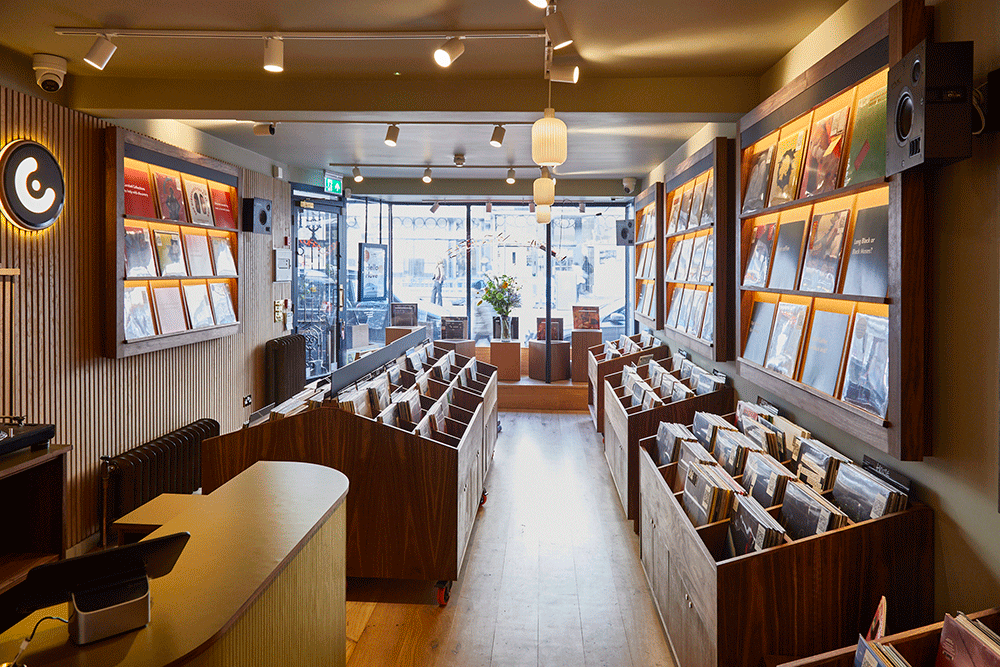 Saving time, saving money
As well as material sizes that reduce waste and adaptability that prolongs use, a key aspect of circular interior design is time on site. At this particular site there was a lot of building work to do first, but once the shell was finished the furniture was installed and the shop opened within just four days.
Our design ensured that the fittings and furnishings could just be pushed into place. This kept fit-out costs down and meant Capsule could open its doors swiftly, bringing happy customers in and the tills ringing as soon as possible.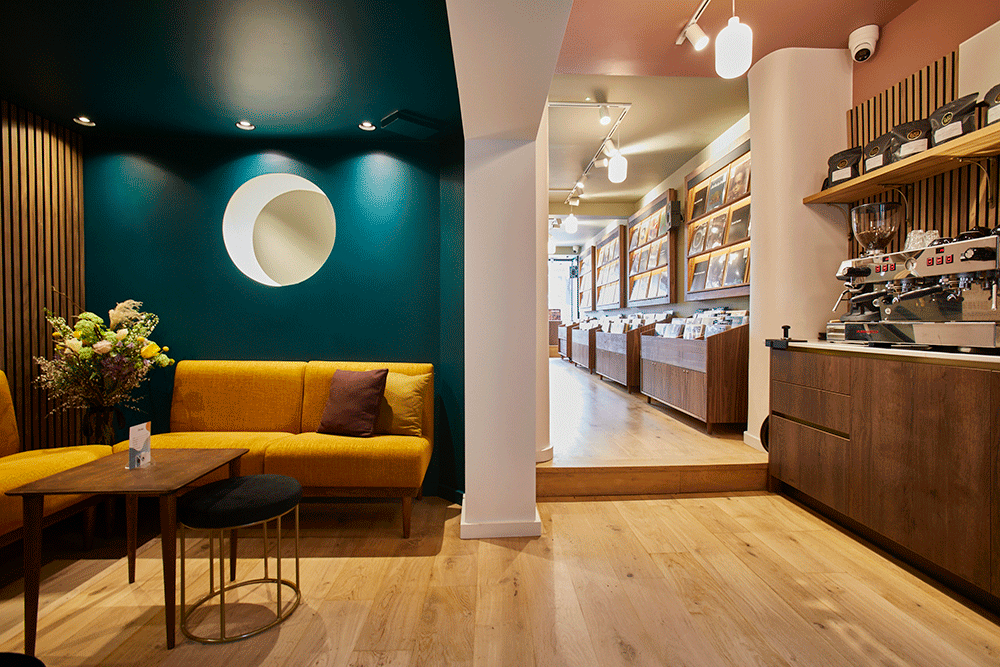 Circular interior design makes sense on an environmental level, but also at the individual client level. It provides versatile spaces and fittings that can adapt to changes within the site, shifting market demands and business growth.
We really believe it's the way forward for all design. Talk to us about how we can create a successful circular design for your retail store or restaurant.